Virtual Open Night 2020
This year, Presentation Clonmel will be holding a "Virtual Open Night". Along with a virtual tour of the school, prospective parents will be treated to some videos made by our current students and some testimonials from past pupils. In preparation for the night, we took the opportunity to get a photograph of our Presentation family connections. There are several members of staff whose daughters are currently attending the school. We also had three generations, Mrs. Marie McCarthy – Home Economics and Irish teacher – was pictured with her mother (a past Pres girl) and her daughter Molly who is in 6th year.  Pictures were taken in the Prayer Room.
TY Home Economics
As the cold weather rolls in, Transition Years enjoyed making delicious Cottage Pie in Ms. Walsh's Home Economics class. There were some delicious aromas circulating around the school corridors.
LCVP Movie Day
Ms. O' Dwyer's 5th year LCVP class were busy on the 30th September making goody bags for their 1st Year Movie Day. All proceeds from the day will go to the Clonmel and District Wheelchair Association. Well done everyone!
6th Year CPR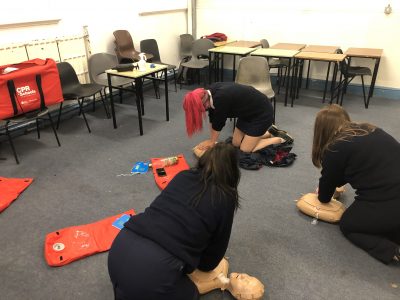 The students involved in the Leaving Certificate Modified were working hard practising their CPR skills by completing the CPR4Schools Programme under the instruction of Ms. O' Dwyer.
Retirement News
We would like to wish Mr. Noel Buckley all the best in his retirement. Staff and students agree that the school will not be the same without his positive and inspiring presence. We wish Ms. Mary O' Dwyer all the best in her new role as Transition Year Coordinator.
1B History Projects
Class 1B showing off their artifacts from home in a fantastic history lesson. Ms. Slattery said the students went to great efforts to bring in such a wide range of artifacts. Well done everyone!
VHI Mini Marathon
The 5th and 6th Year students of the Leaving Certificate Modified Programme completed the VHI Mini Marathon on Monday 5th of October. Well done girls, what an incredible achievement.
1st Year Home Economics
Some of Ms. Walsh's 1st years had a great time in the kitchens cooking home-made pizza and curry. Well done to all the students involved.
1st Year Science
Ms. Kennedy and Ms. Ryan's first years had great fun in Science this term testing PH levels and making copper sulphate crystals! It's all very colourful down in the Science labs these days!
TY Science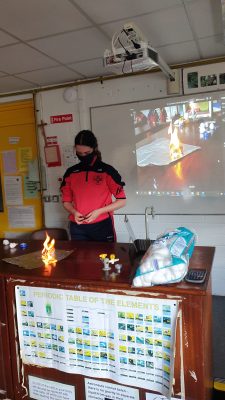 Ms. Kennedy's TY students learned how to start a fire using flint this term – this should come in handy for their camping trip at the end of October with Ms. O' Dwyer.
1st Year Computer Coding (European Code Week 2020)
This week, all First-Year students in Ms. Hogan's Creative Computing Tasters have been working on a collage entitled "About Me" using Scratch. The activity was part of Europe Coding Week 2020 and just today we received our Certificate. Well done to all involved.
Transition Year Art
Huge thanks to TYC who completed a fantastic wall mural outside the Science Labs. It has really helped to brighten up the corridors! Well done girls.
1st Year Art
Ms. Fennell's 1st Year Art students completed some incredible pumpkins this term. They moulded the little pumpkins from clay, set them in the kiln and then painted them. Just in time for Halloween. Great work everyone.
"Home is Where the Heart Is"
2nd Year English students have just completed a module called "Home is Where the Heart Is". The girls wrote some fantastic poems about what home means to them!
Presentation Secondary School: Academic Awards for Excellence 2019-2020
Presentation Secondary School, Clonmel celebrated the 24th Annual Presentation Awards for Excellence on 7th October. This year, due to the current Covid-19 restrictions, the ceremony took place in the Presentation Assembly Hall and was live streamed via Zoom into each classroom around the school. While we certainly missed the atmosphere of the church, there was great excitement in the school.
The awards acknowledge the tremendous achievements of the students across the whole spectrum in education in the school. The awards recognize that the pursuit of excellence is not confined to academic achievement but encompasses the whole range of activities that makes for a rounded and balanced education.
Huge thanks to Mrs. Máiread Fennell, Awards Coordinator, who organised such a fantastic ceremony and to Fr. Billy Meehan who opened the ceremony.
A special mention must go to the members of the Student Council and Ms. Antje Hogan who assisted Mrs. Fennell in producing this wonderful event. Year Heads, Jennifer Williams, Margaret O' Mahoney, Elaine O' Carrol and Martin O' Loughlin assisted in presenting the awards.
Mr. Michael O' Loughlin (Principal) welcomed made the opening speech and welcomed the staff and student body to the awards. Mr. O' Loughlin acknowledged the excellent work being carried out by the whole school community in keeping our school a safe working and learning environment.
Student of the Year Awards
The Student of the Year Award from the 1st to 6th year groups were presented by the respective Year Head in association with the sponsor of each year group. Nominations from each year were invited on stage and with mounting tension, the Year Head read out the winner. These awards were followed by the Academic Awards.
Academic Awards
Junior Cert Academic Award:

Mrs. Roisín Hennessy (Deputy Principal) presented the Junior Cert Academic Award to Carrie Lyons and Bianca Gouws.
Leaving Cert Academic Awards:
Mr. O' Loughlin (Principal) awarded the Leaving Cert Academic Award to Cailín Napier.
Cailín could not be with us for the ceremony as she is currently studying in University College Cork.
Special Category Awards
Special Category Awards were presented in areas such as; Creativity, Enterprise & Initiative, Sports Awards, Student Peer Awards, Scientific Endeavour and Master Chef. These awards recognized the tremendous work by students outside the academic area and their participation in extra-curricular areas in the school community.
Mr. O' Loughlin concluded the ceremony by congratulating all the award recipients for their individual achievements and paid tribute to teachers and students for organizing the smooth running of the event.
Complete List of Winners:
Academic Awards:
Junior Cert: Carrie Lyons and Bianca Gouws
Leaving Certificate: Cailín Napier
Student of the Year:
Saoirse Scully (First Year)
Molly O' Brien (Second Year)
Caoilfhionn Conway (Third Year)
Sophie Pyke (Fifth year)
Special Category Awards:
The Cast of "We Will Rock You" (Senior Creativity Art)
Kacie O' Shea and Saloni Ardurkar (Junior Creativity Award)
Pres Tess (Enterprise and Initiative)
Sinead O' Carroll (Sports Junior)
Aoife and Orla Barron (Sports Senior)
Eimear Dempsy and Leah Hasset (Scientific Endeavour)
Olesja Glushak (Junior Master Chef)
Student Peer Awards:
1st Year – Emma Pyke
2nd Year – Nicole Lyttleton and Emily Fitzgerald
3rd Year – Zoey Coffey
Transition Year – Makayla Fogarty
5th Year – Ava Brannigan
6th Year – Emma Dennehy
September News
Please click here to view September news from Presentation Secondary School Clonmel.