The current academic year is proving to be an exceptionally busy one for the Music department at Presentation College, Headford. 2017 marks Seventy Five years of Presentation education, ethos and values in Headford. As is befitting of such a milestone occasion, the students and staff of our college/school have already undertaken an impressive array of musical events.
To commence musical proceeding, our talented students set aside county rivalries and united in their PCH identity to pay tribute to the phenomenal success of the Galway hurlers and the ongoing, persistent endeavours of the Mayo football team. The resulting performance, featuring a one hundred strong choir and forty-piece orchestra was captured for a YouTube video and is a unique, moving arrangement of 'The West's Awake' and 'The Green and Red of Mayo'. The tribal/visceral cheer at the end of the performance is a testament to how deeply ingrained the pride in our dual county status is in PCH. On a recent check, our video had surpassed fifteen thousand views.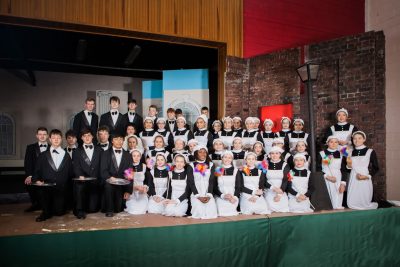 By mid September, preparations were afoot for our school Musical, the romantic comedy, 'Me and My Girl'. The cast of one hundred was drawn from TY and Fifth year while students from all year groups were invited to join the ever impressive school orchestra. The weeks leading up to opening night saw an unprecedented effort from staff across numerous subject departments including Art, Home Economics, Business, ICT and the wider school community in general, all combining personal time and talents with the shared goal of making our school musical a stand out production.
Spontaneous standing ovations and prolonged applause for each performance are a testament to the talent on display and an affirmation to all involved that we were part of something truly special. Memorable melodies from the musical like 'Lambeth Walk' and 'The Sun Has Got His Hat On' still occasionally ring out on the corridors and will resonate in our hearts and minds for many weeks to come, as we reflect on a production of which we are all immensely proud. A more fitting tribute to the Presentation legacy of holistic education one can scarcely imagine.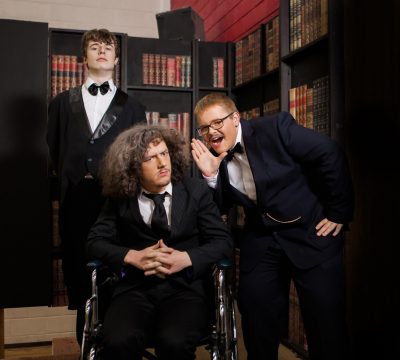 On December 5th, members of our school orchestra and choir were afforded the opportunity to perform in the hallowed, St Nicholas' Collegiate Church. This delightful concert, in aid of ISPCC, featured an eclectic mix of local artists and choirs and once again our students gave a stellar performance of Take Thats 'Rule the World' and the choral classic 'Something Inside So Strong'.
Watch this space for further exciting plans for this special year in the life of our school where we once again turn to the strong tradition of the Arts at PCH to express something of who we are and what we stand for in our school community.