Music Students visit Aras Mhuire Nursing Home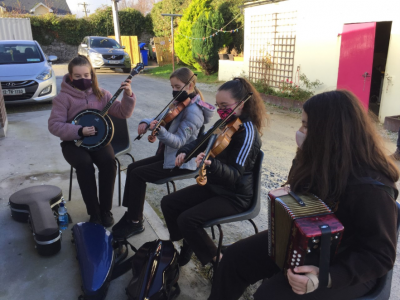 On Wednesday 2nd December the 1st year Traditional Irish Music musicians along with Ms.Kennelly and Ms. Ryan visited the local Aras Mhuire Nursing Home. The students played some jigs and reels and managed to get a few steps in! The residents of the Nursing Home seemed to enjoy the performance as they clapped along to the music. It was a great way to start the Christmas season, spreading cheer to all.
Science Week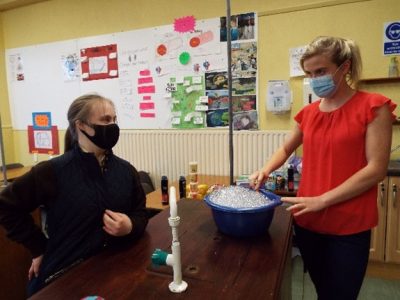 Science Week saw many activities taking place throughout the school with different year groups partaking in various experiments. Students measured rates of reaction using mentos and coke. In the laboratory, methane bubbles were set on fire to create a very exciting illusion that the teacher hands were on fire!!
A fun chemical reaction occurred to make elephants toothpaste which flowed out into a basin and produced lots of colours! We had a self inflating balloon by a reaction with vinegar and baking soda. Bread soda was added to a bottle of coke to see a chemical reaction take place which led to a fizz of foam spouting up from the bottle which the students really enjoyed! Some classes watched a documentary by David Attenborough about the importance of looking after our planet, while other students completed quizzes relating to current science topics. Other experiments included a demonstration of the centre of gravity using a hanger and 5cent coin. Finally, there was great fun with balloons creating static electricity including on the teacher's hair!
Christmas "Design A Door Competition"
Our Christmas "Design A Door Competition" got underway this month which has really given the school a festive touch. The students have pulled out all the stops to get the competition going.