Shoebox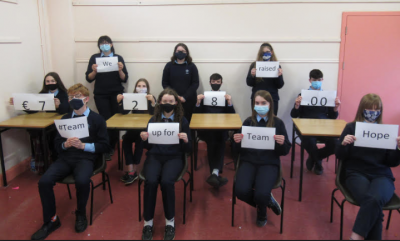 The Transition Year students in Killina Presentation Secondary School organised a Halloween Fancy Dress Non-uniform day in aid of Team Hopes Annual Christmas Shoebox Appeal. A total of €728.00 was raised for a truly brilliant organisation. This charity helps children affected by poverty in Africa and Eastern Europe, often these shoeboxes are the only gift that these children will receive at Christmas and the joy they bring is incredible. Well done to the Transition Year students for organising the fundraiser and all the students and staff who took part.
TY Market
Very well done to our TY students, who have been running a hugely successful Christmas Market to showcase their enterprise activities and mini-companies.
Hosted in the Courtyard, a fantastic Christmas atmosphere was created with decorations, music, carroll singing, Santa and elf costumes, and a huge variety of wares being sold, with brilliant ideas and products suitable for Christmas gifts and stocking-fillers.
As a first venture, it has been a spectacular success, and surely the birth of a new tradition in Killina.   Very well done to all students, and thanks to teachers Ms Hall (TY Coordinator), and especially Enterprise teachers, Ms Nolan and Ms O'Connor.