Mary's on Cloud 9 with Top Geography Grade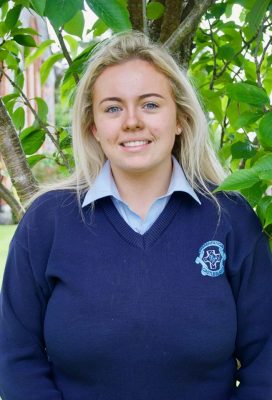 Mary Healy was awarded the highest grade in Ireland in her 2019 Leaving Certificate Geography exam! Last year over 19,000 students sat the Leaving Certificate Geography examination and to have come first among that cohort is an amazing achievement for both Mary and her teacher, Mr. Enright.
"Mary is a diligent student who deserves great credit for this achievement, we are very proud of her success," said Ms. Broderick.
Mary and her parents were delighted with the news and she recalled the nerves she felt the night before the exam very vividly:
"I wanted to do well in Geography as it was one of my favourite subjects and I wanted to do well for Mr Enright," said Mary.
Ms Broderick also congratulated John Enright the school's Geography teacher for this achievement.
Mr. Enright is no stranger to All-Ireland success as he is also the school's basketball coach and he, in fact, only recently received national recognition for his achievements from Basketball Ireland.
"Presentation Castleisland is renowned for its success in basketball at the highest level and Mr Enright has coached Pres teams since the late 1980s to achieve the highest number of All-Ireland titles of any school in Ireland," said Ms Broderick
Mary, from Ballymacelligott is a daughter of Conor and Sinéad Lordan – Healy, is currently studying World Languages in University College Cork.
We congratulate Mary on this wonderful achievement. Each year the Association of Geography Teachers of Ireland awards a medal to the student who presents the 'most meritorious' Leaving Certificate examination in Geography. When school life returns to normal the school community will celebrate with Mary and her family and she will receive the Gwenda Hurst medal in recognition of her success. Ms. Hurst (1913-1966) was a New Zealand born woman who organised, in September 1961, and founded the Association of Geography Teachers of Ireland in March 1962.
Well done Mary!
School App Launch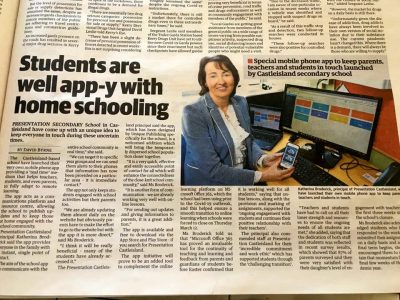 This week we were delighted to launch our new Presentation Secondary School App which allows our students parents and teachers to keep up to date with all news and information about the many different events and the daily developments and affairs of our school. Thank you to David Byrne from Kerry's Eye for another fantastic write up!
Remote teaching gets Animated at Pres Castleisland
Since remote teaching came into play in March the Art Department in Presentation Secondary School Castleisland has developed new and exciting ways of adapting Art Education to the contemporary climate. Presentation Art students have embraced the technological world that students have found themselves in by undergoing a workshop in Stop Motion Animation. Stop Motion is a form of animation that uses photos to make a short movie. Preparation for this project began during the Easter break when 1st Year students were asked to make a 'character' for their animation, a robot using only recyclable materials from their homes. 2nd Year students were challenged to make an animal of their choice from recyclable materials. During online and live Art classes over the next two weeks Ms O'Reilly, Art teacher taught the students how to make their character move and interact using their imaginations, with assistance from an app called 'Stop Motion Studio'. Students put a fantastic amount of hard work and effort into their finished animated movies even inventing sound effects to compliment the motions. In some cases , other family members and even pets got involved. One 1st year student had her robot driving a car! An amazing achievement. Presentation Secondary teachers are extremely proud of how their students have adapted to their new learning environment. It is well worth checking out the schools twitter and facebook pages to view the finished Animations.
| | |
| --- | --- |
| | |
Tomorrow's innovators showcase their impressive scientific projects at the STEM Showcase in Presentation Secondary School, Castleisland
Students from Presentation Secondary School Castleisland, Scoil Mhuire Gan Smál Castleisland, Scoil Íde, Curranes, and Gaelscoil Mhic Easmainn, Tralee took part in a STEM Showcase on the 5th of March, in Presentation Secondary School, Castleisland. One hundred and forty-five students exhibited innovative STEM projects on a wide variety of topics.
This event is part of a much extended and elaborate programme titled the 'Digital School Excellence Fund' which aims to develop a more positive attitude to STEM subjects amongst females within the cluster at primary and secondary level; to enhance students' digital literacy skills, particularly in the area of Maths and Science; to increase the uptake of Chemistry and Physics at senior level; to increase the number of female entrants into STEM courses at third level.
During the event, Presentation Castleisland's 1st year STEM role models presented projects as well as acted as judges for the primary school projects. Primary school students who attended the event as visitors were entertained by the wide variety of scientific projects and also by Linda from DigiWiz who held different workshops using 3D pens, VR systems, and robotics.
On the day, we had appearances from many special guests who shared their experiences in STEM. Aoife O'Brien from Kerry SciTech, Emily Brick from Athena Analytics, Claire O Riordan from the PDST and Susan Enright, a Lecturer in IT Tralee. These strong, independent women are such an inspiration to the younger generation as they are leading the way in STEM.
On closing the event, an award ceremony was held where each student received a certificate of achievement and each participating school was awarded with a very impressive STEM kit, which contained important and useful equipment such as beakers, graduated cylinders, magnets and electricity kits, all which can be used in everyday lessons. The kit also included an iPad for documenting the project as well as for scientific research.
As Mae C. Jemison an American engineer, physicist, and astronaut said "We look at science as something very elite, which only a few people can learn. That's just not true. You just have to start early and give kids a foundation. Kids live to, or down, to expectations" And that's just what we are trying to achieve here at Presentation Castleisland, we are continually enhancing the scientific knowledge of primary and secondary school students which is hopefully paving a pathway for our future scientists.
3-in-a-row for Pres Castleisland Student Entrepreneurs
Presentation Castleisland, for the third year in a row, have claimed the top prize at the Kerry Enterprise County Final in the Junior Category. For the second year in a row, they have claimed the top prize in both the Junior and Intermediate Category and also claimed the Entrepreneurial Educator of the Year for consecutive years. The school won the Overall School Award for the second time in three years. The Pres girls are now into the National Final for the fourth time in the past five years. Reaching this stage of the competition places them within the top 1% of student entrepreneurs in the country.
On Tuesday 31st March, the Kerry Local Enterprise Office, announced this year's awards and Pres Castleisland claimed six of the prizes on offer. Five groups from Pres, across all three categories entered the County Final: Junior – 'Cast Aways' & 'Double Doggie', Intermediate – 'Sála Síos' & 'Gaelic Touch', Senior – 'Glúin & Glan'. The following was awarded to Presentation Castleisland:
1st Place in the Junior Category: 'Cast Aways – waterproof cast covers for arms, feet and legs made from recycled tents and car covers' – Aine Broderick, Charlie O'Keeffe, Emily Walsh, Ella Fitzgerald & Colene O'Callaghan.
1st Place in the Intermediate Category: 'Sála Síos – 3D printed horse stirrup attachment, that aids with balance as you ride your horse' – Katelyn Curtin.
Runner-up in the Intermediate Category: 'Gaelic Touch – 4 quadrant, colour-coded Gaelic Football boot skin training aid' – Ciara Cronin, Muireann Walsh, Megan Dennehy, Lauren E. O'Connor, Aine Murphy & Clodagh Coffey.
Best Business Plan: 'Glúin & Glan – a padded kneeler that protects your back and makes the chore of washing a breeze' – Maria Daly, Caoimhe Horgan & Lauren Butler.
Overall School Prize: Presentation Castleisland.
Entrepreneurial Educator of the Year 2020: Mr. Pierce Dargan (Business Teacher).
In May, the National Final results will be announced. Unfortunately, the National Final showcase in Croke Park has been cancelled. Pres Castleisland is aiming for its third All-Ireland title in-a-row after previously winning the Junior Category in 2018 and the Intermediate Category in 2019 at the National Finals in Croke. Best of luck to 'Cast Aways' in the Junior Category and 'Sála Síos' in the Intermediate Category at the National Final in May, as the school has two of the three entries from the entire county, for the second consecutive year.