Welcome
It was with great joy and pleasure that we welcomed back our staff and our students after a summer break like no other. It was comforting to hear the familiar laughter in the front foyer and the happy and content voices throughout the corridors of our school, as each year group returned for the commencement of the 2020-2021 academic year.
A very special welcome to our new 1st Year students, who began their secondary school life as Pres Girls on Wednesday of last week. After meeting their Tutors and Year Head, the girls then spent some of the day down on our astro-turf pitch getting to know each other and engaging in socially distanced ice-breaker tasks.
A warm Pres Thurles welcome is also extended to our new boarders and new students to our school in all other year groups.
Bake Off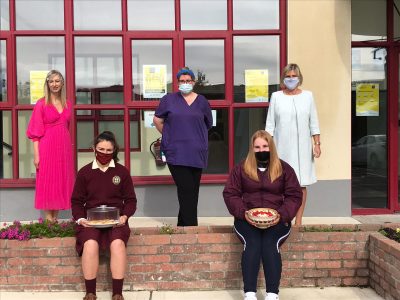 Pres Thurles TY students Aoibh Carroll and Orla Cruse are photographed presenting their Bake Off entries to Deirdre Moore of Padre Pio Nursing Home. To celebrate Positive Ageing Week and the older person in their lives, the girls chatted with their grandmothers about recipes from their childhood and the happy memories they evoked. Also included are Principal Marie Collins and Deputy Principal Trish O'Callaghan.
TY Trip to Dunmore
On Monday September 14th, our TY students travelled to Dunmore East Adventure Centre. The day consisted of many enjoyable and exhilarating activities, including an inflatable obstacle course on water, orienteering, kayaking and paddle boarding. In line with Covid restrictions, the girls were split into two groups, one of which began with the orienteering, and the other with the water sports.
In the afternoon, the girls moved onto the inflatable assault course on the water. There was no shortage of girls falling into the water whilst participating in this! The adrenaline continued to rush as they slid down slides, jumped across obstacles and ran from one end of the course to the other.
The day turned out to be a memorable team-building opportunity and it was a very enjoyable start to Transition Year. A big thank you to Ms. Glascott (TY coordinator) and to the teachers who travelled with the girls.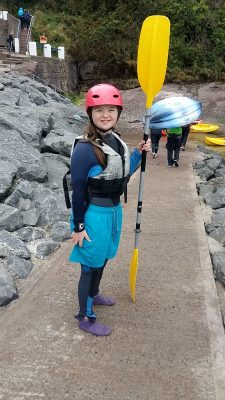 Pres Thurles student Caoimhe Campion is photographed on the recent TY day trip to Dunmore East Adventure Centre. The girls got great opportunities to participate in orienteering, paddle boarding kayaking, and an inflatable assault course. The day turned out to be a memorable and enjoyable start to Transition Year.
TY Mini Company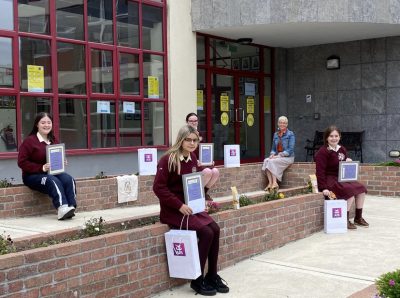 Winners of last year's TY Mini Company AIB Entrepreneurial Awards. The current 5th years, Mary Ellen Moloney, Emma Church, Rosie Bell and Angela Murphy created a product called Teds Treats, which are gluten free dog biscuits. The girls are pictured with Sue Anne O'Donnell- Student Enterprise Co-Ordinator for LEO, Co. Tipperary.
Sci-Fest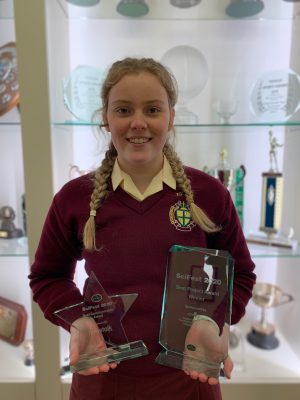 Huge congratulations to 5th year student Edel Daly who won two awards at Scifest 2020. Edel won Best Project Award Winner and the Newstalk Best Communicator Award. She will enter her project into this year's National Scifest Final in November and also this year's BTYSTE competition. We wish her all the best.
Green Schools
A Biodiversity Flag was awarded to our Green Schools Committee after two years of hard work by the girls and their co-ordinators Ms P Stapleton and Ms C O'Brien. This year, we will work towards our next flag, Globalization in litter and waste.
Leaving Certificate Results
Congratulations to all of our wonderful Leaving Cert and Leaving Cert Applied students who received their results last week. After a challenging and unprecedented end to their secondary school time, we were delighted to warmly welcome our Class of 2020 back in to our school's Sports Complex on the morning of their results. It was an opportunity for students, staff and parents to meet, have a cuppa and exchange good wishes and gratitude. The camaraderie among this group was evident to see. It was emotional for the girls as they finally got to say 'Thank You' and have one final morning in their Alma Mater. We are very proud of the young ladies that they have become. We wish them health, happiness and success in the years to come. They will always be 'Pres Girls'.
Junior Certificate Results
On last Friday afternoon, our former 3rd Years were invited down to the Sports Complex to receive their much anticipated Junior Cert results. After a very brief and socially distanced ceremony, our nervous girls tentatively exited outside on to the courts to open their long-awaited results. Seconds later excited screams of joy spread around the grounds. Huge congratulations to all of the girls – we are proud of you.
Coping with Covid-19
Huge work was completed to get our school ready for the staggered return of our students. Some changes have been made. Some of these include: school masks are mandatory for everybody in the school building; every classroom and every entry/exit point has a hand sanitiser; every classroom also has a sanitising spray for desks; information posters and floor stickers are dotted throughout the school demonstrating the one-way system that we have for everybody; enhanced cleaning will occur throughout the day; all classrooms have been configured to a one metre distance between desks; staggered breaks and lunches will be in operation; different entry & exit points have been identified for each year group; three lunch halls are now in operation for each lunchtime, one per year group; there is additional supervision by teachers at the break of classes; offices and shops have been fitted with perspex screens; and we have a designated isolation area. For further details, check our website:  www.presthurles.ie
After-school Activities
We have a range of extra-curricular activities that take place in our school from Mondays – Thursdays inclusive. The sporting activities available to all students include: hockey, basketball, camogie, football, badminton, soccer, athletics, gym and fitness classes. Masks should be worn before and after these activities and social distancing will apply. We strongly encourage all of our students to get involved in at least one activity.
LCA PE Trip
Our LCA students travelled to the Grange and completed the infamous local hike recently as part of their PE class. What a lovely way to start the year.
Presentation Past Pupils & Associates Golf Day
Presentation Past Pupils & Associates will take to the Fairways of Thurles Golf Club. The date for your diary is Saturday 17th October at 12.30 p.m. There will be a presentation and refreshments following the golf.  An entry sheet will be posted in the ladies' locker room in Thurles Golf Club from Tuesday 15th September 2020. Please put your name and phone number on the sheet. The format of the competition will follow in due course. Would love to see you all on the day. Organising Committee 2020.
A Sincere Thank You!
We wish to acknowledge the huge contribution that our former School Correspondent, Kathleen Lawless, has made in promoting our school over a significant number of years. We value all of the work that she has done for Pres Thurles over the many years. We thank her most sincerely and wish her well in her retirement.