Ruth achieves maximum points in Leaving Cert 2020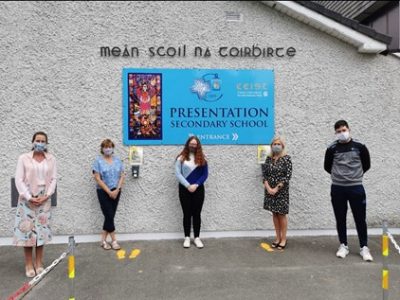 Well done to Ruth O'Connell who achieved the maximum 625 point in her Leaving Certificate exams.   She was thrilled   with her achievement and was delighted to be offered a place in UCC to study Biological and Chemical Science. Ruth says she is not sure which subject she will specialise in after first year but is looking forward to the further study. She is pictured here with teachers Ms H. Madigan, Ms A. O'Mahony, Mr. Jamie Culloty and Principal Ms. Chrissie Kelly.
Green School committee awarded Green Flag for Travel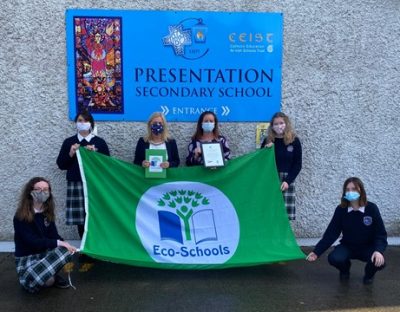 Congratulations to the green school committee who were delighted to receive their green flag for travel this month. This flag was awarded in acknowledgment of the work they have done over the last two years promoting sustainable transport in the local area. Well done to teacher Ms O'Connor and the team!
Clare Ryan visits Pres Tralee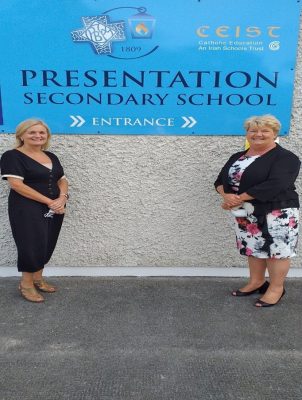 Ceist CEO Clare Ryan visited the school this month. Ms Ryan toured the school with principal Ms Kelly to see all the work that was undertaken during the summer to ensure a safe return to school for our school community. We look forward to welcoming Ms Ryan to Pres Tralee again in the near future.
New Head Girls elected
6th year students Julia Szarota and Aoife Hickey were elected as Head Girls this month.
Both students were thrilled to be chosen by the students and staff of the school. They both attended Presentation Primary school and have been friends for many years.
One of their first duties as head girls will be to form the 20/21 Student Council. In what is sure to be a very different academic year the role of the council will be even more important this year and both girls are determined that the student voice will continue to be heard. Best of luck for the year girls!
Halloween Fun
TYs celebrated the last day of term with some pumpkin carving, a Halloween quiz and a movie. Thank you to Ms Cronin for organizing a wonderful day.