Christmas Shoebox Appeal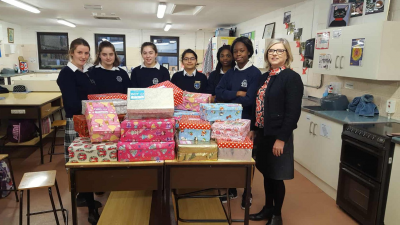 Forty shoe boxes were collected today for the Christmas Shoebox Appeal for Hope. Well done to all involved, in particular the first-year students who brought in the boxes and Mrs O'Connor's sixth year Religion class who organised the initiative in the school.
St. Brigid's Killarney Choir sing Christmas Carols at Annual Tree Lighting Ceremony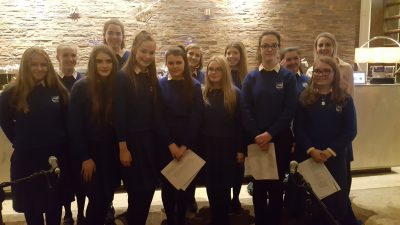 Our choir did a super job creating a festive atmosphere at the Brehon Hotel on Sunday 2nd December for the Annual Tree Lighting Ceremony in aid of St Vincent de Paul. Santa himself made a visit to turn on the lights and meet with the many children who had gathered to join in the festivities! Well done to the girls of St. Brigid's who sang a selection of Christmas Carols which were enjoyed by all.
LCVP Students visit Skellig Chocolates Factory
St Brigid's LCVP students ventured to Skellig Chocolates and their factory base  in Ballinaskelligs. As part of the Leaving Certificate Vocational Programme, students are required to investigate a local enterprise and they chose to learn about Skellig Chocolates. Mr Healy gave the students an in-depth talk on all things enterprise related from production to marketing; as well as how they apply to his own niche area of the industry. Skellig Chocolates kindly gifted the girls a treat on the  day also. Special thanks to Ms Dowling for organizing this trip.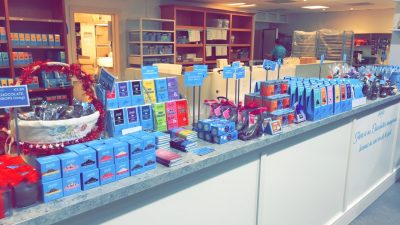 TY Bank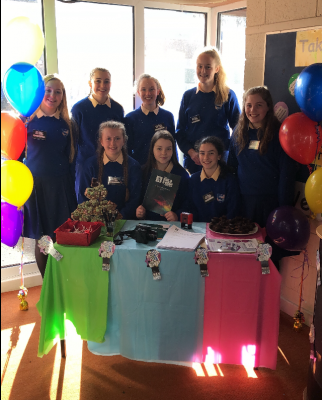 We are the 'inside out' TY Bank for St Brigid's Secondary School. Our aim is to help students in our school become savvy savers and learn about the importance of money and saving while also giving back to the school and its students. The theme of our bank is 'wellness'. On Monday we launched our bank in the school canteen to a very excited welcome from both staff and students. During the year we will hold different events to raise money for our school. For our launch we were able to set up a hamper to raffle off among our customers thanks to the generosity of the businesses in the town. We would like to thank our sponsors: Sheahan's Pharmacy, 4 star pizza, Sewell's Pharmacy, Lir, Auntie Nellie's, and Gloria Jeans. We are open every Monday in the school and welcome all ages to start savings with us. Link teacher Ms. Brosnan said "It's great to be a part of the AIB Build a Bank challenge and for the girls to be so involved and enthusiastic about their bank and giving back to the school. It's a wonderful opportunity for them to open their horizons and to get the experience of running a small bank like this."