Christmas Shoebox Appeal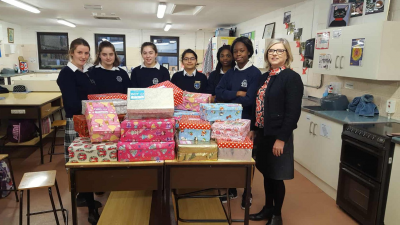 Forty shoe boxes were collected today for the Christmas Shoebox Appeal for Hope. Well done to all involved, in particular the first-year students who brought in the boxes and Mrs O'Connor's sixth year Religion class who organised the initiative in the school.
St. Brigid's Killarney Choir sing Christmas Carols at Annual Tree Lighting Ceremony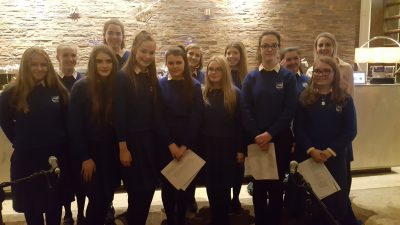 Our choir did a super job creating a festive atmosphere at the Brehon Hotel on Sunday 2nd December for the Annual Tree Lighting Ceremony in aid of St Vincent de Paul. Santa himself made a visit to turn on the lights and meet with the many children who had gathered to join in the festivities! Well done to the girls of St. Brigid's who sang a selection of Christmas Carols which were enjoyed by all.
TY's Sing for St. Francis Special School, Beaufort
Our TYs sang in the Credit Union with their music teacher, Ms. Rosie Healy recently in aid of St. Francis Special School, Beaufort.
LCVP Students visit Skellig Chocolates Factory
St Brigid's LCVP students ventured to Skellig Chocolates and their factory base  in Ballinaskelligs. As part of the Leaving Certificate Vocational Programme, students are required to investigate a local enterprise and they chose to learn about Skellig Chocolates. Mr Healy gave the students an in-depth talk on all things enterprise related from production to marketing; as well as how they apply to his own niche area of the industry. Skellig Chocolates kindly gifted the girls a treat on the  day also. Special thanks to Ms Dowling for organizing this trip.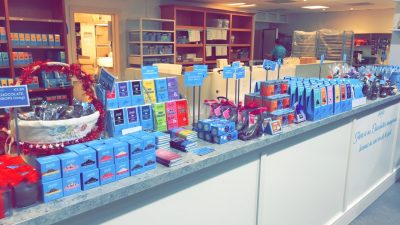 TY Bank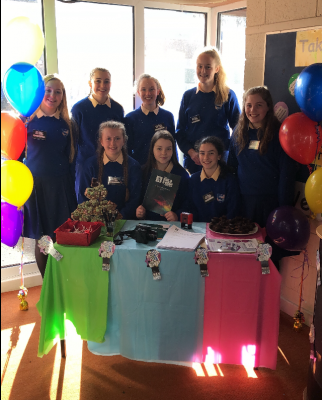 We are the 'inside out' TY Bank for St Brigid's Secondary School. Our aim is to help students in our school become savvy savers and learn about the importance of money and saving while also giving back to the school and its students. The theme of our bank is 'wellness'. On Monday we launched our bank in the school canteen to a very excited welcome from both staff and students. During the year we will hold different events to raise money for our school. For our launch we were able to set up a hamper to raffle off among our customers thanks to the generosity of the businesses in the town. We would like to thank our sponsors: Sheahan's Pharmacy, 4 star pizza, Sewell's Pharmacy, Lir, Auntie Nellie's, and Gloria Jeans. We are open every Monday in the school and welcome all ages to start savings with us. Link teacher Ms. Brosnan said "It's great to be a part of the AIB Build a Bank challenge and for the girls to be so involved and enthusiastic about their bank and giving back to the school. It's a wonderful opportunity for them to open their horizons and to get the experience of running a small bank like this."
Shanon Toner receives Award for Public Speaking
Shannon Toner 4 Green receiving her Award for Public Speaking from Killarney Soroptimist President Emer Moynihan.
London Science Trip 2018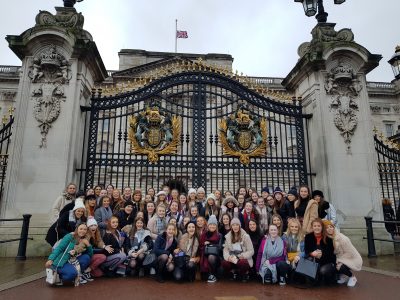 On Wednesday November 28th 62 excited leaving certs and 6 equally excited teachers braved a wintry storm to fly to London for 4 fantastic days of- amongst other things- Science, Shows and Shopping.
First stop was the wonderful Natural History Museum in Kensington, where the vast halls full of beautiful displays kept the students entertained for hours. Next, we visited the Science Museum, where exhibits included space exploration, developments in technology and feats of engineering. A rainy dash across Trafalgar Square led us to the National Gallery, where the artists were treated to a display of Art from medieval to modern times. After dinner in Covent Garden and a walk through China Town, 68 weary travellers made our way to the Ibis hotel in Wembley, our home for the next 3 nights.
After breakfast on Day 2, we took the Tube to the Globe Theatre, where some of the resident actors gave us a tour of a remake of Shakespeare's famous theatre, followed by a workshop on Macbeth. We then walked across the Millennium Bridge to Monument, where some brave, fit souls followed in Robert Hooke's footsteps, and climbed the steep spiral staircase to see the amazing views of the London skyline.
We then continued to the British Museum (which was a longer walk than anticipated, perhaps Mr. Hughes could shed some light as to why???). Here, the mummies proved to be a popular highlight, as well as the Rosetta Stone, though the coffee shop appeared to be a firm favourite with others….!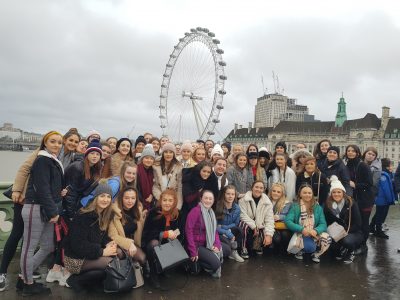 Following dinner at the Greene Man, we ended Day 2 at the theatre. School of Rock was an exhilarating show, with the most amazing cast (many of whom were children) all of whom played their instruments live on stage. We were delighted to get to meet some of the cast at the Stage Door afterwards for photos.
Day 3 began with a visit to Greenwich for the Observatory and Planetarium. Here, we were treated to a talk on the Solar System (or snooze… ) followed by a masterclass on exoplanets, and a workshop. We also posed on the Meridian Line for a photo, where East meets West. The next stage of our commute was by cable car across the Thames, another great photo opportunity, and from there by Thames Clipper to Edgeware Road for dinner.
Another visit to the theatre rounded off Day 3, this time for 42nd Street. This was a more traditional style of West-End show, with chorus lines carrying out dazzling dance routines in perfect synchrony.
On Day 4 we left the hotel by private coach (No more Tube! No more chasing Mr Hughes through Underground stations! No more squeezing ourselves into impossibly small spaces!). The bus delivered us to the London Eye, which provided us with a Bird's Eye view of Big Ben (well, the scaffolding around Big Ben anyway), Westminster, The Shard and many other notable buildings. We then walked past 10 Downing St, where were treated to the Changing of the Horses (they were probably changing them anyway, to be fair), along the Mall and down to Buckingham Palace. We then Taxi-ed our way to a very busy Oxford St for 3 hours of shopping and soaking up the Christmas atmosphere.
Our bus then took us, tired & broke (but happy!) to Gatwick Airport, where we frantically attempted to spend the last of our Sterling- God forbid we'd bring some home. We arrived in Shannon and boarded the bus for the last leg of our journey… unfortunately a little behind schedule, as it was 1 minute past midnight when we pulled up at St. Brigid's- we had been told 23:59!
It was a wonderful 4 days, in an amazing city, with 68 great people. Thank you for your co-operation girls, the many laughs, and your positivity in the face of some unpleasant weather. We hope you have made some lifelong memories from the trip. A huge thank you also goes to Mr. Hughes, who undertakes the mammoth task of ordering each and every aspect of the Tour every year.
Christmas Market
The students of St. Brigids Secondary School displayed their entrepreneurial skills by showcasing their products at the Christmas Market held in the school gym on the 19th of December. All students, parents and teachers enjoyed this event.
5K Run for Pieta House
On the 12th of December the St. Brigid's Couch to 5k team ran 5km in the demesne in Killarney National Park. This Santa Dash was done in aid of Pieta House and the amount raised came to €460. Great fun was had by all.