Its beginning to look a lot like Christmas!
The elves have been hard at work here in Presentation Secondary School, Tralee to make sure every hall in decked in Christmas decorations. The TYs created a live advent calendar with colourful displays painted onto the windows of the school.
6th year students decorated their courtyards in beautiful lights and decorations and 1st Years added some Christmas magic to their classroom doors! The annual Christmas Carol Service has been pre-recorded this year and will be streamed to each classroom during the last week of term. COVID-19 will not dampen our Christmas Spirit!
TYs help bring Christmas Spirit to Tralee Town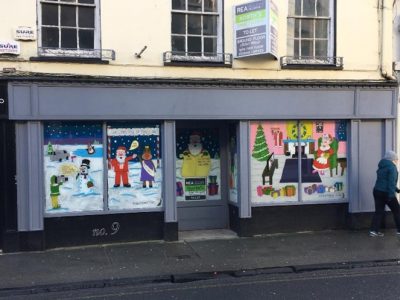 Mr Sullivan's TY art class were asked to design and create a Christmas themed window display for one of the vacant stores in Tralee Town. The students spent hours working on the project with their teacher and created an amazing piece of art. Their window tells the story of how Santa has replaced Daithi O'Se as the presenter for the Rose of Tralee. The display has really added to the festive spirit of the Town.
Christmas wreaths from the Polytunnel
TY Ag Science student and the gardening club have been busy making Christmas wreaths in the school Polytunnel. The wreaths will go on sale during the last week of term to raise funds for the upkeep of the polytunnel.
Tis the season to give back!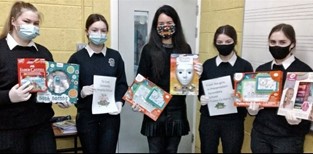 Our students have been working hard this month to raise funds and supplies for several charities. Ms Barry and the 1A CSPE class organised an 'Operation Santa' fundraiser and raised over €1,000 for St Vincent De Paul. It is hoped this money will make sure as many children as possible have a gift to open this Christmas.
Ms Trants 2nd year CSPE class donated school and art supplies to the sick pupils who attend Cork University Hospital School in the Puffin Children's Ward.
Finally, the Students Council are running their annual St Vincent De Paul food collection to help families who are struggling this Christmas.