Embracing Technology in Education
Although the current academic year has been fraught with challenges, it has also encouraged us all to be more innovative and to embrace technology to a much larger extent. This has been particularly evident with regard to our Transition Year students, who have really been engaging in on-line activities.
Last month, all TY students attended a Digital Marketing workshop, delivered by Fiona Mallon from Waterford/Wexford ETB, where they learned how to go about creating a digital marketing strategy. This skill-set is more important now than ever, and will create a new dimension for the girls' Student Enterprise projects. They also took part in Zoom Workshops delivered by Customer Service Ireland, learning all about customer care, and were fortunate to have been chosen to pilot the online version of the Junior Achievement ' Financing Your Future' programme, also delivered using Zoom. This valuable programme, taught by local JAI co-ordinator, Helen Halpin, explored the link between education, careers, and income, and really brought the world of work into the classroom with budgets, interactive discussions, and team games.
The TY students have also been putting their own IT and leadership skills to good use, as they organised a fun Halloween themed Kahoot Team quiz for first year students on the 22nd October. This helped our First Year students to settle into life here in Presentation Secondary School, as well as promoting wellbeing and digital literacy.
Green Schools Committee Begins Work towards Securing Fourth Flag
The Green Schools committee in our school was formed in September 2012. Since then, meetings have taken place every school week in the school library, with a new committee of students every year. The aim of Green Schools is to create environmental awareness among not only the students, but teachers, non-teaching staff, and parents involved in the running of our school. Green Schools aspire to extend learning beyond the classroom and develop responsible attitudes and commitment, both in school, at home, and in the wider world.
Our school currently has three flags; Litter and Waste, Travel, and Water. This year, we will begin our work towards getting our fourth flag, Biodiversity. This will be done by observing the wildlife in our school's environment and suggesting ways to increase the levels of biodiversity around the school, while hopefully raising the other student's awareness of biodiversity and nature. Along with our teacher representatives, the Green Schools committee also works closely with school caretakers, who are always willing to get involved.
Science Week 2020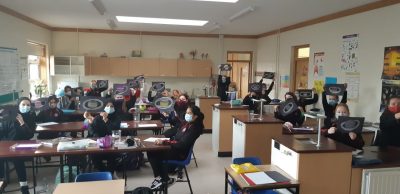 There was a great buzz around our school as we marked National Science week. This year's theme was 'Choosing Your Future', and the main thrust of the week was an information campaign about women in STEM, incorporating some STEAM (Science, Technology, Engineering, Art, and Maths) also. The Science teachers organised a whole host of events around the school, including a poster competition and daily intercom announcements featuring an important woman in Science. Teachers of other subjects integrated Science into their lessons too, in keeping with the theme of the week.
There were lots of exciting activities and virtual events within the science classes, including an 'Inspire with Abbott' event, a giant Kahoot quiz for First Years, and a virtual workshop on Electricity from Explorium and Science Foundation Ireland. Second year students enjoyed themselves immensely as they competed against students from other schools in a space themed quiz, delivered via Zoom, live from NUIG. This exciting event was hosted by Adriana Cardinot, a PhD student specialising in Earth and Science, which tied in nicely with our Women in STEM theme.
Leaving Cert Geography Field Work
The Sixth year Geography class headed to Kilfarrassy beach last on Thursday 12th November, braving the elements as they completed their field work for the Leaving Cert. After a morning of collecting and gathering data, the windswept girls and their teachers warmed themselves up with steaming mugs of hot chocolate before making their way back to school to analyse their findings.
Teacher Retirement
The last week in November was another bittersweet week for us all in Presentation Secondary, as we said goodbye to our lovely friend and colleague, Mrs. Pauline O' Keeffe.
School Principal, Ms Orla Bolger, paid a wonderful tribute to Pauline as she commended the huge contribution which she had made to the life of the school over the years. Speaking of her dedication, loyalty, and hard work, she said that Pauline had 'made a lasting impression on the world, every day she was involved in teaching'. She had done this through the way she made a difference to the life of each student who sat in front of her, and through the generous care and kindness shown to her colleagues every day of her career. Her English department colleagues echoed these sentiments in further testaments to her availability, kindness, and positivity in her dealings with her students.
We wish you every blessing on your retirement, Pauline. Ag guí gach ádh, sláinte an bhradáin, agus sonas ort lá i ndiaidh lae.
St Vincent de Paul Fundraiser
We were delighted to welcome the President of the local SVP branch, Mr. Eugene Lanigan, to our school on 24th November, to hand over a cheque for €576 which will be used to help local families in the run up to Christmas. This money was raised by our 5th year students and their teachers Ms Hart and Mrs McDonald, who organised a jersey day last month. This generated some healthy club and county rivalry around the school as we each donned the jersey of our team of choice, enjoying the banter as we supported this worthy cause.
The Show Must Go On!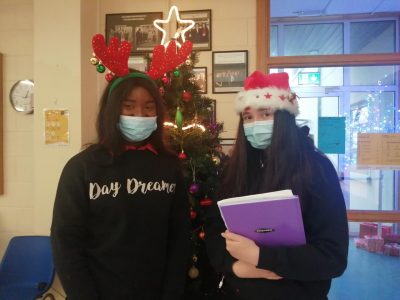 Every year, the members of our Student Council organise a Christmas Concert to be enjoyed on the day of the Christmas holidays. This event is a highly orchestrated variety of performances which showcases the talented solo singers, dancers, musicians and various other entertainers in our school. Santa himself even manages to take time out of his hectic schedule to squeeze in a guest appearance,  with a sack full of presents for those not on the naughty list. Numerous auditions, rehearsals and sound checks happen before the entire school community comes together in the social area to enjoy the show.
Despite the complications presented by this year, this year's student council are determined not to let a global pandemic get in the way of this much anticipated Pres tradition. They have been as busy as Santa's elves working on an innovative plan for a Christmas concert that will fully comply with public health guidelines and have guaranteed us that the show will go on!  Just like the Late Late Toy Show, this year's concert will be performed on stage, with the usual bells and whistle, to be enjoyed by all of us via live stream to our base classrooms.
First Year Students Participate in Ground-Breaking Experiments
First year Geography students enjoyed a lively Geography class recently, as they took part in a challenge to create an 'earthquake-proof' structure using spaghetti and plasticine. After much rumbling of floors and shrieks of panic and excitement, at least one or two surviving structures had managed to withstand the earthquake!
Spreading the Christmas Cheer
The Pres girls are also mindful of spreading the Christmas cheer to others in the city, who may be feeling lonely and isolated this Christmas.  Students have been working very hard writing uplifting messages onto hand-made Christmas cards in their Religion classes, which will be sent to the local homeless hostels and to Holy Ghost residential nursing home.  Our TY students, disappointed that they can't visit in person this year, are also busy preparing for a heart-warming Christmas carolling video to send to the Holy Ghost residents, to wish them a happy and peaceful Christmas.