Irish International Recognised
3rd year student Katie Law pictured with Principal Mr William Ryan holding a framed Republic of Ireland jersey that now hangs proudly in the school. Congratulations once again on a fantastic achievement having represented your country.
Class of 2020 Finally Celebrated
It was lovely to finally welcome back some members of the Class Of 2020 for their awards this term.
Congratulations to Aine Fitzgerald, Elise Zacherl, Aoife Prunty, Shauna Sinnott, Grainne Berry, Shauna Reck, Jessica Sludds Bynre, Sinead Kennedy, Jessica Scallan (missing from photo) & Aoise Davis who were awarded the Top 10 CAO points totals.
Construction in New Science Wing Begins
Construction has finally commenced on our much awaited new wing here in the school. It has been a long wait for much needed accommodation with extra science space & general classrooms. Thank you to DES & our Board of Management for funding.
Halloween Celebrations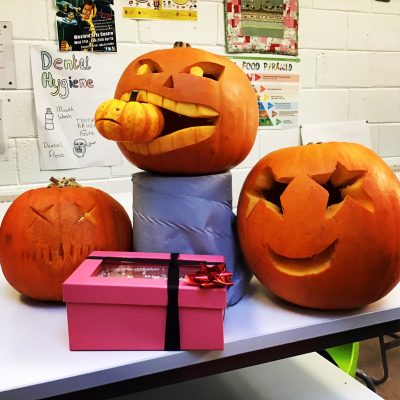 A special mid-term "Carve Creations Competition" will be held over the break on our Instagram page. VSWare points will be awarded for all entries. Here's some inspiration from some of our Home Economics students.