Society of African Missions
Friday the 1st March saw the Society of African Missions give all our TY students a very informative talk on Climate Justice. Thank you to Kathryn, Nora and Seamus for getting our girls to think about how serious Climate Change is and how they can do their part to help change it. Thank you to Ms Wallace for organising the day.
LCVP
5th year Presentation Thurles students recently visited Cashel Blue Cheese as part of their LCVP programme. Thank you to Ms O'Sullivan and Ms Heffernan for organising the visit.
20/20 Campaign
Huge congratulations to Casey Hennessy and Katie Ryan who were recently recognised by the 20/20 campaign which aims to see 20% more media coverage, participation and attendance at women's games by 2020. The girls were chosen because they have amassed 19 medals each in both Munster and All Ireland schools games. The Pres made sporting history becoming the first girls school to win 'The Treble' in Munster Football, Soccer and Camogie titles.
French Exchange
Our French exchange students are pictured with their partners last week as they immersed themselves in school life here in Ireland. They spent their days taking part in classes, learning Irish, how to play camogie and also some Irish dancing skills. Their evenings were spent travelling around taking in the local sights. Our students also got the opportunity to brush up on their French skills. Thank you to our teacher Ms Glascott and their host families for making the experience worthwhile.
Hockey
On the 8th of March last our Senior 'C' hockey players defeated the Ursuline Thurles 4-0, with Aoife Finlay and Laura Murphy contributing the scores. This victory sees the girls finish in second place in the North Munster League. Our Junior hockey team drew against the Ursuline on the same day and are in contention for the Junior 'C' League cup.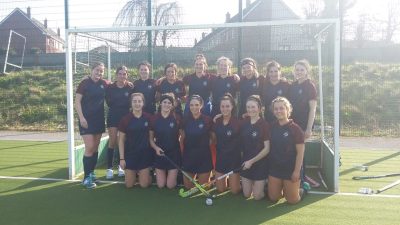 Front Row: Aoife Finlay, Ciara Treacy, Sophie Dooley, Isabel Finlay, Isla Sexton, Sarah Owens.
Back Row: Laura Murphy, Clara Coonan, Rachel McCormack, Ellen Buckley, Laura Courtney, Emma Dillon, Kate Atkinson, Amy Kerr, Sarah McCarthy.
Garda Volunteer Youth Award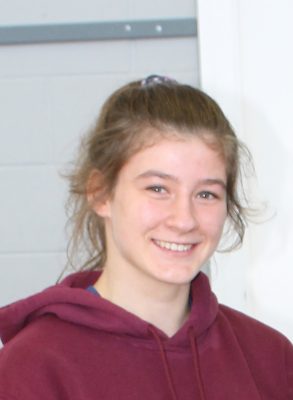 Presentation 5th year student, Tasha Tully, was awarded a Garda Volunteer Youth Award for giving her time generously to parish and community. Superintendent Eddie Golden organised this event to highlight the excellent work being done by young people throughout Tipperary. Tasha was one of four recipients who received an individual award. Tasha is involved in many different organisations and is selfless with her time for the good of others. Tasha is a member of the Knights of Malta, coaches underage basketball with the Knights Basketball club, coaches swimming in Thurles Leisure Centre, is helper at Moycarkey- Borris Summer Camp and is very involved in many parish activities. Our school and the parish of Moycarkey- Borris are very proud of her.
Business Studies Teachers Association of Ireland Award Winners
Congratulations to our 2018 Junior Certificate students, Roisin Donnelly, Kate Johnson, Lucy Mulcahy, Queva O' Meara, Sarah Curran, Aoife Dunphy, Lucy Mc Cormack and Grace Queally who attended the Business Studies Teachers Association of Ireland awards ceremony in the University of Limerick on Wednesday evening last. The students were recognised for achieving an A grade in their Business Studies Junior Certificate Exam and received their certificate from Professor Philip O' Regan, Dean of Kemmy Business School. The students enjoyed a wonderful evening in the surrounds of the University Concert Hall and had the opportunity to listen to keynote speaker, UNICEF Ireland Youth Ambassador Natasha Maimba.
Spectroscopy in a Suitcase
Fifth year and Transition year students participated in The Royal Society of Chemistry "Spectroscopy in a Suitcase" workshop (in conjunction with UCC's School of Chemistry). The workshop gave students the chance to learn about spectroscopy through hands-on experience using an infrared and ultraviolet spectrometer. As well as covering the principles of spectroscopic techniques, the activities utilised real-life context to demonstrate the applications of these techniques. There was a strong emphasis on encouraging students to consider studying chemistry and the career opportunities associated with it.
Holycross Drama Festival
On Tuesday 19th of March next eight students from Transition Year will represent our school in the annual Holy Cross Drama Festival Schools competition. The girls will present their performance of one act from Frank McGuinness' "Observe the Sons of Ulster Marching Towards the Somme". The cast will comprise of Aoife Dunphy, Sarah Curran, Aishling Maloney, Lucy Mulcahy, Roisin Donnelly, Roisin Kiely, Laurie McMahon and Bailey Ryan Casey. The story concerns four pairs of close friends helping each other overcome their deeply rooted psychological scars while they are on leave from the trenches of the First World War. It should make for a beautiful example of stagecraft, and no doubt the girls will acquit themselves well.
Aoibh wows judges with her Mary Poppins Cake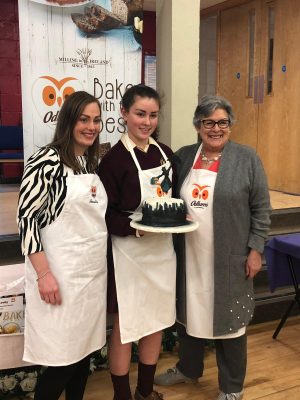 Congratulations to 2nd year Pres Thurles student Aoibh Carroll who was runner up in the All Ireland Ceist Bake Off which was held in Athy on March 8th. Aoibhs cake was inspired by Mary Poppins and she is pictured with Imelda Rose McCarron (Great British Bake Off contestant in 2018) and Catherine Leyden from Odlums.
Spikeball Leaders Awards
Congratulations to our Transition Year students who have been selected to take part in the Volleyball Ireland Transition Year Girls Spikeball Leaders Award Programme. These awards are funded by the Sport Ireland 'Women in Sport' project which encourages girls to actively participate in sport. The Spikeball programme involved coaching volleyball to local primary school students for a period of six weeks. The girls have thoroughly enjoyed the programme and will hold a Spikeball blitz on Wednesday the 20th of March to conclude the programme.
Pres Thurles through to Junk Kouture Finals
Friday 8th of March saw our four teams – All Scrubbed Up, Pretty in Patch, Addressing the Topic and Junk 'n' Shore- travel to the University of Limerick for the Southern heats of this year's Junk Kouture competition. The girls faced stiff competition with over eighty entries competing to win a place in the final. The dresses were made entirely from recycled materials and the girls had sixty seconds to showcase their design in front of the judges and the cheering crowds. Well done to all our groups and congratulations to Aoife Dunphy, Sarah Curran, Roisin Donnelly and Beth O'Toole, who now go forward to the finals on the 2nd of May in the 3 Arena in Dublin. The girls' winning dress is made from obsolete medical equipment, old surgical scrubs and reused mdf. We wish our girls the best of luck!
Pres Thurles Academic Excellence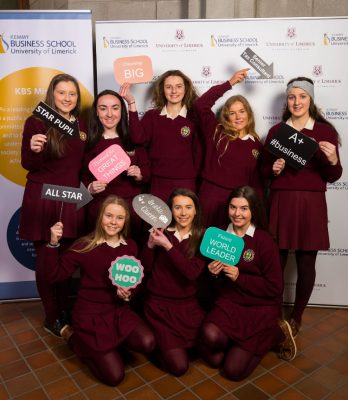 Well done to our 8 TY students who were each recognised for receiving an A in Junior Certificate Higher Level Business Studies in 2018. The girls were presented with their Certificates of Achievement from the Kemmy Business School, University of Limerick.  Back row: Roisin Donnelly, Lucy McCormack, Lucy Mulcahy, Grace Queally, Queva O'Meara. Front Row: Aoife Dunphy, Kate Johnson and Sarah Curran.
BT Business Bootcamp Winner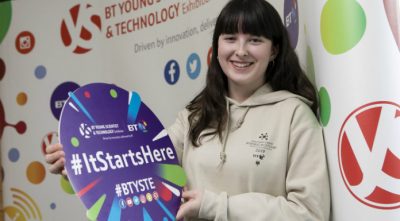 Congratulations to sixth year student, Roisin O'Connor, who won a group award at the 10th annual BT Business Bootcamp recently. The BT Young Scientist Business Bootcamp was established in 2010 by BT and is delivered in partnership with the innovation team of UCD Research and Innovation. It allows students to gain the commercial skills they need to further develop their BT Young Scientist & Technology project ideas. The culmination of the four-day programme saw the students pitching their companies to an expert panel of judges.
Presentation Thurles are All-Ireland u19 Badminton Champions
Congratulations to our under-19 badminton team who won the All-Ireland Schools Final in Gormanston, Co. Meath on the 20th of March. The team consisted of fifth year students Emily Phelan, Sarah Doheny, Mary Ellen Phelan, Ciara Treacy and Bronagh McEvoy. The girls took the All-Ireland final games in their stride as they faced teams from Leinster, Ulster and Connacht. First up was Leinster's Loreto Convent, Bray. The girls defeated Loreto on an overall score of 4-2. Next, they triumphed over Ulster's Coleraine Grammar Secondary School with a score of 5-1. The last team to face the Presentation girls was Connacht's St Nathy's Secondary School, Roscommon. Without doubt the Pres girls saved the best until last with a superb 6-0 victory over St.Nathy's. It is twenty three years since any Tipperary school has won this competition and it is our school's first All-Ireland badminton title. Congratulations to the girls on this fantastic achievement!
TY Trip to Amsterdam and Cologne
Our Transition Year students recently departed on an early morning flight on the first leg of their trip to Amsterdam and Cologne. Both staff and students couldn't wait to visit these beautiful cities, try the traditional food and experience the diverse cultures. After a pleasant flight to Schiphol airport, the first port of call was to the Anne Frank House where the students learned of Anne's experiences during World War II. The girls then had the opportunity to sit back and relax on a boat trip around Amsterdam's canals and bridges. The following day they visited the Zannse Schans Region to see the Dutch polders and windmills and they learned how cheese is produced while enjoying some cheese tasting. The girls also visited a clog maker and the traditional fishing village of Volendam. The next day the group departed for the Concentration Camp, Kamp Vught. This was a solemn and poignant experience for the students.  The girls ended the day with the fun filled thrills of Efteling Themepark.  After a two day sojourn in Amsterdam, it was time to depart for an overnight stay in Cologne. While there the girls had an incredible adrenaline-filled experience on the slides at a local waterpark. This was followed by some "light" exercise climbing the five hundred and thirty one steps of Cologne Cathedral bell tower! The trip ended on a sweet note with a visit to the Lindt Chocolate Museum!
This trip was an extremely enjoyable one where great friendships were forged and memories made,  along with the valuable educational and cultural knowledge that the group attained.
Soccer News
Presentation Thurles 4
Mercy Mounthawk Tralee 0
Presentation Thurles have qualified for the Munster 'A' First Year Soccer Final following a comprehensive victory on Friday last over their Kerry opponents, Mercy Mounthawk Tralee. The Presentation girls laid siege to the Tralee goal in the opening minutes and were rewarded with an early lead, thanks to Chloe Shorley. The Thurles girls quickly doubled their advantage after another smart finish, this time courtesy of Kate O'Hora. The Pres girls were relentless and the impressive Molly O'Dwyer made it three goals to nil, when her delivery from a corner kick deceived the Tralee keeper and found its way into the bottom corner of the net. Molly O'Dwyer had the final say of the game when she fired home a kick from thirty yards. Presentation Thurles look forward to the final in the coming weeks.
Basketball News
Our First Year basketball teams have been busy in recent weeks with matches against Our Lady's Templemore, Loreto Clonmel and St. Mary's Naas. After securing a two point victory over Loreto Clonmel, our girls travelled to Naas for the semi-final match. Presentation had a great opening quarter but Naas began to dominate the boards in the second quarter and were ahead at half time. Presentation Thurles never gave up but despite their best efforts, Naas managed to maintain the lead and secured the win. Despite this narrow defeat Pres Thurles secured a midlands semi-final place and are through to the All-Ireland playoffs which will take place in the next few weeks.
New School Promotional Video
Please click the link below to view the Presentation Secondary School Thurles School Video