Physical Education Expo in DCU
St Brigids Transition year students attending PEXPO which is a Physical Education Expo in DCU in association with the physical Education association of Ireland. The Expo provides students with the opportunity to present research based projects on various psychomotor, cognitive and emotional aspects of Physical Education and sport.
Green School Initiative
5 Days 5 New Ways
As part of the Green School Initiative, St. Brigid's Secondary School Killarney are tackling a new travel campaign called 5 days 5 New ways. The main aim of this campaign is to encourage alternative means of travelling to school in order to reduce congestion outside the school entrance. This campaign also focuses on the health and wellbeing of the student to encourage them to walk and cycle to school. The school also hopes to promote the very topical issue of climate change by reducing carbon emissions.
On Monday the 4th of March at 8.30am the Greens Schools Committee launched the Park and Stride initiative. Students were dropped to Tesco car park in town and walked to school from there. Carpooling was the mode of transport for Tuesday. Cycling was the third method of transport for Wednesday. Thursday, students assembled in the Lidl carpark and were escorted to school. Friday, encouraged more people to use the bus service.
The Green Schools Coordinator of St. Brigid's, Sheree Murphy said "The support from various organisations such as Killarney Gardaí, Killarney Tidy Towns Committee and Mayor of Killarney John Sheahan has been phenomenal. I think everyone would like to see the public, in particular students getting more active in the morning as it is not only beneficial to our health but also to the environment and Killarney town itself." A particular thank you to the Tidy Towns committee who sponsored a €30 voucher per day for any student who got involved in the 5 Days 5 New Ways Initiative. The student's names were entered into a raffle for a voucher. Mr. Colm Copper representing AIB also sponsored a voucher for students who got involved in two or more mornings. Kerry footballer and All-star winner, Ms. Sarah Houlihan was also on hand during Thursdays event in order to encourage more walking to school. Thank you to Garda Jamie Lenihan who organised Garda presence on each of the days.
Walk to School
Another successful morning for St. Brigid's who have launched their campaign this week to encourage alternative means of travelling to school. This morning saw students, staff , school principal Ms. Roisin Moore and Kerry footballer and all star winner Sarah Houlihan gather at 8:15 am at Lidl.
Green Schools Coordinator Sheree Murphy remarked how "The traffic was so heavy on Port Road this morning from 8:30-9:00 am with parents dropping students to the five different schools,our walking group were actually passing the cars out." She also remarked that students who do not normally walk to school but walked this morning to help launch this sustainable travel initiative also commented on "How more energetic they were feeling from the 15 min walk from Lidl to the school" and also how the students stated "The walk flew,it looks long to walk from Lidl but actually isn't."
Here's hoping more students start walking to school from different locations around the town.
1st Year's visit the Nano Nagle Centre in Cork
St. Brigid's 1st Year students visited the Nano Nagle Centre in Cork. The centre marks the birth place of the foundress of the Presentation Congregation, Nano Nagle.
The centre's mission is to promote a vision of eco spirituality – the natural interconnectedness of everything, which leads to personal transformation and a sense of responsibility to our earth and to all living beings.
AIB Build a Bank Challenge – The "Inside Out Bank"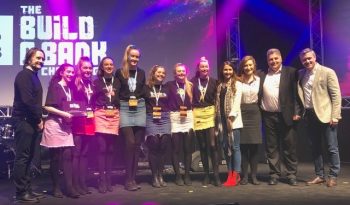 St. Brigid's Secondary School Killarney were involved in the AIB Build a Bank Challenge competition in the RDS Dublin on the 13thMarch 2018. We are delighted to announce that the girls won the "Best Newcomer" award. This is an All Ireland competition and with over one hundred schools participating this was a huge honour.  The team got the opportunity to present their Bank to a panel of Judges for four minutes in the RDS, which was a great achievement. All eight members of the bank team have been working hard towards this competition since September having won their place in the bank team through their interview skills they quickly gelled and got straight to work. The team would like to thank their Student Officer Alana O'Connor and teacher Ms. Brosnan for their help and support throughout the year. It was a great day in the RDS with stands of interactive stalls. The students said that this experience has been one of the highlights of TY for them, "We would highly recommend this competition to any TY student. We cannot believe how much fun we had on the day, it was an unforgettable experience".
| | |
| --- | --- |
| | |
Intercultural Day
On Thursday 21st of March. St. Brigids celebrated intercultural day displaying beautiful food displays of the various cultures in the school. The students also wore traditional dress and played music and dance of the various cultures in our school. Thank you to all involved.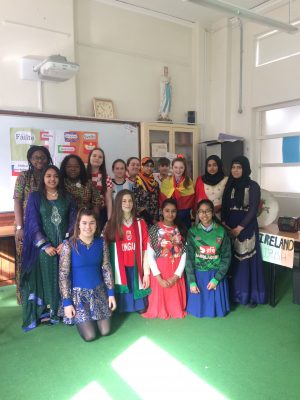 Daffodil Day
St. Brigid's Secondary School celebrated Daffodil Day and raised money for Cancer Research. A bake sale was held and merchandise was sold on the day.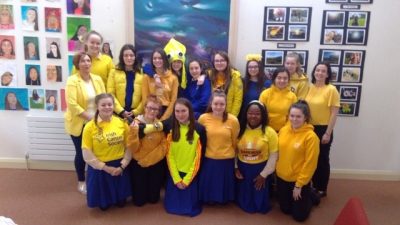 Sponsored School Sleep In for Homelessness
On Friday 22nd March, the Transition Year students of St. Brigid's Presentation Secondary School in Killarney staged a Sponsored School Sleep In, in order raise awareness of homelessness in Kerry.
The proceeds of this Sleep In will be divided between St. Vincent De Paul and Novas, a homeless charity based in Tralee.
This year the Transition Year students are participating in the Young St. Vincent De Paul Programme and have decided to focus on the social justice issue of homelessness, which is so prevalent in our society.
The students felt that there was a great deal of information and media coverage about homelessness in big cities for example Dublin and Cork, but that people didn't realise how it affects individuals and families in Kerry also.
Following a talk from Ronan Doherty of Novas,  the students learned that last Christmas there were 104 adults and 57 children homeless in Kerry. These figures startled them into action.
It is hoped the Sponsored School Sleep In will raise much needed awareness and funds to help those in need.
Ceílíuradh na nÓg Awards
Transition year students enjoyed the annual Ceílíuradh na nÓg awards day celebration held in The Brandon Hotel Tralee today.
The students made a presentation on Pilgrimage outlining their recent visit to Knock Shrine Co. Mayo and, in collaboration with other schools around the diocese,  enjoyed a variety of workshops on spirituality and faith development.
Awards were presented by Bishop Ray Browne, who spoke on the role young people have to play on the conservation of the environment.
Finally, the keynote speaker was former Manchester United footballer Father Philip Mulryne, whose story of leaving the trappings of professional football, to become a Catholic priest was truly inspirational.
The Awards day was a wonderful celebration of the youth of Kerry and a credit to Post-Primary Diocesan advisor Tomás Kenny and his team.