National Junior Science Olympiad
Congratulations to Transition Year student Hannah Hassett who was selected to take part in the National Junior Science Olympiad which was held in DCU on November 2nd. Hannah was selected as a result of her high achievement in her Junior Cert Maths and Science exams. The students selected at the National Olympiad will represent Ireland in the International Junior Science Olympiad in Doha in December. Well done to Hannah and to her teachers, Ms Charlene O'Brien and Mrs Mary Ryan.
Presentation Secondary School's visit to Nashville
It may be every country music lover's dream to visit The Grand Olde Opry in downtown Nashville but that dream became a reality for forty seven lucky musicians, singers and dancers from Presentation Secondary School, Thurles last week. An ideal time to visit Tennessee when the autumnal colours were vibrant, the homes and stores decorated seasonally and the weather so mild.
Having forged a friendship with Volunteer State Community College over the years, the Principal,Marie Collins, finally accepted the gracious invitation extended by Dr. John Espey, who organised the annual trips from Tennessee to Tipperary and enjoyed the hospitality of the staff and students of the Presentation school.
That hospitality was reciprocated tenfold on our memorable trip to Nashville during our midterm break last week. There was much planning and preparation by the Music Department under the guidance of Mr.Patrick Conlon, Ms.Cora Stapleton and Ms.Trish McEllgun in advance of the much awaited trip. This wonderful opportunity was not only a sight seeing tour but also a chance to showcase the talent of the students in four different venues, including second and third level colleges. Our excited students received rapturous applause from appreciative audiences, who delighted in the display of traditional Irish music and culture.
The action packed schedule ensured that the students and their teachers was always engaged and entertained. The highlights included tours of The Country Music Hall of Fame, The Ryman Auditorium, President Jackson's colonial home, a river cruise on The General Jackson Showboat, visits to John Paul 11 Private School, Gallatin Church Youth Centre and Volunteer State Community College. We also attended an American football game, where we were equally impressed with the marching bands and colourful cheerleaders as we were by the hard hitting players.
This was an incredible educational voyage packed with memorable moments for all lucky enough to be involved. We are so grateful to the organising committee of school management and generous teachers, who gave us the trip of a life time, a school tour like no other and a chance to realise that dream, walking the streets of Nashville, enchanted and charmed by the mecca of country music and embraced by the warmth of the Tennessee welcome.
Science Week at Presentation Thurles
As part of our Science Week, our 1st and 2nd Year students welcomed Alison Leck from Forensic Fun. The girls participated in a challenge whereby they had to use forensic science techniques to solve a crime that involved a diamond heist. Our budding detectives thoroughly enjoyed the activity!
The theme for Science Week nationally this year is Climate Change. Some of our Green School Committee members attended a tree planting initiative in MIC St Patrick's on Monday as part of Tipperary Festival of Science . The girls, along with their teachers Ms Stapleton and Ms O'Brien, received 50 tree saplings donated by Coillte for our school.
A Youth Assembly on Climate in the Dail was live streamed by RTE on Friday of Science Week. Our 5th Year students watched the live streaming of the debate in our school's assembly hall and some of our classes streamed it as part of their lesson.
Our Transition Years attended a workshop in The Source on Wednesday entitled 'Cracking The Code: The Genetics of Superheroes. The workshop was centred on mutants from comic books; heroes and villains whose special abilities are genetic in origin. Topics covered included genetics, mutations, DNA, mRNA, transcription, translation, transgenic plants and animals, gene therapy and more. A discussion was held on whether one day we could use genetics to make us superhuman?
On Friday, twelve of our students travelled to UL having been shortlisted for their projects entered into the SOPHia competition as part of Science Week. They had the opportunity to discuss and answer questions on their projects from adjudicators in UL. Following that some of UL's Physics research teams spoke to the girls on their current research topics. Many congratulations to Alex Zhao, Anon Maria Saju, Aimee McMahon (2nd Year) for their project on Marie Curie; Blanca Iglesias, Susana Somolinos, Lilly Fels and Itzia Bengoechea (TY) for their project on Stephen Hawking; Ava Murphy, Ciara Prout, Sarah Coady and Kate Laffan (TY) for their 'Hidden Figures' project; and Maeve O'Donnell (TY) for her project on Wind Turbines.
UCD Entrance Scholars Award
Congratulations to past pupils Anna Gavin and Alice Ryan who were each awarded a UCD Entrance Scholar Award at a ceremony in the UCD O'Reilly Hall on Wednesday 13th November. UCD Entrance scholars are First Year students recognised for their academic achievement in attaining over 560 points in their Leaving Certificate examination. Anna has commenced her studies in Veterinary Medicine while Alice has commenced her studies in Law. We wish them both every success in their chosen area of study.
School Mass
Below are some photos taken from our Opening School Mass.
Freaky Friday Fundraiser
Our fifth year students raised €330 for their chosen charity, 'Irish Guide Dogs for the Blind', by holding a Freaky Friday Halloween event recently for all first years, as part of their LCVP studies. The girls worked hard planning, organising and keeping the fun going on the day. Well done to all involved in this worthy cause.
Presentation Secondary School Thurles presents "SEUSSICAL THE MUSICAL JUNIOR"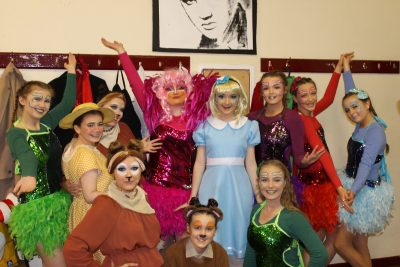 Preparations are well under way for our annual School Musical, "Seussical the Musical Junior". Following our amazing success in previous years, winning the Bord Gáis Student Theatre Award for 'The Best School Musical in Ireland' with the Lion King (2015) and Billy Elliot (2016), excitement is high as we get ready for our production of this renowned Broadway Show. This musical is based on the tales of Dr.Seuss where the Cat in the Hat tells the story of Horton the elephant. Horton discovers a speck of dust that contains a world of microscopic people called The Who's. With songs such as "Solla Sollew", "Oh the Thinks you can Think" and "Alone in the Universe", this show is sure to be a resounding success! The production team is busy putting the final touches to the show to ensure we are ready for opening night. Tickets are available from the School booking office on 087-2739411 for Thursday 17th, Friday 18th, and Saturday 19th October at 8pm in the Premier Hall Thurles. There is also a matinee performance on Saturday at 3pm. Go n-éirí go geal libh go léir!
| | |
| --- | --- |
| | |
German Exchange
Well done to the ten 5th year students who recently returned from their
German Exchange to Ignaz Günther Gymnasium Secondary School in Rosenheim, Bavaria. During their ten day school exchange, the girls were treated to the best of German life, food and culture. After their arrival in Munich Airport the students were greeted by their German partners and travelled by train to the city of Rosenheim, which lies in the south east of
Germany, not far from the Austrian border. The students attended school during the week and visited German and English classes and also experienced life in a mixed, non-uniform school. Afternoons and evenings were spent tasting local cuisine and visiting local attractions. The girls enjoyed group trips to Munich and Chiemsee Lake where they visited the famous
King Ludwig II Palace. A highlight for many of the students was the visit to the oldest active salt mine in Germany, situated in Berchtesgaden, Bavaria. During the guided tour the students had the opportunity to descend into the caverns of the mine to view the different chambers, the salt cathedral and the grotto built in honour of King Ludwig. This was an unforgettable experience for the students who have now returned to school with an increased awareness and appreciation of German life, language and culture. They look forward to their partners' return next March, when they will extend the Irish 'Céad Míle Fáilte'. Many thanks to the German teachers and to the community in Rosenheim who facilitated this fantastic learning opportunity.
Farewell Fortinbras
Sixth Years journeyed to Cork to attend a production of Hamlet, produced and performed by players from the Gaiety School. The performances and the experience were valuable and a day of education, entertainment and elucidation was had by all. The exclusion of Fortinbras caused little concern and so from all the girls and staff of Pres Thurles we would like to bid him farewell.
Jnr Certificate
Congratulations to Aoibheann Clancy who received top Junior Cert Results.
School Choir
Congratulations to the Pres Singers who performed at the CEIST Conference 2019 in Hodson Bay Hotel, Athlone.
Maths Week
Below are some photos taken from Maths week held in our school recently.
SCSI/IT Carlow Debating Competition
Congratulations to Sarah Owens and Aoife Graham who won 3rd place in the SCSI/IT Carlow Open Day Built Environment Debate on the 14 November 2019. The competition was very keen, but the Presentation ladies progressed from their group C pool to the finals. They had half an hour to construct their debate on the topic- "How will the construction industry look in 2050?". The exchanges were lively and the rebuttals fierce. A 3rd place finish was ultimately secured by Pres Thurles. The future for the Pres Thurles Debating Club  looks promising and bright.
Snr Soccer
16th November
Presentation Thurles 7
Coláiste Iósaef, Kilmallock 1
The Presentation girls began the defence of their Munster title with a home game against Coláiste Iósaef,  Kilmallock on Wednesday last. An uncharacteristically slow start from the Thurles girls saw them fall behind in the opening minutes as some weak defending saw the Limerick girls take full advantage and take an unlikely lead. However this only served to focus the reigning Munster champions and Michaela Lawrence fired the Presentation level with a great finish from an Aoibheann Clancy assist. The remainder of the game was defence against attack as the Presentation girls laid siege to the Limerick goal and goals from Aoibheann Clancy (2), Grace Flanagan (2), Chloe Shorley and Emma O'Sullivan saw Presentation run out convincing winners. Next up is a much stiffer test against Ursuline Waterford in Round Two.
20th November
Presentation Thurles 3
Ursuline Waterford 1
Presentation Thurles qualified for the Munster semi-final after a hard fought victory over a gallant Ursuline Waterford. Emma O'Sullivan settled the Pres girls with a goal in the opening minutes and before the Ursuline girls could recover from this setback, a sublime Aoibheann Clancy free kick had doubled the Thurles lead. To their credit the Ursuline girls rallied and put the Pres players under lots of pressure but once again Aoibheann Clancy converted a set piece to consolidate the victory.
Junior Soccer
13th November
Presentation Thurles 4
St Mary's Midleton 0
Pres Thurles soccer girls marched into the quarter finals of this year's competition with a comprehensive victory in Cork on Tuesday last. Roisin Dwan in the Pres goal was the busier of the keepers in the opening exchanges. Emma O'Sullivan  opened the scoring with an exquisite finish from just inside the box and added her second early in the second half, effectively ending the game as a contest. Grace Flanagan added a third with a sublime free kick and captain Aoibheann Clancy, who was outstanding throughout, completed the scoring. The girls will now meet St Mary's Nenagh in the Quarter finals.
Basketball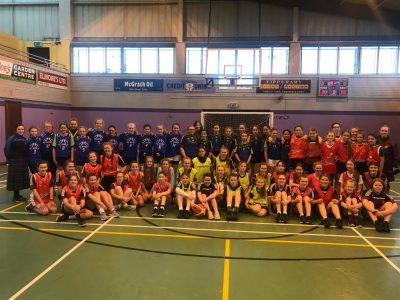 League 2019
It has been a crazy start to the basketball season already with with senior A and B and cadette A teams having league games on the road. Unfortunately our senior B team came up short in Loreto Clonmel but our senior A team had a fantastic win against Presentation Kilkenny to get their year off to a flying start. Next up for our Cadette and Senior A teams is Loreto Kilkenny at home in the coming weeks and our senior B team need a win against our close rivals Cashal to keep their league hopes alive. Best of luck to all teams and their coaches!
Cup 2019
Round 1 of the cup competition saw our cadette team play Coláise Einde of Galway in a home fixture. This was a war of attrition in a low scoring affair. Thankfully the Presentation fight ensured a narrow win on the day 20 pts to 18pts. Aoibh Carroll, Julie Butler and Marta Gondalez really stood up when it mattered to see the pres over the line. The girls now face Carraigtwohill in round 2 away in the coming weeks.
Unfortunately it wasn't a similar fate for the senior team who came up against a very strong St Genevieves team of Belfast. In a fast paced game the girls struggled to catch their second wind with every mistake being punished by the sharp shooting Belfast side. Even though they fought to the bitter end it wasnt to be on the day. Some great leadership shown by Tasha Tully and Aoibhín Foley wasnt enough to narrow the gap in the closing quarters. Final score on the day Presentation Thurles 40, St Genevieves 78.
Junior Camogie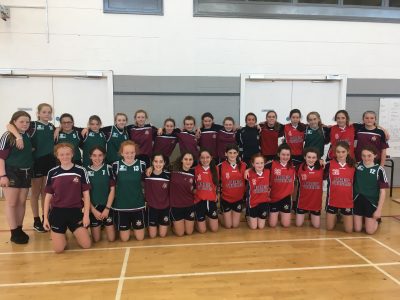 13th November
Presentation Thurles 8-5
Coláiste an Phiarsaigh Glanmire 2-5
Pres Thurles qualified for the Quarter Finals of this year's Munster Junior Camogie championship with a great victory over their Cork rivals on Monday November 4th. Lucy O'Connor proved to be the star performer with a four goal haul. Rachel Deegan and Kaitlyn Callanan chipped in with two goals each in a Pres forward line that was simply unstoppable on the day. Helen Cleere, Rebecca O'Mara and Caroline Shanahan displayed a defensive masterclass throughout, affording the forwards a great platform from which to win the game. Special mention to goalkeeper Molly O'Dwyer who made three vital stops early in the game. Best of luck in the Quarter Final girls!
Munster Glory for Futsal Team
The Presentation Thurles First Year girls were crowned Munster champions in thrilling fashion on Tuesday last in the Futsal soccer competition in Waterford. Having captured the county title in October, our girls were representing Tipperary in the Munster division of the competition. First up for the Pres girls were the Limerick champions, Moyross CS. The Thurles girls raced out of the traps and opened an unassailable four goal lead thanks to Grace Flanagan (2), Ella Coppinger and Ciara Shelly. Kerry champions Mounthawk, Killarney provided the next test for the Thurles girls. Once again it was a test the Pres team was equal  to ,thanks to the combination of a solitary Grace Flanagan goal and heroic defending by Emer Dwan and Caitlin Shelly .Spanish Point, winners of the Clare region, provided the next challenge and once more Pres Thurles maintained their winning run with Amy Reddan, Lucy Callanan and Victoria Cantwell adding fresh legs to drive the Thurles girls to victory. With two games remaining and one victory needed to secure a famous win ,the Pres girls were rocked back on their heels when Cork champions Pres Midleton inflicted a first defeat on the Thurles crew, despite good performances from Bláthnaid Lloyd, Ciara Shelly and Grace Flanagan.
With just one game remaining against Waterford champions Ursuline Waterford, the task was very simple: anything other than victory and the Kerry champions would  be crowned champions of Munster. With three minutes remaining, and the game deadlocked, the Thurles girls needed a magical moment and Ciara Shelly was on hand to provide exactly that as she fired home the all important goal. Reah Sweeney and the ever reliable Caitlin Shelly and Emer Dwan repelled all Waterford attacks and Pres Thurles were crowned Munster champions to scenes of jubilation at the final whistle. The Pres girls go forward to represent Munster in the All Ireland finals on the 5th of December. We wish them well.