Presentation Secondary School Tralee Inaugural School Awards 2019
On the 9th of May the entire school community came together to celebrate the first ever Presentation Secondary School student's awards ceremony. It was a night to celebrate all our wonderful students who have excelled in sports, academia and the arts over the past year and there were several different awards given out on the night to students, from first to sixth year.
The Ceist Award 2019 was presented to sixth year student Cara Segal by Ceist CEO Dr Marie Griffin who is herself a past pupil of the school. Other Awards included diligence and achievement, Mathematics, Science, Gailege and Enterprise.
Presentation students paint mural for Tralee church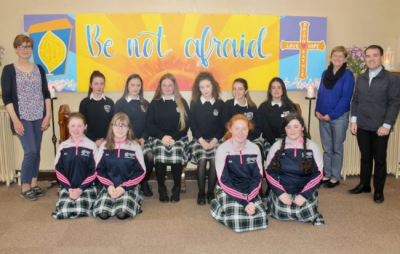 A mural painted by Presentation Secondary School students received a special blessing at the Church of the Immaculate Conception in Rathass, Tralee this month.
A mural with the words 'Be Not Afraid' emblazoned across it by Transition Year students is now hanging at the back of the church and art teacher Lilly O'Sullivan explained how the mural came about.
"Fr Seán Jones celebrated mass for Presentation Day in November and one of the things he told them was 'Be Not Afraid'. He said that phrase comes up 365 times in the Bible. The girls took that in and later, when Fr Jones asked if a mural could be painted for the back of the church, they picked those words."
Also included in the mural is the lantern which is a symbol of Presentation school. Ten girls volunteered to paint the mural, one of whom was baptised in the church.

Graduation Day for class of 2019
It was an emotional day on Friday 17th May as the 83 girls in the 'Class of 2019' enjoyed their graduation day.
The proceedings started with Mass in St John's, with the families of the girls attending, followed by a few words from Principal Mary Kennelly and Deputy Principal Chrissie Kelly.
The two Head Girls, Ciara Boyd and Michelle Doody gave a stirring address to their fellow students and afterwards everyone headed back to the school for refreshments.
The students were also presented with their certificates and each of them received a keepsake. Emotions ran high once more when students opened up their 'time capsules' which are the letters they wrote to their future selves while back in first year.
Best wishes to all our graduating students for the Leaving Certificate next month.