Celebrating Success
Blissfully unaware of the unprecedented chaos that was heading our way, our school charted through the first two weeks of March celebrating success at Junior and Senior Cycle, and beyond.
A group of second year students and their parents enjoyed a wonderful night in UCC, where they received their UCC Plus awards in recognition of their academic successes in the areas of Maths, English, Gaeilge and Modern Languages. Well done, girls, we are proud of you all.
We were thrilled to hear the news that fifth year student, Damiana Gabrielli was the runner-up in the Ceist Bake-off, and heartily congratulated her, and her teacher, Mrs McDonald on this fantastic achievement.
We were also honoured to be invited to the 2019/20 WIT President's Scholarship ceremony on 10th March, as our past pupil, Rebecca Troy received the award. This was the second time a student from our school received this award.
Sports News-Orienteering
One group of First Year students, one group of Second Year students and one group made up of TY and 5th Year students travelled to Kennedy Park in Wexford on Friday, 28th February, to take part in the South East Orienteering Competition, organised by the Waterford orienteering association. A team of four first year girls; Isabelle O'Brien, Caoimhe O'Regan,  Hannah Cummins and Holly Power came in 3rd place. A team of TY and First year students; Ella Murphy, Sarah Reidy, Ava Murphy and Lily McGrath also came 3rd place. All girls involved competed very well and enjoyed a great day out. We wish them the very best of luck in the next event!
TY Success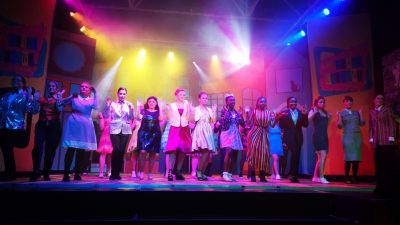 Transition year students were basking in the limelight following the success of their annual musical 'Hairspray' and we are thankful to director Mr Mark Scanlon, choreographer Mr Patrick Grant, and to all involved in this wonderful production. This talented group of students, wowed audiences and critics alike with their powerful performances and amazing set design. Everyone who witnessed the show agreed that this was an outstanding production worthy of appearing on any stage worldwide.
The talents of this transition year group showed no end when they enjoyed further success at the LEO Schools Enterprise Final in the Tower Hotel in Waterford on 3rd March. It was at this event that one of the three teams from our school who participated in the finals won a prize for their business 'Aromara'. Congratulations to Elohim Malonga,  Róisín Morrissey, Anna Chou, Sahada Abdul , and Saida Jamal, who are the budding entrepreneurs behind the successful venture.
Active Historian
March also saw the return of the annual Presentation Active Historian competition. This event showcases the hard work of budding First Year historians. It is the job of each student to create a display based on something they have learned in history class. Each year students have impressed with unique and historically accurate displays.
It will, however, be very hard to match this year's entries in terms of size and detail as both staff and students were wowed with displays ranging from realistic Irish Round Towers to detailed Motte and Bailey castles. In fact, choosing winners proved to be a difficult task for all teachers involved, with five displays being highly commended by the judges.
Congratulations to Holly Power, whose winning project was on Mesolithic Times, and to Maddie Sweeney, and Lilly Caoimhe Rafferty, who came second and third, with realistic model Crannógs.
Well done to all involved for their hard work and dedication to the task.
Seachtain na Gaeilge 
Covid 19 didn't dampen our spirits as we celebrated all aspects of Irish language and culture in our school during Seachtain na Gaeilge. Lots of enjoyable activities took place throughout the school, including table quizzes,  a non-contact céilí mór, complete with musicians, music and singing, and various other competitions, all 'as Gaeilge', to promote and develop an appreciation for our rich and beautiful language and culture.
'Beatha Teanga Í a labhairt'.
Challenge To Change
A group of eight Fifth Year students have taken on a project to highlight the issues faced by different communities in our school. This 'Challenge to Change' group have decided to focus on minority groups in our school, and to undertake a project entitled 'Minorities Make Us'.  As a valuable primary research source, they welcomed Homayoon Shirzad as a guest speaker to the group on Thursday, 27th February.
Homayoon, who works with Places of Sanctuary Ireland, spoke on his own experience of seeking asylum in our country, and provided the girls with valuable information for their project.