Seachtain na Gaeilge
Students in St Brigid's Presentation Secondary school kick start 'Seachtain na Gaeilge' by taking part in 'Aistritheoirí Óga' which is an Irish language translation competition. Transition Year students, Saoirse Coffey and Rebecca Doyle, are taking part and will hopefully display their flair for linguistics on the day (March 3rd). Firstly, the students must translate a document from English to Irish and afterwards they will translate a second document from French (Rebecca) or Spanish (Saoirse) to Irish. The theme associated with the documents to be translated is 'Climate Change' so it will be no easy feat. This competition is run by the European Commission in conjunction with the Department of Culture, Heritage and the Gaeltacht. It is in the 3rd year of the translation competition "Aistritheoirí Óga". The competition is aimed at secondary schools in Ireland and helps to promote the Irish language and provides exposure to job opportunities in the future in the area of Translation.
We are keen to promote language learning within the school and I must say that we are very fortunate as the girls always show great interest and ability. Saoirse and Rebecca are very diligent students, and this is not only a wonderful opportunity for them, but it is also a great achievement.
Irish Navel Officer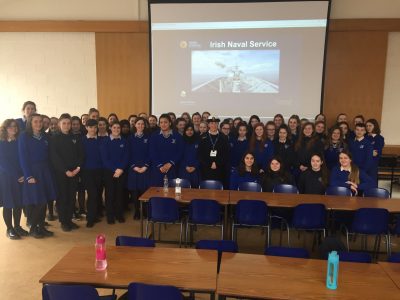 Transition year students were fortunate enough to have a very informative talk delivered by Honor Murphy ,Petty Officer in the Irish Naval service .
Honor spoke of the role of the naval service within the Irish defence forces such as Maritime Defence , fishery protection , contraband interdiction duties and search and rescue . She also spoke of the recruitment process and the qualifications and training required to apply.
It was intriguing to hear of Honors varied life on board the ship, working in the communications branch  It is evident that determination and good team work skills are essential . Honor shared some entertaining stories from her time as Petty Officer . She recently returned a yacht to its owner after he had suffered from a heart attack 4 months prior , and had to be airlifted to the hospital . The boat was discovered with a sticky note explaining how to turn on the engine!
While I'm not sure we all found our sea legs , it was certainly interesting to hear about life in the Irish Naval Service .
Written by Saorise Coffey Transition Year
Music Class
St. Brigid's Senior Music students attended a workshop & live performance by the National Symphony Orchesta of 2 of their Leaving Certificate Works in the National Concert Hall today.
Creative Cluster
St. Brigid's 2nd year Music class had a very busy and creative day today as filming for their upcoming Movie took place in various locations around the town. Producers, Directors, Camera-operators, Actors, Dancers & Musicians all played their parts with great enthusiasm. We're all looking forward to seeing the final product, as part of Killarney's Creative Cluster, in May.