Principals and Deputy Principals Network Meetings 2020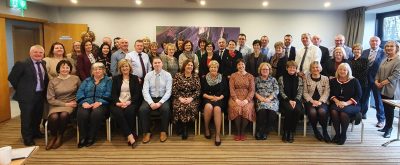 It was just wonderful to meet so many of our Principals and Deputy Principals at the recent CEIST Schools Network Meetings and we sincerely thank you all for your support. You certainly came out in force and for this CEIST are most grateful.
One of the requests made at these meetings from CEIST CEO Clare Ryan was to invite Principals and Deputy Principals who might be interested in working closely with us on a number of key areas of interest and indeed importance to all CEIST schools. Examples might be – Gender, Environment, RE – Instruction, Knowledge, Formation, CEIST Identity and Corporate Belonging, Wellbeing etc. etc.
Invitations for group participation were formally sent to all Principals and Deputy Principals who attended but equally, for those who couldn't attend, we would love to hear from you. As well as Principal and Deputy Principal groups we are hoping to also establish RE Working Groups. The real expertise is on the ground, in the corridors and classrooms of our schools and we genuinely want to harness that for the good of all.