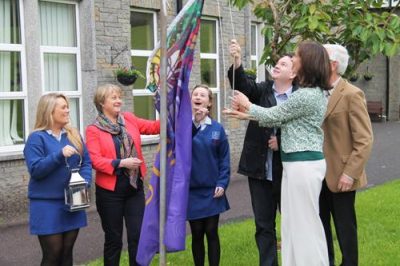 On Monday 19th of May the raising of the CEIST flag was celebrated with a Prayer Service with the Chaplain Maggie Quain in Mount Mercy College, Model Farm Road, Cork.
Staff and students gathered around to watch the flag being hoisted into its new position.
Mr John Kennedy the chairman of the Board of Management and Mr Richard Cronin Chairman of the Parents Association joined in the ceremony to recognise the important role of CEIST in Mount Mercy College.
Padraigin Ui Riordain Principal praised the work of CEIST and encouraged all students to be informed of the values promoted and treasured by CEIST.
It was a meaningful occasion and we were blessed that the rain stopped just in time for the ceremony.