Shane Walsh : UCD Ad Astra Academy Award
Shane Walsh , past student receiving his  UCD Ad Astra Academy programme award which supports high calibre students excelling in different areas by allowing them to reach their maximum potential inside and outside the classroom. Shane has reached great heights with his club Na Fianna, at underage count leavel with Meath and is not a vital cog in the Senior Team . He is pictured here with his proud parents and school coach Mr. Twaddle.
LCVP Trip to Musgraves Kilcock
Musgraves Kilcock hosted pur 5 th and 6th year Link Module students for the afternoon where the students got an insight into the biggest private owned employer in Ireland. We were give a talk by David Keane who spoke about the past present and future of Musgraves and the students had a site tour of the facility and we finished it off with a question and answer session. A most productive day and big thanks to Musgraves who continue to support Scoil Dara students every year.
Well done to Jamie O Shea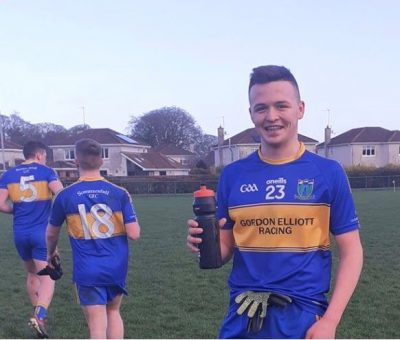 Well done to this great student and footballer , last years Minor Captain , still in 5th year but lining out for the Senior team in Summerhill.
When County Calls !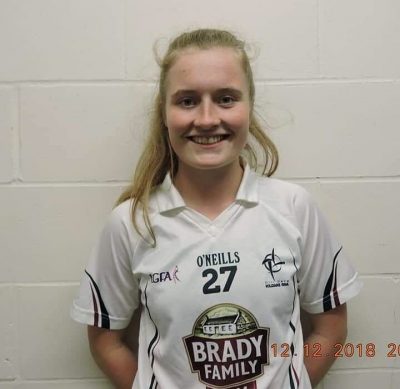 Well done to 6th year student Aoife Rattigan who has played both of Kildare ladies leagues games this year. Its a super achievement as Aoife is still eligible at minor grade !
Past pupils Grace White  Megan O'Connor playing for  Kildare ladies debut against Sligo at the weekend well done.
More sporting success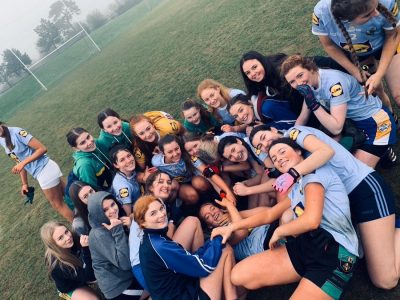 Congratulations to our fantastic U16 girls football team who won their 1/4 final to reach a South Leinster semi-final.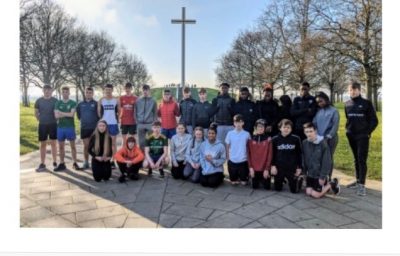 Well done to the amazing cross country team that represented Scoil Dara at the West Leinster Schools Athletics event in the Phoenix Park
Badminton Champions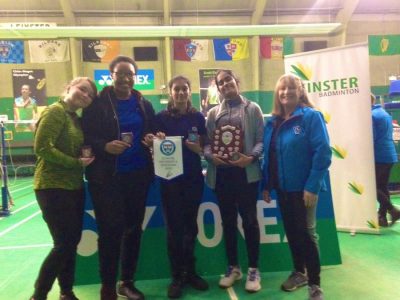 Champions …. how proud are we of Reshma Thomas Nambitha Muruthi Diana Wielgosz Taiwo Omolayea & Mr Doyle ! … Junior Badminton Champions 2020.
Home Economics
Amazing 3rd years preparing for their practical exam and mentoring to second years on how to make the perfect pizza.
Debating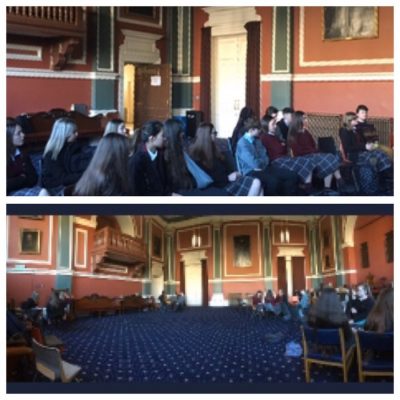 Ms Butler & TY students having completed a debating workshop got to debate the motion that *This house regrets the use of happily ever after* in children's narratives !
Open days in Dunboyne and Crumlin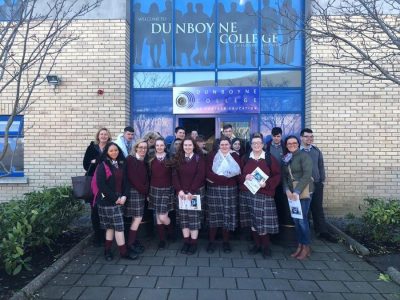 LCA students spent a very informative day attending open days , the future looks bright with these students.
Hot Chocolate Club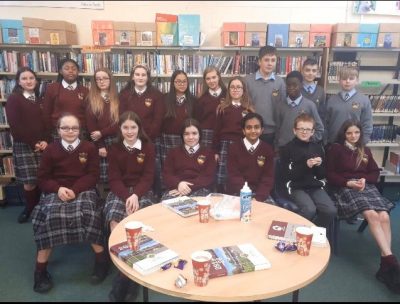 Another worthy bunch of students were  applauded and treated to the best hot chocolate ever , well done and keep up the great work , attitude and engagement in the school.
Catholic Schools Week In Scoil Dara
The last week in January  marked  Catholic Schools Week 2020, the theme for this year is  'Catholic Schools: Living in Harmony with God's Creation'. The theme encouraged us to see that we all have a responsibility to care for the earth, not just for our own future, but for the future of every one of God's creatures.
Since stewardship and environmental awareness is something that all our students feel very connected to, we felt that and aspired that this years CSW theme should also feel relevant to all the Scoil Dara students.
There was a different focus for each day and the staff were briefed by the RE department who passes on some fantastic resources https://www.catholicschools.ie/catholic-schools-week-2020/
It gave ideas for different activities for each day and teachers made reference  to the themes on whatever day best suited there subject the most.
Monday: Living in Harmony with God
Tuesday: Living in Harmony with our Neighbours
Wednesday: Living in Harmony with All Generations
Thursday: Living in Harmony with the Earth
Friday: Living in Harmony in our Catholic School
All of this lead to a very busy week in Scoil Dara with Daily prayers and thoughts for the day , Students from different year groups working with each other making Saint Brigids crosses and we finished off the week by holding a tree planting ceremony ! Well done to everyone for embracing this and we look forward to next year.
TY Bankers of the Future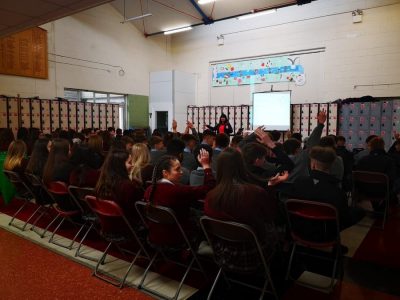 Amanda Conway from Bank of Ireland gave a workshop to TY students on budgeting, saving, investing, borrowing, CV building and interview skills. Students will be interviewed tomorrow for positions in the school bank launching soon ! Exciting times ahead!
Art
Exploring up-cycling Art in Scoil Dara .. well done to Gabby and Veronica who are working on this in the Art Club
Community Care Class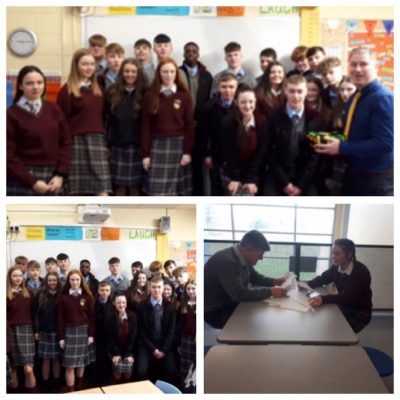 What a fabulous group … Ty's again, this time Ms Jones Community Care class presenting Mr Mc Cormack with €217 for school sports equipment raised by holding a soccer tournament and bake sale
Geography
Well done to Ms. A. Salley's 1C Geography class for their excellent projects , models , PowerPoints & even songs
Well done to Winners Eibhlin Costello, Isabella di Pede , Lizzie Crumpton Ellen Dignam, Abbey Gallwey Saoirse Quinn Anna Lambert, Hannah Murray and Grace Maher