Sancta Maria College Louisburgh performs an Irish first in Spamalot!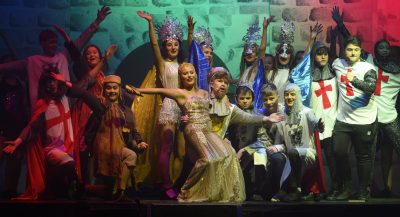 Students of SMC Louisburgh recently became the first school in Ireland to perform Eric Idle's hit musical, Spamalot. Based on the film Monty Python and the Holy Grail, Spamalot recounts the legend of King Arthur through a pythonesque lens, to hilarious effect.
The musical was a hit with audiences of all ages, as the standing ovations at each performance testified. Audience members praised the acting, choreography, the comic timing involved and the sheer delight of the spectacle that this show displayed.
The musical, directed by Sancta Maria drama teacher Marina Rice, featured students from all non-exam years and was put together by TY students, who took control of set, costumes, props, programmes and make-up. The stage managers, Kate Grady and Muireann Ni Shuilleabhan,  were elected by TYs and were responsible for the running of the show backstage as well as the overseeing of work in the weeks leading up to the show.
Following their learning experience in putting on a show, TY students are continuing their drama module by working with first years in a performance competition which they are calling the 'Foscars'.