Busy in Business at Sacred Heart Secondary School

On 26th January, Sacred Heart Secondary School's main hall was transformed into Dragons' Den for the purpose of hosting the YEOTY (Young Entrepreneur of the Year) awards. The concept was led by Brid Hennessy, Genevieve Collins, Kate O' Driscoll and Daniel O' Driscoll of the school's very active Business Department. Caroline Murphy of West Cork Eggs was Master of Ceremonies for the morning and assured the girls that 'there are no glass ceilings' in business career opportunities for women.
Local enterprising personalities, Orla O' Donovan (The Fig & Olive), Oonagh Croke O' Donoghue (Bella Donna), Mick Hanley (Chamber of Commerce) and Stephen Rowe (AIB) were invited to act as the judging dragons. All were visibly impressed by the array of innovative products and services designed by the Transition Year students.
The winning team, 'Clean Bee', comprised Chloe Holland, Isobel Crowley and Aine Moloney were commended for their design of an eco-friendly washing detergent made from honey, lavender and apple cider vinegar. 'Smashed' and 'The A Team' won second and third prizes respectively and the Best Team Name went to 'Eco-Threads'.
Meanwhile, Transition Year students are running a school bank in association with AIB, Clonakilty, and incentivising students at the school to start saving!
Seussical, the Musical' in Sacred Heart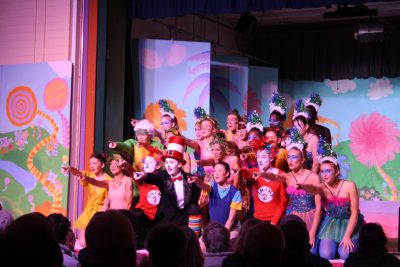 Students at Sacred Heart Secondary School, Clonakilty, treated packed audiences to a musical filled with excitement, colour and fun in early December last. The wonderful rhymes and whimsical characters of Dr. Seuss came alive with exhilarating song and dance and was a real hit with the whole community. The show is directed by Ms Karen Cotter from Montfort's and goes from strength to strength every year. Musical director is Music teacher, Ms Denise Hayes and choreographer is PE teacher, Mr William Browne.