Crowds in awe as Gluais perform in USA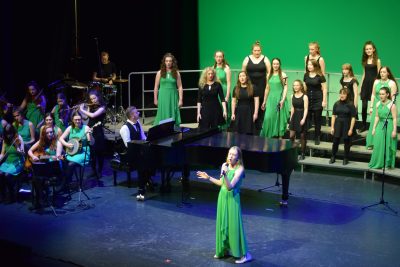 Congratulations to Gluais and their music teacher Mr Mícheál Kerr on their hugely successful performances at the International Children of the World in Harmony Music Festival in Michigan, USA.  Gluais, the trad band from Scoil Mhuire Secondary School in Trim, represented Ireland at the accomplished festival, now in it's 23rd year running. Notably, this was the first time Ireland was represented at the festival. Gluais took to the stage every night to perform in some of the most spectacular music venues Michigan has to offer, including Cheboygan Opera House & Great Lakes Centre of Performing Arts. Their youthful energy and musical talent left the audience in awe night after night. Gluais undoubtedly showcased Irish music and culture at the highest standard, blending their Irish traditional musicians, singers and their troop of Irish dancers together effortlessly on stage. Many commenting on the group's professionalism, the audience was encapsulated by the powerful vocals of the singers performing a mixture of Irish ballads and sing-along songs, such as "Oh Danny Boy", "Grace", "I'll Tell me Ma" and "Rocky Road to Dublin". Indeed, a crowd favourite was "Rattling Bog". The musicians' lively reels and jigs and infectious stage presence paved the way for the line of Irish dancers who meandered across the wooden floor in perfect sync, making the crowd stand on their feet, not wanting to miss a step. Of course, the impromptu performances were just as well received and remembered, including Gluais singing 93 stories high on top of the Chicago 360 Observation Deck and furthermore on stage in the main auditorium of the world-famous Chicago Theatre.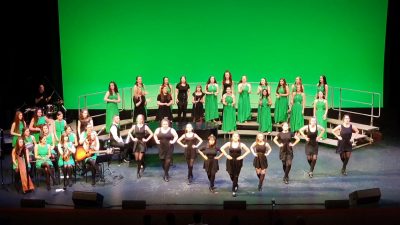 While in Chicago, Gluais also performed a two hour show in the renowned Chicago Gaelic Park. This was a truly special concert for all involved, with most of the audience members being Irish emigrants "away from home". Many became emotional as Gluais sang their repertoire of old Irish ballads and danced traditional 8-hand reels along with the infamous "Lord of the Dance".
When the Americans asked, Gluais certainly delivered. This was most evident when the City Manager of Boyne City, Mr Michael Cain, attended one of their shows in Michigan. He was so impressed by their performance that he called by their hotel the following morning to ask them would they come along and do a surprise performance at his daughter's wedding party. Needless to say, Gluais were thrilled to be asked and obliged. At 10pm that night, after performing in the festival's Gala Concert, Gluais travelled to Boyne City Hall and made their surprise entrance – neither the bride, groom nor the 150 guests knew what was in store! It was moments like this and many others that ensured Gluais and indeed Ireland was the talk of the festival.
It's important to note, however, that Gluais would not have been afforded the opportunity to travel to Michigan and Chicago if it were not for Trim Tourism Network. Trim Tourism Network travelled to Michigan to complete the twinning initiative that is being formed between Boyne City, Michigan and the Boyne Valley here in Ireland, for which a special ceremony was held on the 18th July. While in Michigan, Trim Tourism Network met with many delegates…..
To find out more about Gluais and to see videos and photos of their USA performances, find them on Facebook.
Opening School Mass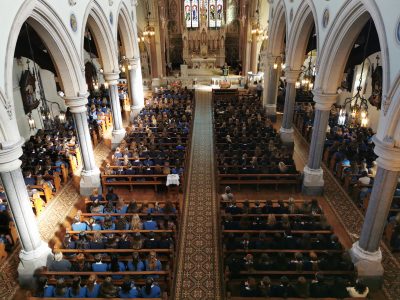 Opening school mass was celebrated today in school in celebration of Mercy Day.