Christmas Shoebox Appeal 2019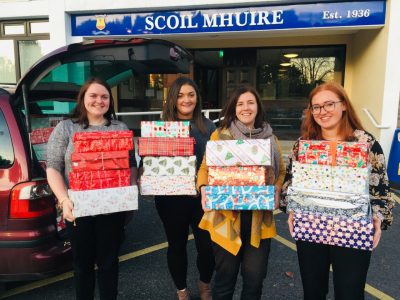 181 Christmas Shoe Boxes were sent off from Scoil Mhuire this week. Well done to all students and staff who made this fantastic initiative possible.
Gluais & Sharon Shannon Lift the Roof with Iconic Performance
Well done to all members of Gluais who recently performed with the internationally acclaimed musician Sharon Shannon at the Trim Trad Festival 2019 . The 40 members of the Scoil Mhuire band joined Sharon on stage to perform her classic "Say You Love Me" in memory of the late Dessie O Halloran. Gluais also performed as the support act for Sharon's concert that night. This was true honour and privilege for the girls to share the stage with Sharon Shannon and will be a memory they will have for many years to come.
The photos below show the girls of Gluais practicing with Sharon and having laughs with her during soundcheck.
Scoil Mhuire Student Wins Overall Prize at Irish Healthcare Awards 2019
Scoil Mhuire Fifth Year Student M. Gilligan was one of a group of 10 teenagers who attended the Ballsbridge Hotel in Dublin last Wednesday, 20th of November 2019, to attend the Irish Healthcare Awards 2019, a black tie event hosted by well known journalist and broadcaster Dr. Ciara Kelly.
Their project, compiled and submitted by Kilimanjaro Achievers coordinator, Dr. Padraig Sheeran, was titled 'Physical Challenge for the Physically Challenged'. The project had been shortlisted in the 'Patient Lifestyle Education Project of the Year' category along with 9 other projects.
The group were absolutely delighted to find that they were chosen as the overall Winners in their category on the night and were presented with an inscribed trophy by Dr. Ciara Kelly.
This award marked the fantastic achievement in August 2018 when M. Gilligan and the other teenagers, all aged between 15 and 18 and many of whom were just 18 months post scoliosis corrective surgery, were successful in submitting Africa's highest peak, Mount Kilimanjaro in Tanzania. They had trained physically and mentally for five months to climb Kilimanjaro, despite having no previous climbing experience. Each teenager had an incredible story to tell about their battle with significant health challenges over the past few years, all of which makes their achievements even more astonishing.
Sophia Competition Success for Scoil Mhuire in University Limerick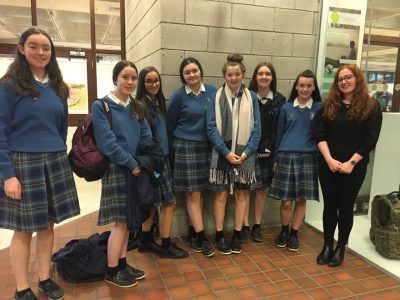 Congratulations to two of our TY girls, R. Moran and K. Kelly, who came 4th place overall in the Sophia Competition. The competition, which encourages choosing Physics as a subject, was held in University Limerick. The girls are pictured above with their teacher Ms E. Murphy. Well done girls!
SUCCESSFUL CAREERS SYMPOSIUM 2019
Successful Careers Symposium 2019
Very informative evening for our senior students on Friday 6th December at our annual Careers Symposium. Sincere thanks to all our past pupils who came back so willingly to offer their advice and guidance.
LCA Students Host Coffee Morning for the Meals on Wheels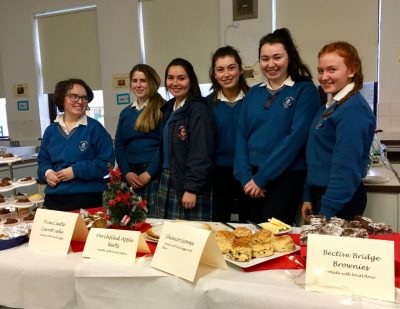 Well done to the 5th year LCA students of Scoil Mhuire, Trim who hosted a very successful Coffee Morning on Tuesday 10th December. All ingredients were locally sourced and all food was homemade by the students themselves. Each food item was aptly named after a local Trim landmark. All money raised was donated to Trim's Meals on Wheels.