Lucy Gibson Wins World Championship Medal in Karate
Lucy Gibson, from Presentation College, Carlow recently travelled as one of a team of eight from Ireland, to the 13th WKC World Karate Champions in Belgrade, Serbia. The team consisted of four from Askea Karate Club, two from Carlow Karate Club and two from Northern Ireland.
Lucy competed in four different events. Individual Kata 14-15, individual Sambon Fighting 14-15, individual Ippon fighting 14-15 and Lucy also joined the two from Ulster Karate in Team Sambon fighting 14-15.
Unfortunately she fell unlucky with her individual events by losing to Macedonia in the second round of individual Sambon (5-3) and losing Northern Ireland in the first round of individual Ippon. But the UKC team which consisted of the girls from Northern Ireland and Lucy won out their section and are now the current World Champions.
Congratulations to the trainers and members of the two Carlow Karate clubs. What an achievement to have six of the top eight in Ireland from Carlow.
John Paul II Award Recipients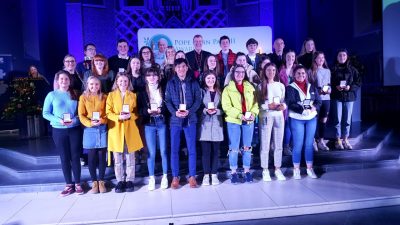 Presentation College JPII Recipients with Ms. Maher, Bishop Denis Nulty and Mr. Murray
Congratulations to all 30 of our JPII Award Recipients who received Silver, Gold and Papal Cross Awards at the annual awards ceremony held in Carlow Cathederal. Pictured are our award recipients along with Bishop Denis Nulty, Mr. Ray Murray (Principal) and Georgina Maher (teacher and Award Leader). We are extremely proud of all our students and the amount of time and help they have contributed to both their school and parish communities.
German Trip for Second and Third Years was a Trip of a Lifetime
Forty-one Second and Third Year students from Presentation College began December with a four day activity packed trip to the Rhine region of Germany. They left on Sunday December 1 at 3am from Askea Church and arrived into Düsseldorf in time for lunch at the famous Königsallee, where they found out that Sunday in Germany is "Family Day" and shops are not open to the same extent as in Ireland. They enjoyed their first experience of the Christmas Markets, had lunch and continued by bus to the Rhine Tower. The weather was perfect and after an ear popping ride in the lift to the ….restaurant and café at the top students and teachers enjoyed the breath taking views of the Rhine, Düsseldorf and the surrounding region. The next stop was a guided tour of the home of Bayer Leverkusen – the 'Bay Arena'. Even the least sporty enjoyed the tour following which we headed south to Koblenz and to our evening meal in the hotel.
Monday morning students were woken bright and early at 7am (6am Irish time) as following breakfast we were going to visit a local school. We were going to be participating in active learning with students having pre-selected activities. We were expected at 8:30! Fortunately we had a fantastic group of students and superb teachers and throughout the four days we never missed a deadline. German students do not wear a uniform. We wore our tour hoodies which made us instantly recognisable. Our students were divided into groups of six to ten and matched with their German counterparts. The activities ran for two and a half hours with two breaks during them. One of the Irish teachers attended each activity. These were: pottery, working with dogs, robotics, cooking and sport. Following a meal prepared by the cooking group we headed off on the bus once again and students had the option to ride the cable car across the Rhine. They got aerial views of the 'Deutsches Eck' which is in Koblenz and is where the Rhine and Mosel rivers meet. From there we headed south to visit Marksburg Castle, where we enjoyed a very interesting and informative tour which had something for everyone. The views were spectacular and there were coats of armour dating from before Christ. We then returned to the hotel for our evening meal before heading into Koblenz for our first bit of shopping and to enjoy the Christmas Markets at night. Just in case that was not enough – we then went bowling. This finished off a very exciting and busy day.
Tuesday was our third day. There was no problem waking anyone as this was the day we would visit Phantasialand – a theme park on the scale of Disney – or even better. It is about an hour north of the hotel. The gates opened at 11am and we were there eager to get started. Being a Tuesday the park was not too busy. Students and teachers had a maximum wait time of five minutes for rides and there were many adrenaline junkies among our group. The huge rollercoasters were a big hit. Later on we decided to stay longer to go ice skating in the park. This proved to be very successful. Students and teachers skated into the evening and when the lights came on the Christmas Trees and on the buildings and rides it was pure magic. There was even artificial snow falling and the Christmas music added to the atmosphere. That evening students had time to get themselves packed as they would be returning home the next day.
Wednesday was the fourth and final day. It was a long eventful day. We headed to Cologne as we had planned to meet our pen-pals from the Anne Frank Realschule in Ahaus at 11am. We arrived in plenty of time and visited the famous Cathedral first of all. We met the pen-pals outside the Cathedral and students were introduced to their friend and after a short while chatting they had time to get something to eat before we all went on a walking tour of the city at 12. Following the walking tour we had our bearings and we were left off along the bank of the Rhine and pointed in the direction of the Chocolate Museum. All enjoyed visiting the museum, eating the Lindt chocolate, working the robots and chatting to each other. The museum is well worth a visit and sitting drinking hot chocolate and looking out on the river Rhine felt like one was really on holiday. We said 'good bye' to our new friends and students had some free time in Cologne. Most headed to the Christmas Markets and to the ice skating arena in the Hay Market area of the Altstadt. We all congregated at the cathedral for 4:30pm and laden down with gifts and chocolate we made our way to the airport. Being early was no doubt a bonus as Aer Lingus kindly checked in our hand luggage and nothing was left behind.
Everyone had a fantastic time and we were blessed with good weather. We would like to thank the teachers Ms Barrett, Mr Kiely, Mr O'Mahony, Ms Ryan and of course Ms Byrne who organised the trip. It was the trip of a lifetime.
Student Council Training with Gerry Watchorn

Members of the Student Council with Ms Marie Cumiskey
On Monday Gerry Watchorn the School Coordinator with CEIST came to Presentation College to train members of our Student Council.
Music Workshops for Second Years
Ms Lyons the Music teacher was delighted to have organised song writing workshops with song writer Eimear Crehan. Eimear worked with the Second Year Music class for the past four weeks. The class have composed five songs in groups, providing their own instrumental accompaniment and vocals.
| | |
| --- | --- |
| | |
| Second Years busy working on composing songs | |
Aoife Kelly's involvement in the Leinster Provincial Squad
(by Ms Ryan)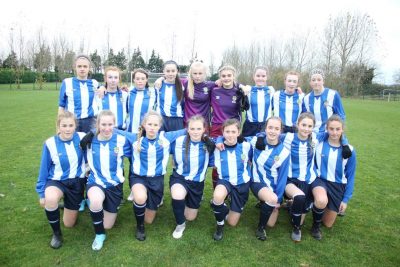 Presentation College Carlow's very own Second Year student was recently selected for the Leinster Provincial schools' squad. Aoife attended two trial sessions and then she was one of seventeen players that were selected for this team. The Leinster team took part in a competition recently which took place over three days and Aoife had a super campaign over the three days. Presentation College Carlow star Aoife was selected as Player of the Match in the Leinster vs. Munster game for her inspirational performance in this match and over the course of the tournament. The Leinster team along with Aoife Kelly were successful in winning the tournament. Well done Aoife.
Under 15 Girls Soccer
The under 15 girls soccer team at Presentation College Carlow got their season off to a great start when they overcame Scoil Chríost Rís 3-0. The girls have lost some key players from last year's squad due to age restrictions but new First Year students have made a very positive contribution to the team. Aoife Kelly opened up the scoring streak with a goal just after 7 minutes of play and Presentation College, Carlow settled into the game. After a quick throw from Orla Woods and an excellent combination of play by Aoife Kelly and Sinéad Thompson, the girls were unlucky to score again in the 10th minute. Sinéad Thompson, Róisín Kennedy and Marie Cranny did well in the second half to keep the Scoil Chríost Rís' forwards at bay. Sarah Nolan ran the field from left back position and scored the goal of the match in the 18th minute.
The second half was excellent with Orla Woods starting it off with a goal 2 minutes into the half. 2 minutes later Believe Ogbomo passed a lovely ball off to Lucy but unfortunately she was offside. Ciara Kelly was on form for Presentation College when Scoil Chríost Rís challenged their defence but nothing got past this powerful keeper. An excellent performance from the girls see them secure their first win of the season.