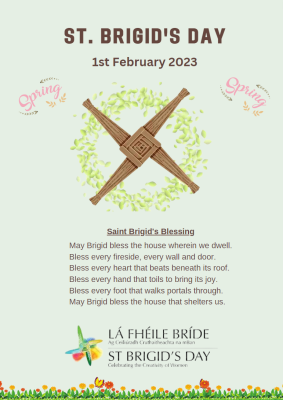 February 1st, is historically regarded as being the feast day of Saint Brigid who is one of Ireland's three patron saints along with Saint Patrick and Saint Columcille. This date also marks the first day of spring here in Ireland.
Spring is known as Imbolc in ancient Ireland and this St Brigid's Day was an important Irish festival in folk tradition, celebrating fertility, blessings and protection. For our ancestors, it signalled an end to the darkness of winter and ushered in a new season of hope and growth.
St. Brigid's Day – Lá Fhéile Bríde – celebrates Ireland's only female patron saint and most people will be familiar with the popular tradition of making crosses in St Brigid's honour.