Munster Junior Football B Final Victory
St. Brigid's claimed a fantastic victory in the Munster Junior B Final in a thrilling game in Fitzgerald Stadium on Monday 26th February. On a very cold but sunny day the Killarney girls put on an excellent team display that was their best performance of the year.
In the first half the Pres girls took advantage of the strong wind and scored a quickfire 5 goals to see them into a commanding lead by half time.
The second half was a different prospect as Rathmore had some very dangerous attacks but they were held to 6 points by a resolute Killarney defence. St. Brigid's held on to win a very open and exciting game that entertained the large crowd in attendance. The final score was St.Brigid's 6-09 Scoil Phobail Sliabh Luchra Rathmore 2-08
After the game player of the match and captain, Anna Clifford accepted the cup on behalf of her team and thanked Rathmore for a great game, the ground staff for the use of Fitzgerald Stadium and Sean Joy, the referee for officiating. Anna also paid special mention to her own teammates and the management team of Paudie Breen and teacher, Ms. Adrienne Brosnan.
The St. Brigid's team now march on to represent Munster in the All Ireland competition in two weeks time. They will face Meath and Leinster champions, Eureks Secondary School, Kells in the semi -final.
Bishop Ray Browne's visit to St Brigid's
On Friday 19th January our school community was delighted to welcome Bishop Ray Browne, Bishop of Kerry, Tomás Kenny, Diocesan Advisor for post primary schools and Mary Fagan, researcher and presenter of Horizons radio programme on Radio Kerry.
During a specially prepared service with 6th and 1st year students, Bishop Ray launched Catholic Schools Week 2018, the theme of which is Catholic Schools: Called to be a Family of Families. The programme, which will run from the 28th January to 4th February, invites Catholic schools to reflect on and celebrate the relationship that exists between home, school and parish.
In preparation for this special day in our school, students spent some time in Religious Education classes contemplating what Family means to them and then displayed family photos in the school library and on the corridors. The Art classes were busy creating a symbolic collage that encapsulated their understanding of School, Family and Parish and how interconnected our lives are. The voices of the choir added their unique contribution to our ceremony.
Students wrote prayers and reflections in their Religious Education classes and these were recorded by Mary Fagan and will be aired on Radio Kerry during Catholic Schools Week. Symbols of our school's ethos and heritage such as the CEIST charter and our Presentation school crest were a focal point and three special candles were lit during the ceremony representing our school community, our parish and our families.
Bishop Ray also spoke to students and staff about the World Meeting of Families 2018 which will be hosted in Dublin from 21-26th August. Families and others from all over the world will gather to celebrate their lives together, to share their experiences from different parts of the world, to reflect on the different challenges they face and to grow together in faith. This event presents a special opportunity for school families to celebrate not only the fact that parents are the primary educators of their children but also the vital role that Catholic schools play in assisting parents.
Bishop Ray Browne, Bishop of Kerry

Tomás Kenny, Diocesan Advisor for post primary schools
St. Brigid's Day
February 1st marked St. Brigid's Day The staff and students of the school attended Mass at St. Mary's Cathedral to celebrate the feast day of our patron, and were joined by parents, former teachers and members of the Presentation Sisters. The occasion afforded us an opportunity to gather and reflect on our thoughts and wishes as we face into a new season. St. Brigid's crosses were distributed to the congregation following Mass.
Many thanks to the R.E. department, the Music department and to Fr. Kieran O Brien who celebrated the ceremony for us.
Junior A Basketball
Our Junior team were crowned All-Ireland Junior A Basketball Champions in the National Arena in Tallaght, Dublin last May. This is an exceptional achievement given that there are in excess of 340 Post Primary girls school registered for the schools' competition and St. Brigid's play in the top division of the league. The panel of 18 girls comprised of sixteen 2nd Year students and two 1st Year students and were coached by Kate Donnellan and teacher Emma Bunworth. Our team was two years in the making as we were narrowly beaten the previous year in the All-Ireland final by a team from Portlaoise. It was difficult to pick ourselves up and start again but both Kate and Ms. Bunworth had enormous confidence in us and helped us believe in ourselves again."
This is a photograph of members of the Junior A basketball team with Cllr. Niall Kelleher, chairperson of Killarney Municipal Council. The team were presented with an award at the first annual municipal awards held in Killarney House on Friday night. Julie Delaney captain accepted the award on behalf of the team and Treasa O'Sullivan spoke.:
"I would like to thank Killarney Municipal Council for honouring the Junior A Basketball team from St. Brigid's. It was a wonderful achievement to be crowned all Ireland champions last May but it is very special to be recognised by our own community. We are delighted to be joined this evening by so many other wonderful ambassadors for their sport. In an era where many young girls drop out of sport in their teens the members of the ladies golf team and rowing crews certainly set a great example for us."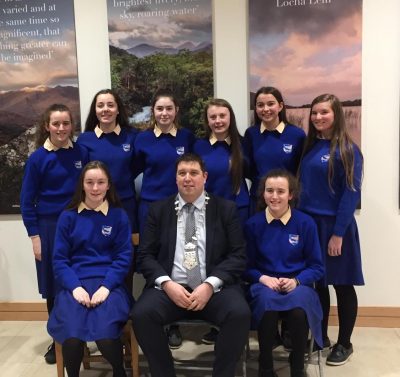 St. Brigid's Presentation Killarney take to the slopes in Poland
On Friday last 2nd February 60 brave 2nd Year students accompanied by six staff from St. Brigid's Presentation Secondary School, Killarney departed Shannon for Krakow, Poland for a ski trip. On Saturday morning they travelled to the Kotelnica-Tatra ski area where they enjoyed morning and afternoon ski lessons. Despite the falling temperatures, the ski enthusiasts continued to further develop their skills on Sunday and Monday. On Tuesday prior to departure they enjoyed a brief break in Krakow where they experienced a guided walking tour of the magnificent city and had the opportunity to view some of the iconic sights such as Old Town Square, the University district, Wawel Hill and Cathedral, Cloth Hall and St. Mary's Church. A trip of a lifetime!