St. Brigid's, Killarney Climb Carraunntoohil
Fifth Year students in St.Brigid's started their senior school year on a high with a hike into the Hag's Glen and a climb up Ireland's tallest mountain ,Carrauntoohil. They were accompanied by their year head and teachers and guided by climbers from Kerry Climbing who ensured that students arrived at the peak safely. Conditions were ideal for climbing and the girls were exhilarated when they scaled the top.
Junior Certificate Results 
Congratulations to all our students who received their Junior Certificate results last week. The students did exceptionally well in their exam and were extremely happy with their results.
TYs Raise Money for Enable Ireland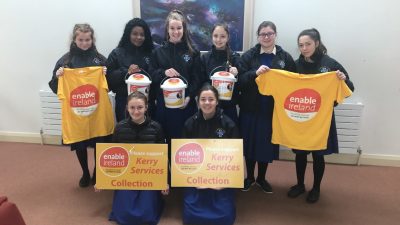 Transition Year Students volunteered to fund raise for Enable Ireland on Friday the 21st of September . All funds collected will go directly to services in Kerry supporting people with a disability. The Transition Year students will continue their fundraising efforts for this worthy cause next month when they take part in a 24 hour 'No Phone Challenge`.
Gaisce Walk
70 students and 5 teachers embarked on the Gaisce challenge and walked almost 30km over the two days through Killarney National Park and the Old Kenmare Road. That evening the girls cooked their own meals in groups and displayed high standards of cookery skills. They stayed in the youth hostel in Muckross with a third of the students camping outside in the glorious weather. The challenge was the first task completed in order for the students to receive the Gaisce President's Award.
TY Trip to Madrid
A group of fifty TY and fifth year students from St. Brigid's Secondary School travelled to Madrid last week. They began their stay with a two- hour guided sightseeing tour of the city. Sights included the Calle Mayor, Plaza de Colon, Fountain of Cibeles, the Palacio Real and the Puerta de Alcala. The group also visited the Santiago Bernabeu Stadium, Madrid Zoo Aquarium and the Parque Warner Theme Park, the Prado Museum and the Reina Sofia Modern Art
Museum. A wonderful day was also spent in Segovia where the students admired the stunning aqueduct and the Alcazar Castle in the magical city set amid the rolling hills of Castlla.
The day was completed with a visit to El Escorial. All students experienced the culture and vibrancy of a Spanish city. A fantastic cultural trip was had by all and we look forward to 2019!