Farewell to Ana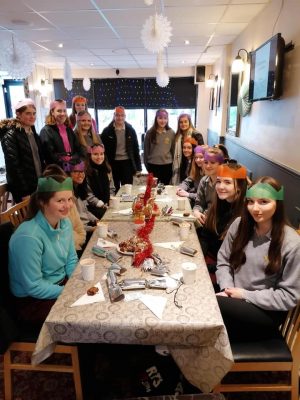 This week we said goodbye to Ana who was with us from September. Her Home Economics class surprised her with a trip to The Mad Hatter for hot chocolate and treats. Wishing you all the best as you return home to Spain. We will miss you.
Celebrating Cycling Success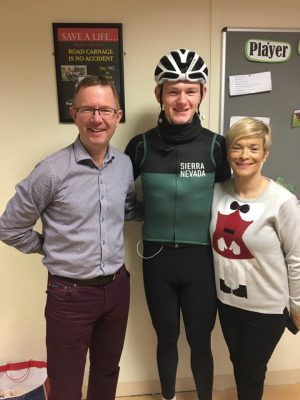 We were delighted to welcome Mitchell Mc Laughlin back to the college on Friday, 20th December. Mitchell is moving to Italy in January to join the Zappi Racing Team. He presented one of his team's cycling jerseys to the college. We admire Mitchell's dedication to his sport and wish him the very best of luck in future career.
Student Council Quiz
Our student council organised a fun quiz for the 1st year students on the last day of term in the college hall with cinema vouchers for the winning team . Well done to all the 1st years for taking part and many thanks to the student council and their co-ordinator Ms. M. Rodgers for all their hard work.
Christmas Jumper Day
Our Student Council organised a Christmas Jumper day on the last day of term and students donated €2 which will be divided between SVP/Cunamh and the Niall Gallagher Fund. Two students who are team mates of Niall, Caolan Mc Clintock and Cian Mulligan also assisted with the collection. Selection boxes were given out during the course of the day to students who had made an extra effort. Well done to everyone for making such a great effort and for supporting the chosen charities.
Carol Service
We had our Carol Service in St. Mary's Church on 19th December. Many thanks to Fr. Briody and to the teachers from our RE and Music Departments who organised and facilitated this very special occasion. Thanks also to the excellent choir and to all the students who participated in the many aspects of the service. Terry O Reilly, Cúnamh, Linda Mc Glinchey and Dessie Griffin, St. Vincent de Paul outlined their work and thanked students and staff for their recent fundraising and for the donated hampers. Tess Corry and Linda Mc Glinchey accepted the hampers on behalf of SVP, Dessie Griffin and Mary Mc Nulty accepted a cheque on behalf of SVP and Colette Ferguson accepted a cheque on behalf of North West Simon Community. Well done to everyone in the college involved in fundraising for these local charities over the last couple of weeks.
Student-Teacher Fashion Show
Another very successful student-teacher fashion show was held by class Claire and their teacher Ms. E. Rodgers  raising €215 for the Christmas charities. Well done to all the students who participated and to all the staff and students who came along to support all the fundraising activities which also included Guess the teacher, Sponsored screen free challenge, Guess how many sweets, popcorn and hot chocolate sale, a sweet shop and many many more.