Leaving Certificate Mass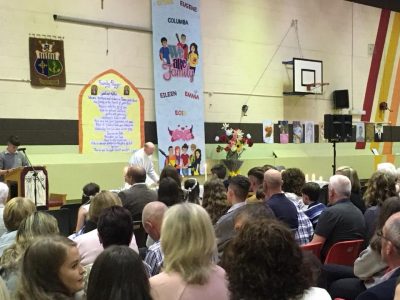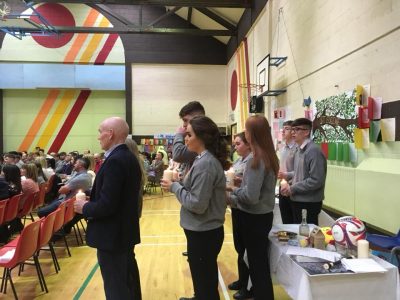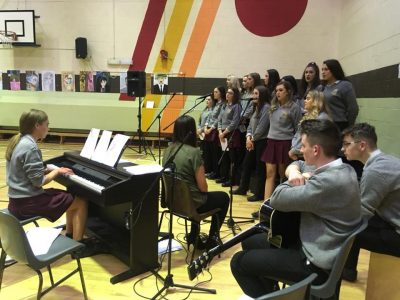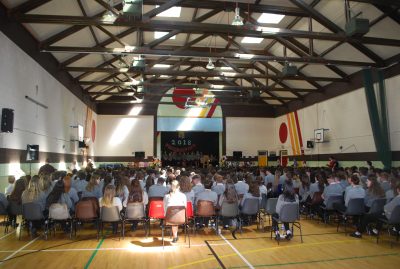 We had our Leaving Certificate mass in the college hall on Tuesday 22nd May. The mass was celebrated by Fr Kieran Mc Ateer and attended by Leaving Cert students, their parents, family members, friends and staff. Many thanks to all those who helped in the preparation for the night, making it a very special occasion.
Darkness into light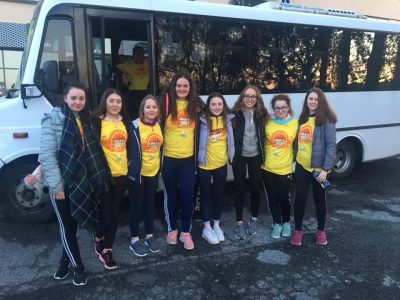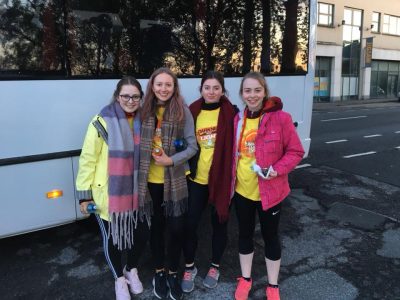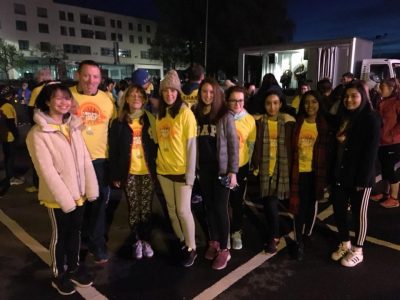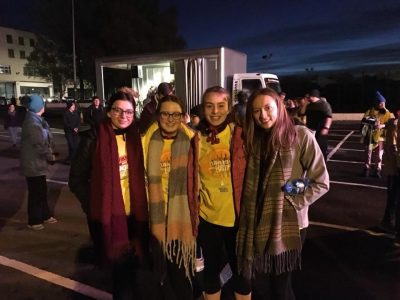 A group of students and staff took part in the Darkness into Light (DIL) walk in Letterkenny on 12th May, in aid of Pieta House. Thanks to Ms. Cowan and her team for organising the early morning trip to Letterkenny and well done to everyone who took part.
Digital champions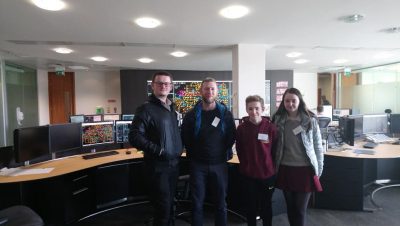 Our School Digital Champions visited EirGrid in Dublin. EirGrid is responsible for the distribution of electricity across the whole island. The Digital Champions learned how the company operates and how it uses and maintains these technologies to achieve its targets, from predicting when lightning will strike, protection from hackers and the use of renewable energies. Thanks to Mr. Kieran Mc Glinchey who travelled with the students to Dublin and who coordinates the school Digital Champion Programme in school along with Ms. Sarah Harkin Diver.
Transition Year
Gaisce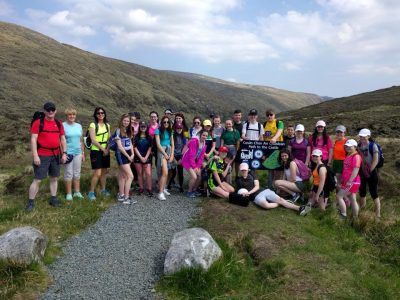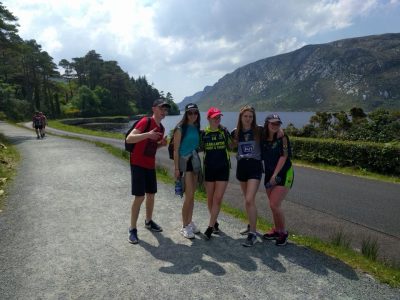 Thirty one of our transition year students completed their Gaisce hiking trip over two days with their teachers Ms. Cooke, Ms. Harris, Mr. Brennan, Mr. Mc Crea and Grainne.
Tayto Park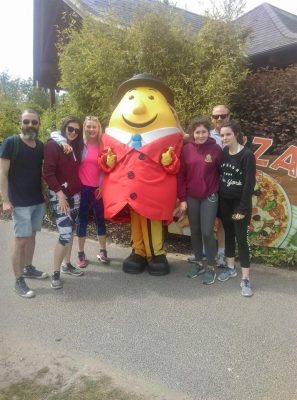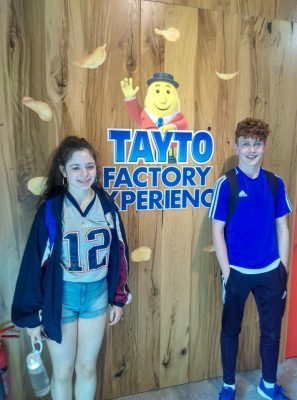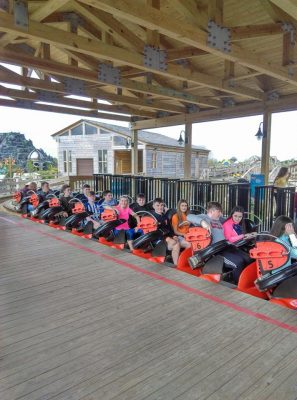 The sun shone for our Transition year students when they visited Tayto Park and got to meet the man himself, Pat. After a tour of the factory they got down to some serious fun! All Students and teachers braved the Cuchullain coaster test and passed with flying colours! A great day was had by all.
Trash n Fashion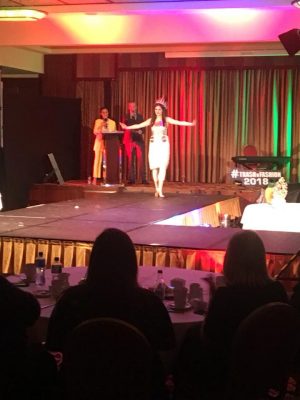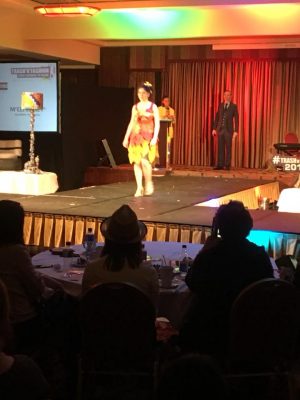 Well done to Hannah Mulcahy and Eleanor Mc Daid, two of our TY students who took part in the Trash and Fashion Competition. Thanks to Ruth Reid and Laura Sproule who assisted them with their make-up and to their Art teacher, Mr. Brian O Donnell, who assisted them with their creations.
Trip to Lourdes
Two of our Transition year students Aisling Mc Ginty and Eleanor Mc Daid travelled to Lourdes last week as representatives of the college on the Raphoe Diocesan Pilgrimage. The two girls, along with other TY students raised €1,026 for the trip through sponsorship, a bake sale, a hamper draw and a collection at a recent Finn Harps match. Many thanks to all who have supported their fundraising. 56 students from the Raphoe Diocese travelled on the pilgrimage, where they had the opportunity to experience working in a care environment, made new friendships and also gained spiritually.
Microsoft Office Specialist National finals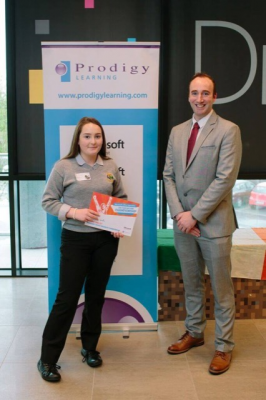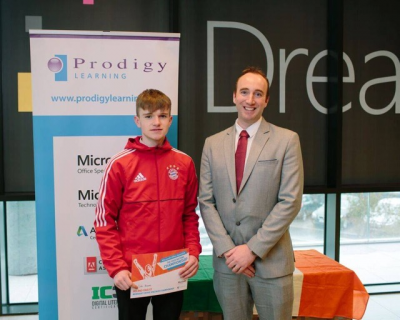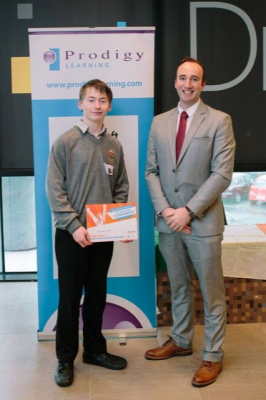 Huge congratulations to three of our TY students, Siobhán Griffin, Luke Browne and Evan Carron Kee, who won through to the Irish national finals of the Microsoft Office Specialist World Championship. The students visited Microsoft's Irish headquarters on Friday 11th May. This is a fantastic achievement for Siobhán, Evan and Luke as it puts them among the very best young Microsoft Office users in the country. Well done to the students and to their teacher Mr. Pat Brennan.
End of Year Awards Night
Our Transition years celebrated their end of year night in the college recently. The event was attended by the students and their parents/guardians. Congratulations to all the award winners and to all those who were nominated in each category. The award for 'Spirit of TY' was won by Caitlin Mc Gonagle TY 1, Aodhan Walsh TY 2 and Siobhan Doyle TY 3.
Prize Giving
We held our annual prize giving ceremony on May 17th. It is one of the highlights of the school year where we take the opportunity to acknowledge the efforts and achievements of our students during the current school year. It is also of great significance to our Leaving Certificate students, as a number of perpetual awards are presented to students in the Leaving Certificate Year – they include the Patrick Kavanagh Award for the composition of a piece of English poetry, the Chic Logue Award for Music, the Nicola Nixon Award/Spirit of Candy for Art, Corn na Gaeilge for ability in Irish language and culture, the Catherine McAuley Award to the student who has a knowledge of the foundress of the Mercy order and who displays the values Catherine held, the Barry Mc Cool Award for modern European languages and several more awards including Student of the Year Awards. The Charlie Mc Groarty 'Spirit of Hope' Award for personal achievement was presented by Charlie Mc Groarty Snr and the new Home Economics Junior Cert Crafts Award for excellence in that subject area was presented by the HE department.
Mr. Padraig Monaghan, CEO, Optum Ireland, was our keynote speaker at the prize giving ceremony. He had some sound advice for our students regarding the importance of always acting with integrity, working diligently and developing resilience.
Excellent entertainment was provided by a staff and student choir who sang the World Meeting of Families hymn, 'A Joy for all the World', which opened the proceedings. Congratulations to all the students who were nominated and received awards today.
Chic Logue Award – Elly Meenan
Nicola Nixon Art Award – Jagoda Ochnicka
'Spirit of Candy' Art Award – Laura Gron
Corn na Gaeilge – Laura Heeney
Barry Mc Cool Award – Alison Mulrine
Patrick Kavanagh Award – Joey Morris
Catherine Mc Cauley Award – Cathy Callaghan
CEIST Award – Cathy Callaghan
Charlie Mc Groarty 'Spirit of Hope' Award – Rhys Bradley
Home Economics Junior Cert Crafts Award – Brooke White
Student of the Year Awards – David Bonner and Anna Carr
Sports Awards
Soccer – Sean Mc Bride
Gaelic- Patrick Dolan
Hurling – Chad Mc Sorley
Camogie – Saoirse Campbell
Boys Rugby – Aaron Foy
Girls Rugby – Leona Mc Glinchey
Golf – John Moore
Contribution to Sport – Luke Gavigan and Corrie Lee Bogan
Sports Girl of the Year – Sinead Gallagher
Sports Boy of the Year – Oisin Gallen
Literacy
DEAR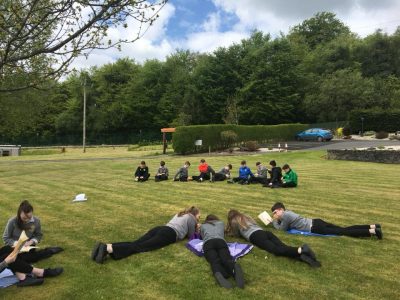 We had a number of DEAR classes throughout the year. This particular class are pictured enjoying some quiet reading time (and some sunshine) during their DEAR class.  Drop Everything and Read and is one of the initiatives being promoted through our literacy strategy.
Library visits
This 1st year Maths class is one of many who have visited the local Twin Towns Library in recent months. Through these visits, students are encouraged to join the library and read more, which is the aim of our literacy startegy. Thanks to Mr O'Donoghue for organising this visit and to Eva,the librarian for facilitating and encouraging all the visits.
Book Club and book reviews
As part of our literacy strategy at St. Columba's, a student book club was set up last February with the aim of encouraging students to read more. Thanks to Ms. Karan Diver who facilitates the book club which runs every Friday at lunch time. The students involved in the book club also contribute to the book reviews which we post to our facebook page. Well done to all involved.
Sport
Hurling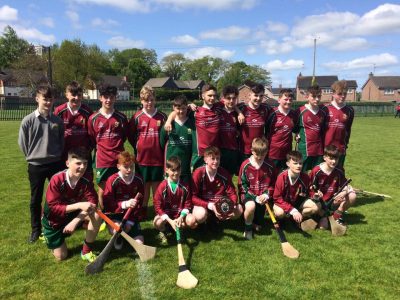 Congratulations to the U14 Hurling team who won the Ulster Final defeating St. Malachy's, Castlewellan 8.10 to 7.02. The team gave an absolutely fantastic performance. Scorers on the day were Ryan Coyle 6.06, Oisin Marley 0.04 and Ciaran Dalton 2.00. Well done to all involved and to their coach Ms. Coulter.
Girls rugby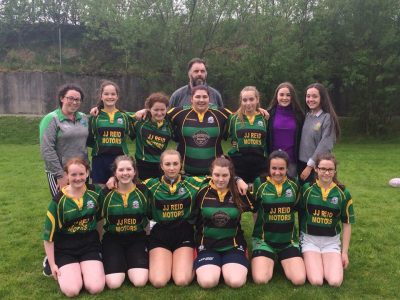 Our Girls Rugby team who played Carndonagh Community School. Well done to all the panel and their coach Gerard Doherty.
Golf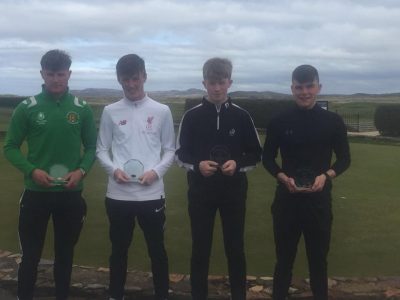 Congratulations to our golf team who finished second in the Donegal schools golf competition recently in Dunfanaghy. The team was Sean Mc Bride, John Moore, Thomas Mc Menamin and Michael Curran. Thomas Mc Menamin also had the joint top score of the day with 38 points. Well done to all involved.
U16 boys rugby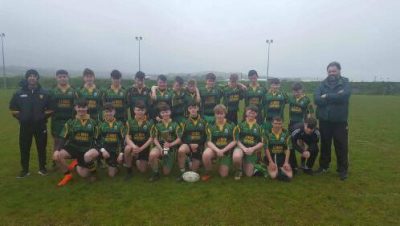 Congratulations to our U16 Boys Rugby team who won the county final and to their coach Gerard Doherty.
Active Schools Week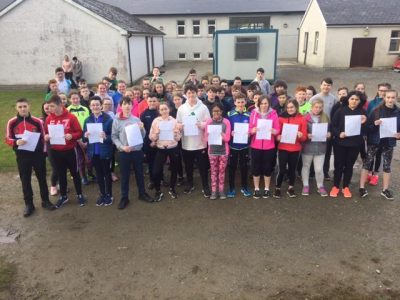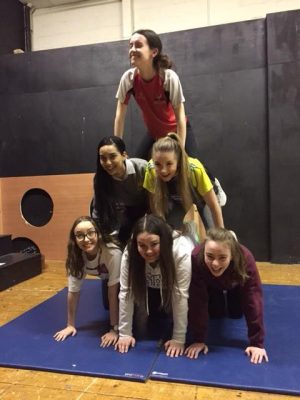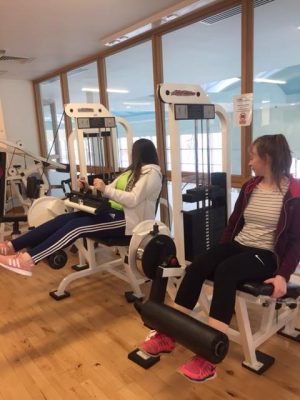 Active Schools Week is an opportunity to highlight some of the many and varied physical activities students participate in at St. Columba's. During the week 1st years completed a team marathon run, 3rd and 4th years sampled some acrobatic gymnastics and our 5th years were introduced to the local gym. Thanks to our PE teachers Ms. Harris and Mr. O' Reilly for organising the activities.
Athletics
Congratulations all our athletes who competed in the Ulster schools athletics in Antrim Forum:
Aine Wilkinson Gold in High Jump 1.56, Cara Wilkinson Bronze High Jump 1.44, Oran O' Donnell 6th 5000m 17.36, Aaron Quinn 10th 1500m, Adrienne Gallen Gold in hammer 47.20 PB 2nd place throw was 30m51. Adrienne also got Gold in the Shot and broke the Ulster record with a 10.63 throw. Oisin Thompson 7th long jump, Cormac O'Donnell 4th Javelin, Declan Slevin 6th javelin & 5th in the long jump, Jamie Lecky Silver in shot, Bethany Lecky 5th in Triple Jump and Yvonne Boyle 4th in Discus.
Well done to all the students involved and to their teachers Ms. Harris and Ms. Mc Mullin.
Best of luck to those athletes who now qualify for the All Ireland Track and Field finals in Tullamore.
LCA
Pro Social Drivers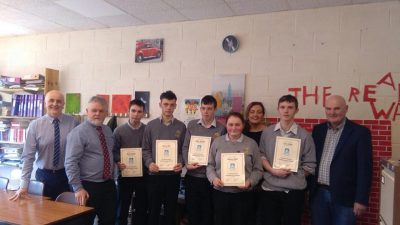 Congratulations to our LCA students on receiving their Pro Social Drivers Certificates. Pro Social Drivers is a road safety initiative which was set up in Letterkenny to address the high instances of anti-social driving in Donegal. Many thanks to Mick Quinlivin, Ciaran Maguire, Paul Mc Cosker and Mr. O' Donnell for facilitating the programme.
Hotel Catering and Tourism practical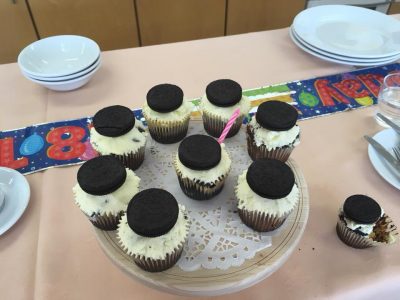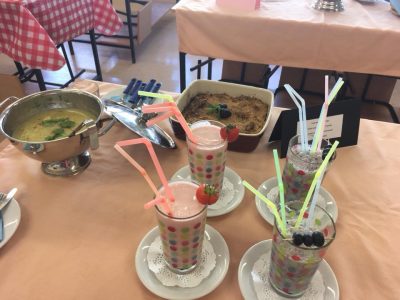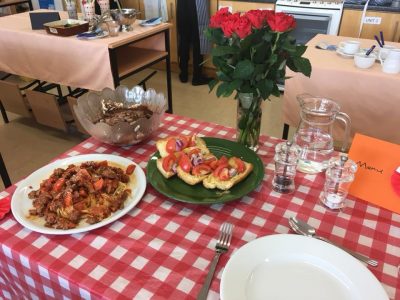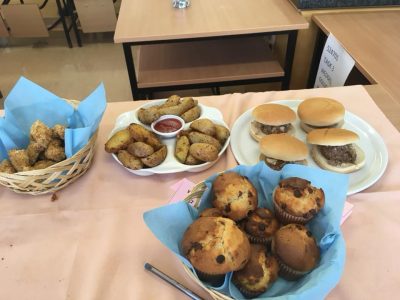 Well done to our Leaving Certificate Applied class who completed their Hotel Catering and Tourism practical recently. Thanks to their teacher Ms. McMullin who helped them prepare for the exam. The end results look very appetising.