A busy start to the year at St. Columba's in Stranorlar, with lots happening in all aspects of school life.
Transition Year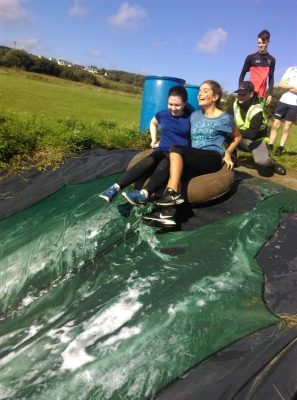 The Marble Arch Caves Fieldtrip
The Marble Arch Caves in Co. Fermanagh was the destination for the transition year geography field trip. The students travelled with their teachers Ms. Mc Nulty and Ms. Cowan. They were given a guided tour of the landscape and travelled through the limestone caves on an electrically powered boat.
Bonding at the Old Foundry in Letterkenny
Our transition year students had a day of bonding at the Old Foundry and Arena 7 in Letterkenny. There was plenty of laughter and new friends and memories were made along the way.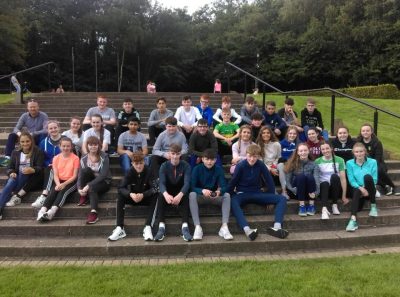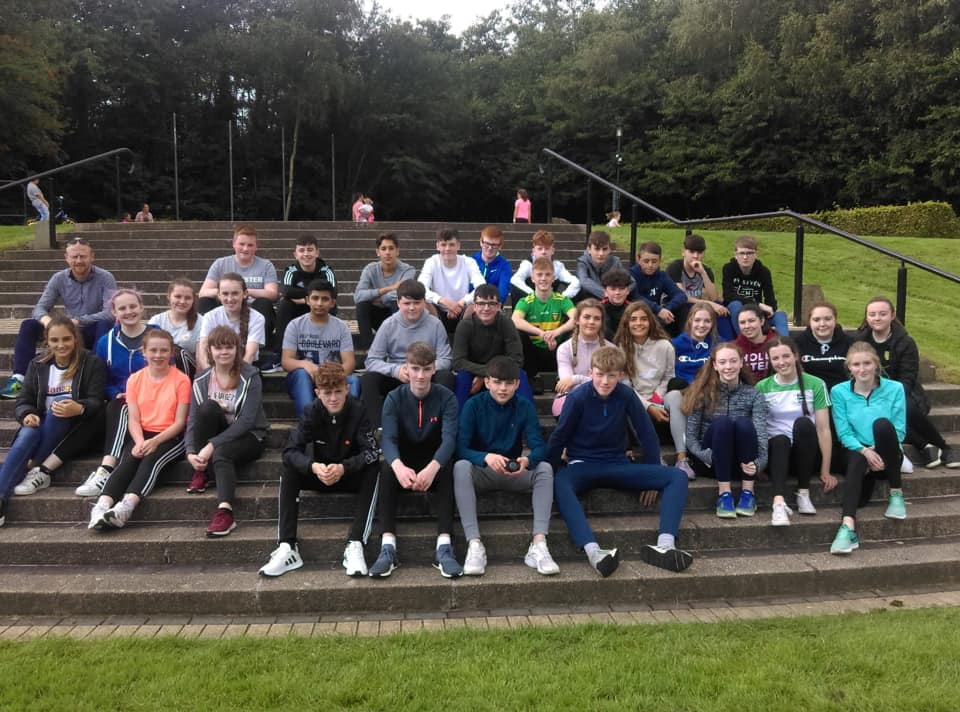 Newspaper Reports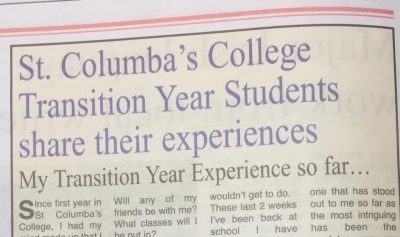 During the course of this year, our Transition Year students hope to have articles included in our local paper the Finn Valley Voice, outlining their activities and experiences. Three students have already had articles featured and we look forward to reading more of their articles during the year.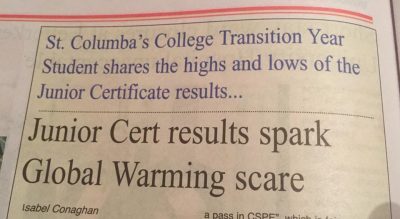 Enterprise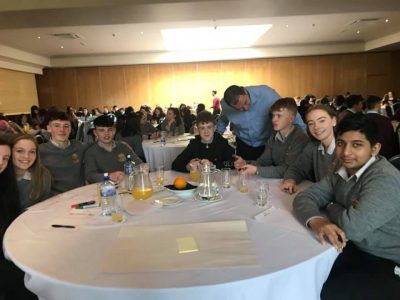 Our transition year students attended an Ideas Generation Day with their Enterprise teacher Ms. Cooke in the Silver Tassie Hotel. This event is attended by all the schools in the county and is run by the Local Enterprise Office. The students were addressed by Deirdre Ward who runs a company called 'Unlock', they had a productive and enjoyable day.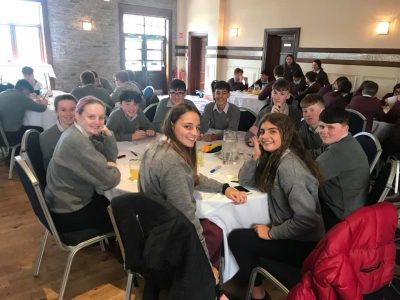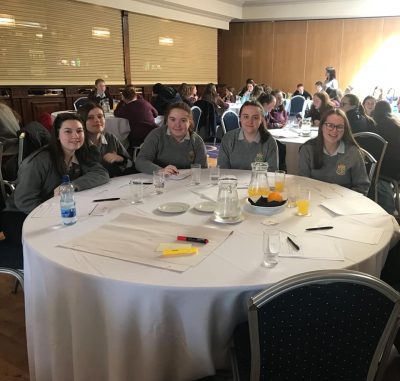 Sports Leadership Awards
A number of last year's transition year students undertook a qualification in Sports Leadership through which they developed into confident, healthy leaders through sport and physical activity. Through this course, students learned and demonstrated important life skills such as effective communication and organisation, whilst leading basic physical activities with younger people, their peers, older generations and within the community. The transferable skills learned will be useful in college, the workplace and life in general.
We welcomed past pupil Karen Guthrie to present the awards. Karen now works with the Donegal Sports Partnership as the Sports Leader Co-ordinator and demonstrates her own leadership skills as the Senior Ladies Gaelic Captain, winning the Senior Ulster Cup in 2018. Well done to all our students who were awarded level 1 Sports Leadership and to their teacher Ms. Nicola Harris who delivers the programme.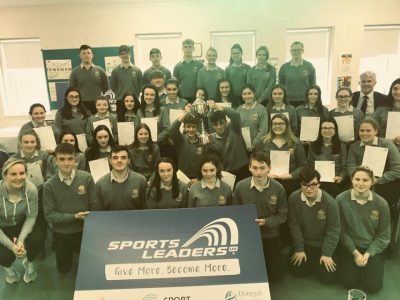 RSA Talk
Transition Year students had a very informative talk from Louise Mc Geever, when she visited the college. As RSA education officer for the region, Louise highlighted the importance of good road safety habits and how we should all employ them. As future drivers, she had a captive audience as she covered a wide range of topic including mobile phones, cycling, speed and seat belts.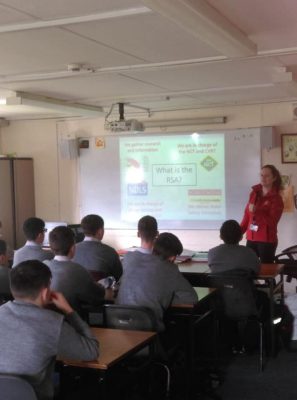 Development Education Talk
Our Transition Year group were treated to an inspiring talk when Patsy Toland visited to discuss the theme of Development Education. Delivering the message that we all have a part to play in environmental regeneration and sustainability, he had an enthusiastic audience as many of the students are already working on projects in this area with the help of World Wide Global Schools WWGS.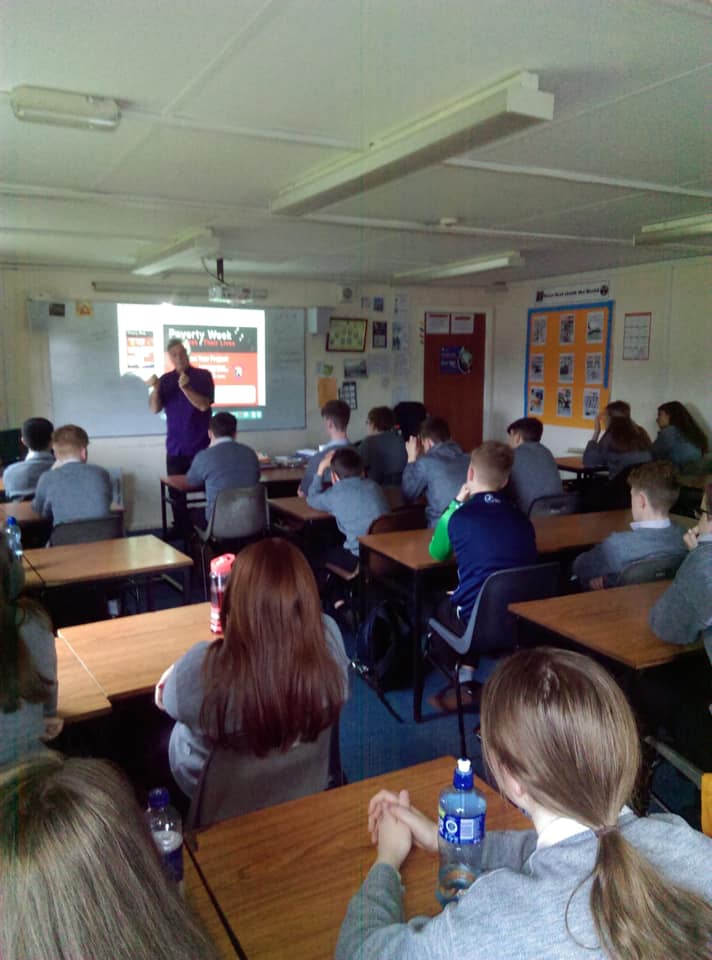 Sport
Our 1st Year boys won the county blitz today in which eight teams took part. They played Colaiste Colmcille (Ballyshannon), Carrick Vocational School and Abbey Vocational School in their group. They defeated St Columba's Comprehensive School, Glenties, in the semi final and defeated Abbey Vocational School in the final. Twenty of our 1st Years played in the competition. Well done to the team, joint captains Conor Mc Ginty and Cathair Browne and their managers Mr. Steven O Reilly and Mr. Mark Anthony Mc Ginley.
Athletics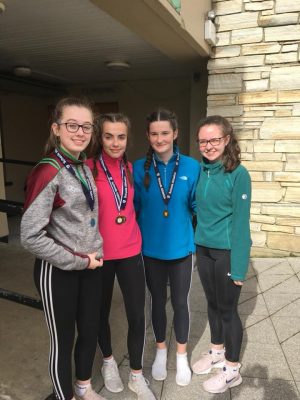 A number of our athletes participated in the secondary schools cross country competition which took place in the Finn Valley Centre recently. It was a successful day for the students and their coach Ms. Mc Mullin, with many medals being won in both team and individual events.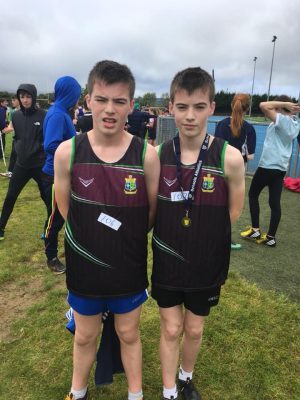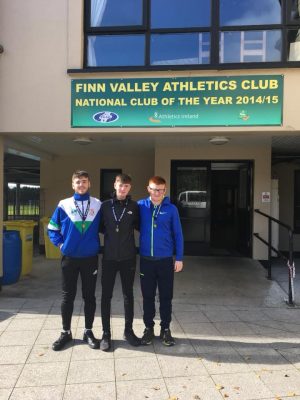 Wellbeing
Jigsaw Talks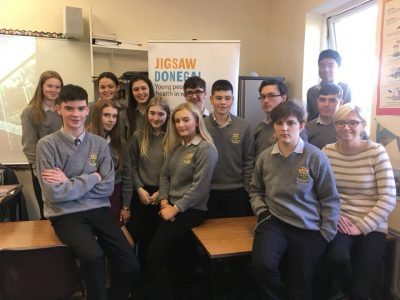 Karen Duggan from Jigsaw, Donegal visited the college to talk to our 5th year students about the importance of minding their mental health and the work of Jigsaw in supporting young people. During the talk, students were introduced to the #MyWee5 campaign which promotes positive mental health by showing everyone some simple things they can do to improve their mental wellbeing such as Connect, Be Active, Take Notice, Get Involved and Give.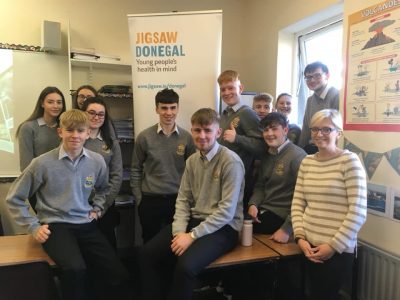 Gareth Gibson and Dominic Mc Glinchey from Donegal Youth Service visited the college to talk to our 1st year students about internet safety. This presentation helps to make students more aware of their own behaviour online and how to be safe.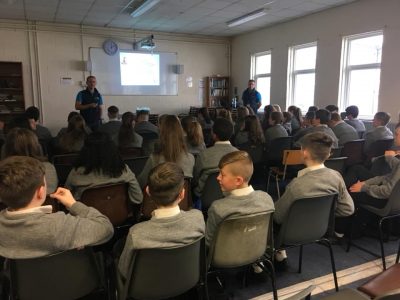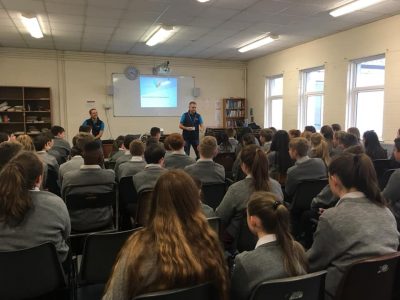 One of our new wellbeing initiatives is to encourage students to spend a few minutes thinking about how they can take care of themselves, through focusing each day, during tutor time on one simple self-care action. There is a calendar displayed in each of the tutor rooms and the class tutor highlights the self-care action each day for the students. It is also displayed on our digital noticeboards as a reminder to students throughout the day. Thanks to Ms. Julie Mc Mullin for her work on this initiative.
Thought for the Day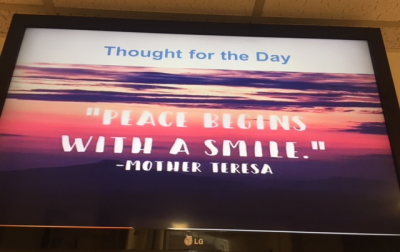 Another wellbeing initiative we have begun this year is our 'Thought for the Day'. One of our leaving certificate classes is involved in this project, along with their Religion teacher Ms. Elizabeth Rodgers. The students pick inspirational, positive messages which are displayed each day on our digital noticeboards and at a focal points in the school, with the aim of having a positive influence on those who read them.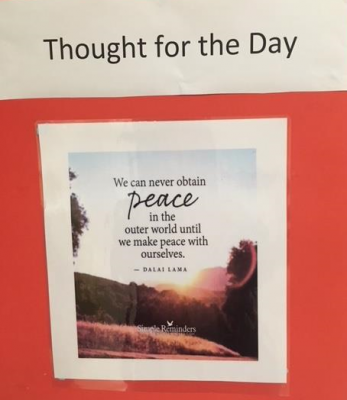 Trips
Some of our 6th year students travelled to the open day at Queen's University, Belfast with their guidance counsellors Ms.Eithne Sproule and Ms. Marie Mc Cullagh. The students had the opportunity to see around the campus, attend course information sessions and talk to students and lecturers.
The ploughing Championships
A group of our Agricultural Science, Leaving Cert Applied and JCSP students travelled to the Ploughing Championships in Tullamore Co. Offaly with teachers Mr. Martin Gavigan and Ms. Mairead Holmes. A great day was had by all and the sun shone …for most of the day anyway.
Medjugorje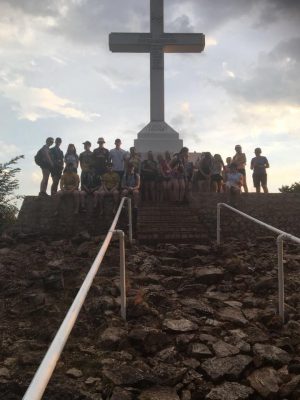 Thirty three of our 5th year students, along with five members of staff spent a week in Medjugorje in August thanks to a generous benefactor. Their week included attending mass in the Church of Saint Anthony and climbing Cross Mountain. They visited Apparition Hill at 6am to pray the rosary and also visited Blue Cross Mountain and Cenacolo during their stay. This is the third time that students of St. Columba's have been given this wonderful opportunity and each time the students have thoroughly enjoyed it and have been very moved by their experience, with many vowing to make a return trip.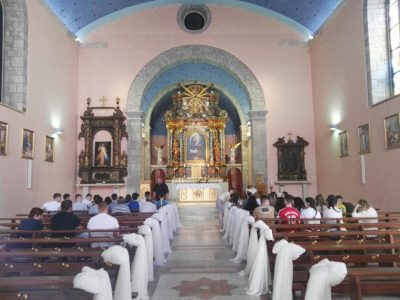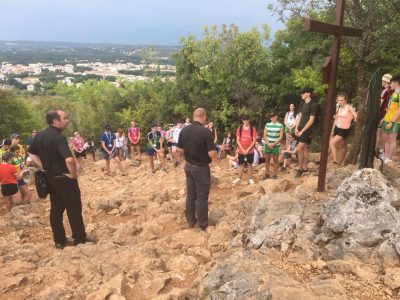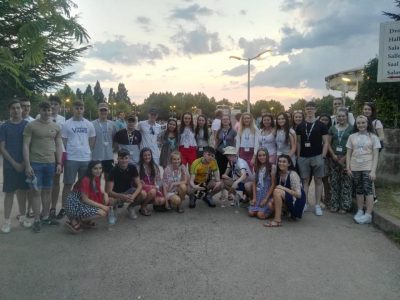 Papal Visit
Nine of our 5th year students were part of the large contingent of volunteers from CEIST schools throughout the country who offered to help out at the papal mass in the Phoenix Park. The students and their teacher Ms.Nicola Roache thoroughly enjoyed being part of this historic occasion.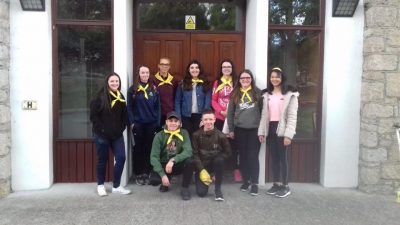 Geography Fieldtrip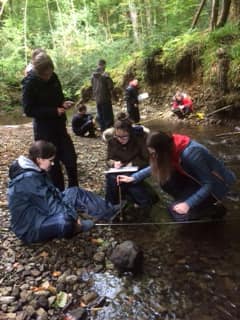 One of our leaving certificate geography classes travelled to Derrygonnelly in Co. Fermanagh with their teacher Ms. Mc Nulty for their field study.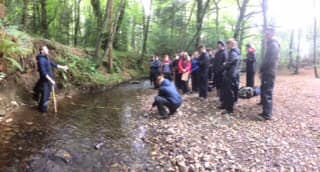 Art
Texaco Children's Art Competition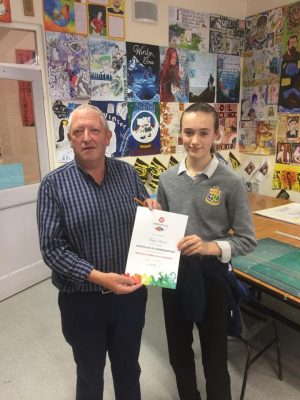 One of our 2nd year students Freya Beales, reached the final stages of the judging process in the 64th Texaco Children's Art Competition earlier this year. She was awarded a Certificate of Commendation for the excellent standard of her work. Well done to Freya on her achievement, given the thousands of entries to the competition. Well done also to her Art teacher, Mr. Brian O Donnell, for all his hard work and dedication.
Student Leadership
Our senior prefects attended leadership training with Karen Murphy in early September. Well done to all the students on their election as senior prefects and a special congratulations to Katie Mc Lean Head Girl and Shane Rowan Head Boy.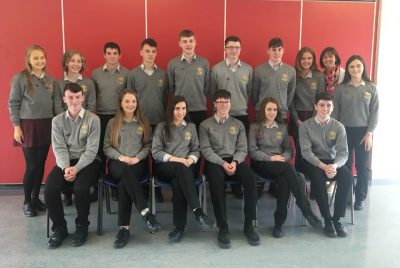 Induction programme for 1st years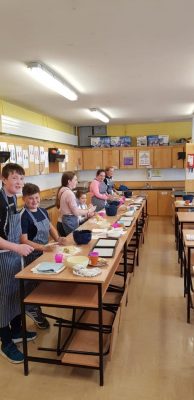 We held our Transfer Programme over three days in August. This gave the new first years an opportunity to get to know each other, some of their teachers and to become more familiar with the college. They enjoyed a number of activities, which included a bonding trip. The programme was a great success thanks to Mr Mark Cannon, programme coordinator, all the staff who worked with the students over the three days and our senior prefects who gave up their time to help out during the programme.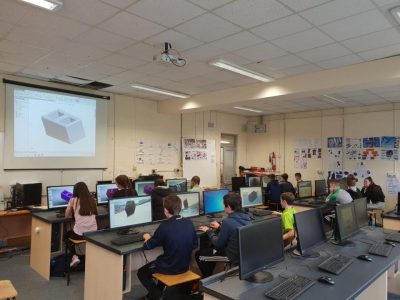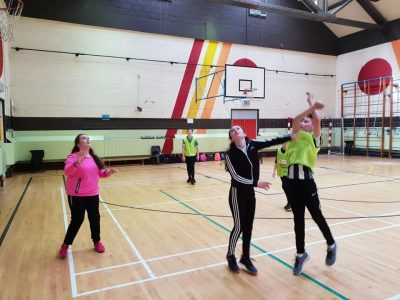 Optum Scholarships
Optum Ireland recently announced the first group of Optum Healthcare Scholars for County Donegal. The five Scholars will commence their course of study this September and will receive financial support as well as any other supports they require as they make their journey through college life. We are delighted that two of our students from the Leaving Cert class of 2018 are among this year's Scholars. Congratulations to Sophie Carlin and Jodie Gallagher. Sophie is currently studying Stratified Medicine at Ulster University, Magee and Jodie is studying General Nursing at Letterkenny Institute of Technology.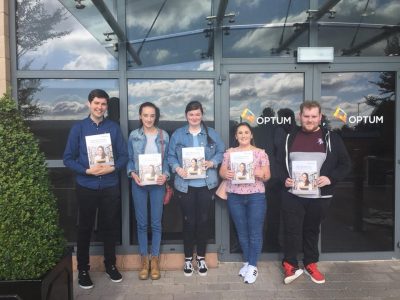 Opening Mass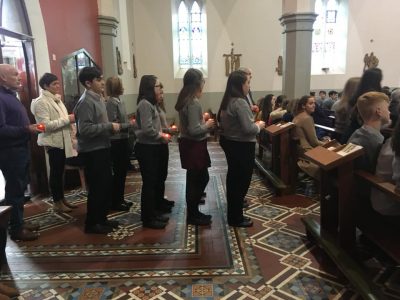 Our opening mass of the school year was celebrated by Fr. Kieran McAteer on Mercy Day in St. Mary's Church, Stranorlar. The theme of the mass was 'Families and Friendship'. Much preparation went in to the mass by both the religion and music teachers, enabling many students to participate through the choir, readings and other aspects of the mass, making it a special occasion.