February has been a busy month at St. Columba's as we marked our 50th anniversary with a celebration ball. We have also been busy with a variety of activities to mark catholic schools week and fair trade fortnight, as well as ongoing activities to support wellbeing and we have also celebrated success in the areas of business, sport, drama and debating.
Academic
Business Award – Maynooth University
Two of our current transition year students Sarah Sweeney and Daniel Crawford travelled to an awards ceremony at Maynooth University to represent the 6 students who achieved an A grade in their junior certificate business studies exam in 2018. Well done to Sarah and Daniel and also to Abby Meenan, Peter Mc Monagle, Thomas Mc Menamin and Michael O'Kane on this fantastic achievement. Thanks also to Mr. Sweeney who travelled with the students.
Sport
Athletics
A number of our athletes took part in the districts cross country in very tough conditions. Congratulations to Conor Murphy 5th, Patrick Murphy 21st, Aaron Quinn 10th and Pauric McKelvey 56th.
Two students then competed in the Ulster Schools Cross Country Championships in Mallusk. Well done to Conor Murphy (34th) and Aaron Quinn (39th) and to their coach Ms. McMullin.
Soccer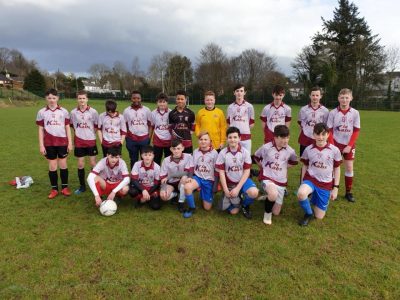 Our 1st year boys team defeated St. Eunans B team  7-3. A brilliant all round team performance, in a game where every player played at least one half. Well done to the boys and to their coach Mr. Cannon.
Catholic Schools Week
Mass and The Rosary
As part of Catholic Schools Week, mass was held in the oratory for the deceased and was attended by both staff and students. The Rosary was also held in the oratory during lunch time for staff and students.
St. Brigid's Day Crosses
Some of our 2nd years made St. Brigid's day crosses with their Religion teacher Ms. Rodgers.
Retreats
All of our 5th Year classes attended a retreat in Ards Friary. Many thanks to the retreat team and all the staff in Ards for their warm welcome. Many thanks also to our RE teachers – Mr Rodgers, Ms Rodgers, Mr. Mc Crea, Ms Culkin and Ms Roache – who travelled with the students and worked with them during the course of the two days.
Transition Year
Road Safety
Past pupil Damien Bradley who works with the ambulance service visited the college to talk to our TY students about Road Safety.
Global Warming Workshop
Transition year students attended a workshop examining the impact of global warming and climate change locally. Groups engaged in interactive exercises and discussed possible real time scenarios and generated mature and innovative responses. Thanks to Ms. Jessica Devlin who delivered the course over two days. Thanks also to Mr. Mc Crea for organising the workshop.
Breakfast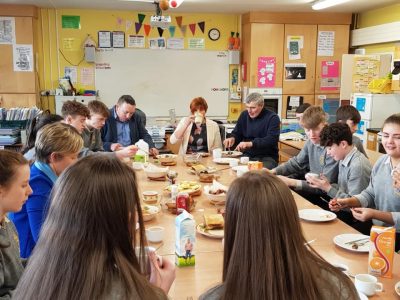 Ms Timony's transition year class cooked and served a breakfast feast. The lovely smell down the corridor attracted a few extra guests.
Wellbeing
As a way of promoting wellbeing in the college, we encouraged staff and students to take part in the random acts of kindness initiative. There were compliments, kind words and gestures and many surprise bars of chocolate and other goodies exchanged. Well done to all who took part in the initiative from which there was very positive feedback.
Safer Internet Day
On Safer Internet Day classes took part in activities related to internet safety. Well done to class Denise who created cyberbullying posters during CSPE class. Thanks to their teacher Ms. Howard.
Class Eithne and class Clara and their teacher Ms. Harkin Diver made a wall display for one of the computer rooms on online rights and responsibilities and guidelines on how to Think S.M.A.R.T. online.
Class Emma watched and discussed some of the webwise internet safety videos on safer internet day.
Oisin Mc Conville Talk
Former Armagh and Crossmaglen GAA star Oisin Mc Conville addressed our 5th year students. As part of the RE and Wellbeing curriculum, he detailed his journey through gambling addiction to eventual recovery. In a very candid talk he discussed how he has been able to regain his self respect, dignity and integrity and the role his spirituality played in this. Students posed mature and insightful questions and a lasting impression was made upon them before many took the opportunity to have their photo taken with the two time All Star. Thanks to Oisin and to Mr. Mc Crea for organising the event.
LCVP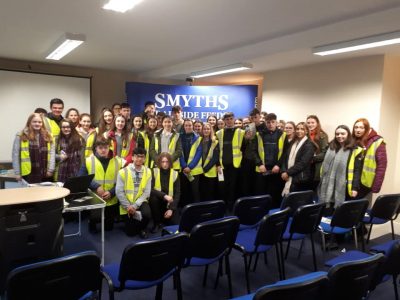 Two of our 5th year LCVP groups, classes Breda and Barry were accompanied by Ms K. Diver and Mr M. Deane on a visit to Smyths Daleside Animal Feeds in Ballindrait, Lifford as part of their Enterprise Module.
Leaving Certificate Applied
As part of their Enterprise module, our LCA students set up a small business selling handmade Valentines Cards, sweets and Lollipops which was a great success.
Drama
Students from 1st year to 5th year took part in the schools drama frestival run by the Butt Drama Circle. Our students performed an extract from 'Dancing at Lughnasa' which was very well received by the judge and the audience. On awards night the team walked away with an award for set design and costume as well as two acting awards for Evan Carron Kee and Isabel Conaghan. Well done to all students involved and to their teachers Ms. Wade and Ms. Kingston.
Debating
Model Council of the EU in Dublin Castle
28 schools from across Ireland travelled to Dublin Castle for the European Model Council debate to discuss the future of the European Budget. This annual event hosted by the European Commission Representative in Ireland invites schools to take the role of an EU country for the day and debate key EU issues. The St. Columba's team of Cael Gallagher, Isabel Conaghan and Amanda Bates represented Croatia and accompanied by their lobbying team they emerged as the winners after 3 1/2 hours of heated debate. The team members each won an IPad aswell as a group trip to Strasbourg in November. Well done to team members Cael, Isabel and Amanda and their canvassers – Evan Carron Kee, Niamh Doherty Heapes, Pete Byrne, Aisling Mc Ginty, Alecia Mc Menamin and Tristian Whitney. Well done also to their teacher Ms. Wade for all her work with the debating team.
Queen's University Literary and Scientific Debating School Competition
Four members of our school debating team Cael Gallagher, Evan Carron Kee, Niamh Doherty Heapes and Isabel Conaghan travelled to Belfast recently to participate in the Literary and Scientific Queens Debating Society school competition. A total of 40 teams debated on the day with only the top 4 from the round stages qualifying for the final. After two round debates, where the teams argued motions around the merits of voluntourism and whether it is ever right to break the law, both of our teams qualified for the top 4, a fantastic achievement. The motion for the final focused on whether vaccinations should be compulsory and the teams had only 15 minutes to prepare their arguments. The St. Columba's pair of Cael Gallagher and Isabel Conaghan placed 2nd in the final and will now represent the college at a further competition in September. Well done to all the students involved and their teacher, Ms. Wade.
Careers
Our 5th year students attended the Careers and Wellbeing Fair organised by Donegal IGC in Jackson's Hotel recently which had almost 50 career related stands and  wellbeing stands. Thanks to our guidance counsellors Ms. Sproule and Ms. Mc Cullagh who are both on the organising committee.
Global Citizenship Fair Trade Fortnight
Students from the Global Citizenship Education Committee marked Fair-trade Fortnight with a range of activities. There was a Fair-trade bake sale and fair-trade bananas and Fair-trade tea were available in the canteen at morning breaks during the fortnight. Well done to the committee for all their work and to Mr. Mc Crea coordinator.
50th Anniversary Celebrations
We celebrated our 50th anniversary on 16th February in Jackson's Hotel. The event was attended by staff and principals past and present, representatives from our trust body CEIST and the Sisters of Mercy, past pupils, parents and friends of the college and special guests.
Thanks to all those who helped to make the evening such a success. A special mention to the organising committee Mr. Rowan, Ms. Sproule, Ms. Cooke and Ms. Diver, to Tommy Gallen and his staff in Jackson's Hotel and to Gabrielle's diary and the Finn Valley Voice.
The 50th anniversary book, produced by some of our transition year students under the direction of Ms. Cooke to mark the occasion was launched on the night by special guest Leas-Cheann Comhairle Pat the Cope Gallagher.  Pictured together on the night were six of the seven principals of St. Columba's, Tom Rowan, Maeve Scully, Gerry Bennett, Brian Mc Auley, Margaret Mc Garrigle and Sr. Anne Mc Loone. Sr. Carmel Kiernan (RIP), the very first principal of the college was also remembered on the night.