Christmas Shoebox Appeal
We were delighted to have the opportunity again this year to donate to the Team Hope Christmas Shoebox Appeal. Last year 260,000 boxes were sent from Ireland to Post Soviet Union States, Eastern Europe and Sub-Saharan Africa. Team Hope is a charity that brings hope to those in this world, who experience little love and have little hope for the future. The presents we donate are brought directly to hospitals, schools, shelters, churches, orphanages, community centres, mountain villages and family homes. These shoeboxes are delivered to children, a lot of whom live in very impoverished conditions, giving them a Christmas to remember.
In Mercy we take a different approach to the Shoebox Appeal. We choose to collect donations from as many of our 700 students as possible. Rather than asking students to donate a full shoebox of goodies each, we ask the students of Mercy to donate an item or two, – a small game, a cuddly toy, a doll, the list goes on! Thinking of the environment, we ask for second hand items that are in good condition, items that had been loved and could now be loved by another child.
This year we received a great response from the girls who donated beautiful gifts, such as hair accessories, bags, balls and stationery for the children. Once donations were closed, Ms. Carrie and her team of elves set to work on preparing the shoeboxes. As well as adding the items donated by students, a few necessities purchased by the school were also added – soaps, sponges, toothbrushes, toothpastes, underwear and sweets.
Once the boxes had been packed and decorated, our 31 boxes were sent off on their long journey across the world. Many thanks to all our staff, parents and students who helped in creating a little bit of Christmas magic for those less fortunate than us.
Class of 2018 student awarded an All-Ireland Scholarship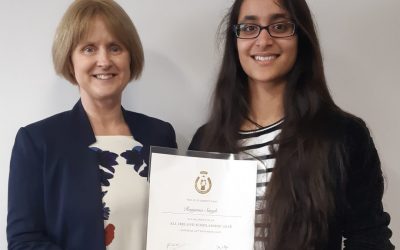 Congratulations to Ranjana Singh (Class of 2018), who has been awarded an All Ireland Scholarship. Ranjana, who is currently studying in Trinity College Dublin, received her award at a ceremony on Saturday 10th November at University of Limerick. The brainchild of businessman J.P. McManus, the scholarships programme was established in 2008 to support gifted young students across Ireland by providing them with financial support thus enabling them to participate in all aspects of university life. 125 All Ireland Scholarships from the 32 counties are awarded each year and 2018 will see the total number rise to 1,371, with 656 successful graduates having emerged with primary and postgraduate degrees.
6th Years in Festive Spirit making Christmas Cakes in Home Economics
Some more of our 6th year Home Economics Christmas creations!
6th Years Carol Signing in aid of Navan Meals on Wheels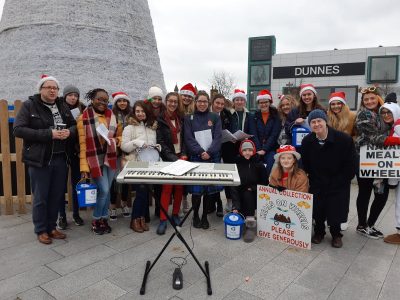 Our 6th Years were Carol Signing at the Live Crib in Navan from 12 noon on December 14th. All money raised was donated to Navan Meals on Wheels.
Carol Service 2018
The staff and students of St Joseph's Mercy Secondary School wish to thank everyone who attended our Christmas Carol Service in St Mary's Church Navan Parish on Tuesday December 11th for what was a beautiful evening of music and prayer. If you missed it, a full video of the service can be viewed on our school.