Even when our world as we know it has been turned upside down and shaken inside out there are still wonderful things happening in St Joseph's. Members of our school community have continued to produce fabulous work, win competitions, engage creatively, learn new skills and celebrate all the sensational and incredible things that make us the group of people that we are.
Run Dublin to Uganda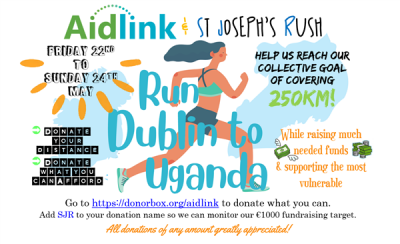 We only went and smashed it!!
Over the weekend, we set ourselves a task to raise money for Aidlink Ireland and to cover a distance of 250km collectively.
What a way to end the academic year. Not only did we reach out 250km target we absolutely blew it out of the water!
Collectively the distance we covered was 1447.83 km
A massive thank you to everyone who got involved by walking, running, cycling and donating to the cause. It is a cause that is so close to our hearts here in St Joseph's. Community is key to the work, message and organisation that is Aidlink Ireland, something that is at the heart of all we do here in St Joseph's Rush.
The original details of the fundraiser and our objectives can be found below the video.
The following video is such a testament to the community of our school:
Please click here for full article.
Thank you, Thank you, Thank you!!
Hear Ye, Hear Ye – THE ISOLATION REVIEW, Hot off the Press!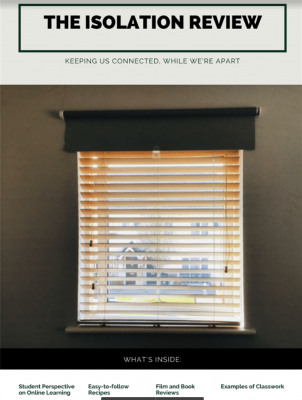 Mr Dowling and his 2nd year English class have been creatively collaborating. They've only gone and produced a MAGAZINE. If you have not seen this, you NEED to!  This piece of work is full of fantastic articles, reviews, recipes – and so much more! Well done to all the student and teacher contributors for this issue. It is a phenomenal piece of work, a real keepsake of our time in isolation.
Click the link to view – The Isolation Review Issue 001
Click the link to view – The Isolation Review Issue 002
Top Class Photographers in 1st Year
Over the Easter Break Rush Tidy Towns ran a photography competition titled "Discover Rush". The competition was a massive success with over 170 entries. The standard was exceptional making the final decision a very difficult one for the Tidy Towns Committee. We are so proud of Amy Roche and Ethan Sands two 1st Year students who placed both 1st & 2nd in the u16s category of this competition. Wait until you see their photos, they are outstanding!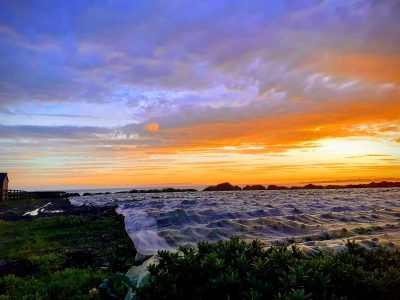 Amy's Winning Photograph is titled: "Field of waves"
Isn't it just stunning! Congratulations Amy, we look forward to seeing more of your talent in the coming years.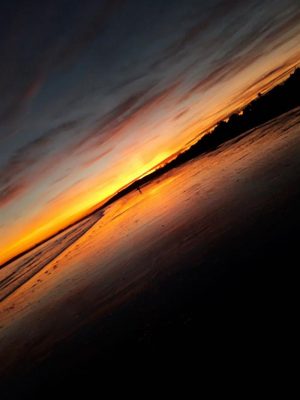 Ethan's 2nd Place Photograph is titled:"South Beach Sunset"
Such a beautiful shot! Well done Ethan another super talented photographer we also can't wait to see more of your photographs in the coming years.
TYs Staying Connected While Distant
Over the Easter Break our TY's gave us a lesson in nurturing friendships and keeping busy, creative and productive while isolating. Daily challenges, virtual meet-ups, creative challenges, bake-offs you name it, these guys put their hands to it – literally in some instances!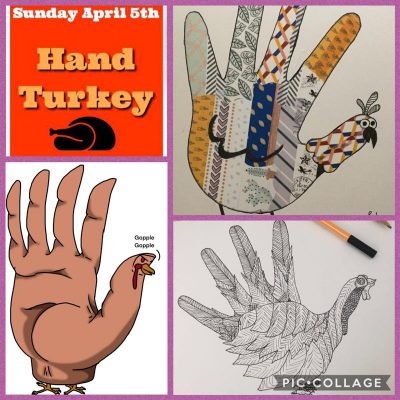 Check out their "Hand Turkey" work, yes you heard me, "Hand Turkey"!
Another inspirational group of young people adapting to their new normal and not allowing their social connections to dwindle or the challenges of isolation confine them. Well done to all for getting involved. These will be the stories you will pass onto your grandchildren some day.  Check out some of the pictures of what they got up to below.
Food Parcels For Families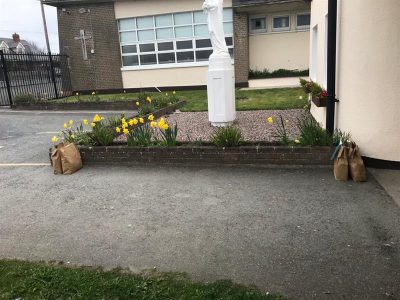 Every Wednesday since the 1st of April, a number of staff members in St Joseph's have been supplying food parcels to many families in our school. Where the family is unable to collect the parcel, it is delivered to the doorstep. This really is a wonderful, positive initiative to spread a little cheer and offer some support to families during these difficult times.
1st Year Coding Success – Scratch National Competition
Firstly – I bet you want to know what Scratch is right? We're not talking when you have an itch, we promise!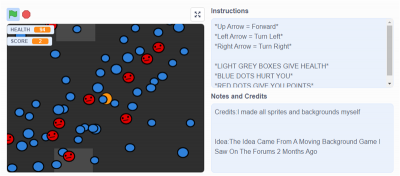 Scratch is a visual programming language that makes it easy for young people to create their own interactive stories, animations, games, music and art – and share their creations on the web. Scratch is a programme that helps young people learn to think creatively, reason systematically, and work collaboratively – essential skills for life in the 21st century. It is a programme that our Coding Department use with our junior cycle coding students.
Each year Scratch hosts a National Competition – this year out of all the entries in Ireland only 34 entries qualified as finalists! We are so delighted that Riaghan Boardman of 1A is one of these remarkable 34 with his Dodgeball Game Project. Congratulations Righan we are so proud of your success in this competition. A huge accomplishment, well done!
Irish Band "The Pale" Shoutout St Joseph's
A lovely memory and throw back shared by The Pale this week giving our St Joseph's Music Group a well-deserved shout out! The Irish band shared a full video recording of our performance with them back in November on Twitter & Facebook.
The St Joseph's Music Group was so honoured to perform with Matthew & Shane in the Aidlink for Turkana concert. An organisation we are so strongly connected to here in St Joseph's. The Pale most well-known for "Butterfly" were over the moon with our choice to perform a song from their most recent album. They were also super impressed with our students and have raved about their performance and professionalism from the first day they met with us all!
Aidlink for Turkana took place on Saturday the 2nd of November to a full house in the National Boxing Stadium. The students got to see many different Irish artists perform with different choirs before they took to the stage with Shane & Matthew from The Pale and Blaithin Carney on the keys. The night was a beautiful celebration of connection & community.
Thanks for sharing the memory lads. It really brightened up our news feeds!
National Scholars Ireland
Ms Mackin proudly sent 22 certificates to 22 2nd Year students who passed the Scholars Ireland Programme this year. Well done to this fab gang of 2nd years. We are so delighted seeing your success in this programme. You should be very proud of yourselves, we sure are!
When Glee Teachers Get Mad!
Despite the school building being closed GLEE club has continued extra-curricularly in isolation. What we have learned during our time in isolation is that you can't play tracks through Zoom or Google Meet which makes singing and dancing together difficult, but we persevere. We have learned that if someone's connection lags, that's unfortunate for them and their facial expression. We have also learned that we are still a pretty unique group of students and teachers who take great joy in connecting and having fun through music and dance.
Mr Grimes pitched the idea of building a group project which required individual members submitting some tracks and video recordings over the Easter Break. The GLEE students response to this was enthusiastic and encouraging.
When Mr Grimes logged in to begin editing the tracks that should have been there, he got mad.
Why? Well only a couple of students had submit what we needed.
Mr Grimes rang Ms Brophy and told her, she also got mad.
So, what do two GLEE Teachers do when they get mad? Well, they sing about it of course!
GLEE Teachers are very annoying when they're annoyed, right?!
Hopefully the GLEE students will send in their clips for us now or else we may have to sing at them again!
*Disclaimer – No GLEE Teacher was genuinely mad in the making of this dramatic post.
We may tend to pepper our daily stories and situations with a touch of flair and dramatics, in case you couldn't tell. It comes with the territory!
1st Year Video Projects – Move Over Spielberg!
Guidance Department – Mental Health Promotion Competition
A challenge set by our Guidance Department over the Easter Break was to create a video promoting Mental Health. The department ran this challenge as a competition and are delighted to say well done and congratulations to – Dominic Kelly in 1st Year who was the competition winner with his informational video.
Check out some of his cool animated tips on coping at the time of Corona here:
"Social Distancing Life" – 1D and Ms. Doyle
Ms Doyle & her 1st years have also been exploring their video production skills!
The project title: "Social Distancing Life".
The task: To create a video of you living your best socially distant life.
Ms Doyle wanted to give Griffin Carrick's submission a particular shout out for his commitment to the project. It's definitely a video that would cheer anyone up!
TYs Say Thanks
Over the last number of weeks the TY students took some time to stop, reflect & thank the work of those on the frontline.
Check out the beautiful heartfelt messages gathered by our TYs.
TY Graduation 2020
On Wednesday the 20th of May, the Transition Year Class of 2020 marked the end of their year in a very different way, with the school's first ever virtual awards and graduation ceremony. Back in their uniforms for the first time since the 12th of March 2020 and with almost full attendance, the group re-connected to reflect on their journey of personal growth and development, to recognise and celebrate achievements and to share the memories made. Our students were incredible from start to finish and really showcased what fine young adults they have matured into. They were a credit to themselves, their families and the school. Senior Management, their TY Coordinator, Year Head and Form Teachers were bursting with pride. Students across the whole year group received module awards and overall TY awards were presented in the following categories: Mentoring, Creativity, Positivity & Kindness, Personal Development & Growth, Attitudinal, Leadership, Spirit of TY and the TY Student of the Year Award. The ceremony featured special messages from Trisha Lewis of Trisha's Transformation, Dublin Footballers Siobhan Woods and Brian Fenton and musician, Gavin James, all congratulating the TY class of 2020. Over the course of the year, we've realy discovered how talented and creative the students are as a year group and many of you would have seen this in action at our TY Musical, 'Seriously Elle!'. Celebrating this creativity took centre stage at Wednesday's ceremony, with students designing images and writing poetry especially for the occasion, which can be seen below.
1) Painting with all the logos – designed by Amy Casey – bringing the core purpose (eg: skills: communication, working with others, creativity, managing myself) and all of our external partners together that make up TY in Rush.
2) Train painting – Rachel Lam – depicting TY as a journey, where the destination was unknown. Each journey was unique to the individual. That journey may have been based on confidence building, self-discovery, personal growth, new friendships, letting go of old friendships. Each journey brought something new and different every day, symbolised by the question marks after the word 'destination'. The code number of 108 on the train represents the TY 2020 team – 102 students, TY Coordinator, Year Head and four form teachers. The dark clouds symbolise uncertainty, and the uncertainty we faced with the arrival of Covid-19.
3) Butterflies – Carla Phillips – TY as a symbol of growth, depicting the growth of the students from a small, shy caterpillar beginning in August 2019 in the bottom right, to a butterly, who with strenght is graduating from TY with experience and memories as supports, represented by the leaves eaten by the caterpillar, listing all of the activities that took place in TY.
4) Poem – Keelin Sheppard.
The TY Class of 2020 have been a pleasure to work with and I wish them all the best going forward! Enjoy the summer– Mr Reade.
Congratulations to all the TY students, to Mr Reade, TY Coordinator & Ms Kiely, TY Year Head.
What a beautiful send off and marker of the extraordinary year that was had by all! Enjoy a well deserved Summer Break!
5th Year Music Performers

Ms Lynch and her 5th years have been busy creating beautiful music while apart. Another subject that has reaped the rewards of some creative alone time! A huge thank you and well done to Nathan, Rachel & Lauren for sharing three of their performances with us.
I think you'll agree, three very talented students right here! Don't forget us when y'all are famous!