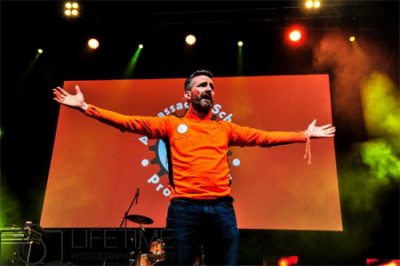 Stars of Irish broadcasting, sport, music, member of the Garda Siochana and PSNI came together with Minister Jimmy Deenihan to support this unique student event themed 'Together we can'.
Pupils of St Joseph's Rush were afforded a unique opportunity to attend a special daylong event hosted by Cycle Against Suicide, on Thursday, January 14th, 2016 at the RDS Dublin, to promote positive mental health in schools and communities across the island of Ireland.
The Student Leaders' Congress, which saw 4,000 students from over 100 schools, was aptly themed 'Together we can' (a theme selected by Cycle Against Suicide Student Leaders) and sought to remind students, that it's ok not to feel ok; and it's absolutely ok to ask for help.
Students of St Joseph's, not only participated in a carefully choreographed, high energy experience, but also showcased their own project work which they designed and created around the event's theme. The Congress demonstrates, in a very special way, the value to students of appreciating their own mental wellbeing.
Cycle Against Suicide module is run with Transition Year students. The aim of the module is to make students more aware about their mental health and to promote positive mental health among the general student population.
Link teacher Anne Kinsella said, "Our school was privileged to participate in this unique student experience hosted by Cycle Against Suicide and we were honoured to showcase our school's work at this national event.
The impact of this type of activity is far reaching, not just in our schools, but also in the community at large. The atmosphere in the RDS today has been phenomenal "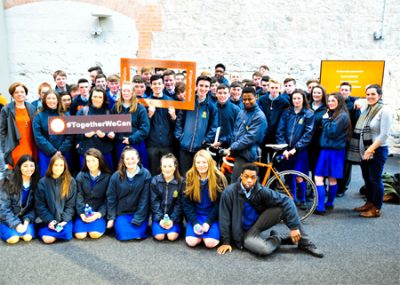 The Student Leaders' Congress seeks to highlight the importance of promoting positive mental health practices in schools and communities. There is also an opportunity for students to interact with mental health organisations exhibiting on the day thereby informing the students of all the different help and support available to them, if and when it is needed.
MC'd by former Rose of Tralee Maria Walsh, 2FMs Louise Mc Sharry and Colm Hayes , the event featured interviews and discussions with high profile Cycle Against Suicide ambassadors, including Cork camogie player Ashling Thompson, adventure athlete and professional speaker Mark Pollock, Irish Rugby star Niamh Briggs, and Joanne O'Riordan (No limbs, No Limits). Walking on Cars, Heathers, Jerry Fish, and The High Hopes Choir all provided entertainment for the 4,000 students present.
Cycle Against Suicide founder Jim Breen said: "We held our first ever Student event in March 2013 at RTE's studios. There were 40 student leaders in attendance that day. This year we have just filled the RDS with 4,000 students from more than 100 schools.
This is now the biggest youth mental health event of its kind in the world. Each year over the two weeks of our annual Cycle, we give presentations in schools, colleges and universities all around the island of Ireland and we witness how hugely responsive students are to the message that it's ok not to feel ok; and it's absolutely ok to ask for help.
Today is a very special event as it is tailored exclusively to young people and we are delighted to have such high profile guests in attendance to encourage our students to appreciate their mental wellbeing."
Web: www.cycleagainstsuicide.com
Twitter: @CASuicide
Facebook: www.facebook.com/CycleAgainstSuicide