BT Young Scientist and Technology Exhibition 2020
Five of our TY students competed in the BT Young Scientist and Technology Exhibition 2020, in the RDS arena from January 8th – 11th. Diarmaid Byrne and Ellen O'Donoghue investigated the calorific benefits to athletes of Quorn Chicken versus naturally produced Chicken. Their project earned them many admirers from the food industry and those debating the benefits of Genetically Engineered foods. Ellen Flanagan, Angie Kelly and Aoife Talty examined the role Kelp plays in reducing ocean acidification. Their results showed that Kelp is a significant player in the maintenance of biodiversity along the West Coast of Ireland. The trio have since been invited to visit NUIG's Marine Biology Unit to further their study of the seaweed. All students and their parents deserve credit for the immense work applied to the competition over the last few months. All In the Science Department at St.Josephs look forward to the next Science fair, Scifest happening in April. A huge thank you to Mr. Michael Mc Donagh and Ms. Catherine Clair for their hard work and dedication over the last number of months with the students.
Irish School's Basketball League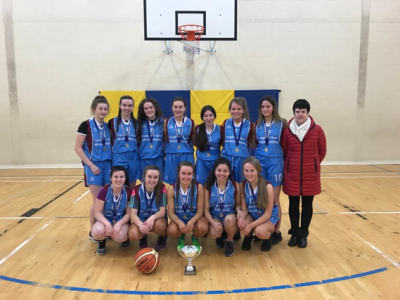 Congratulations to our senior girls basketball team who recently won their category of the Clare section of the Irish School's Basketball League beating Ennis Gaelcholaiste. The girls now advance to the Munster qualifiers. Huge thanks to Ms Mairead Bergin who mentors the girls.
Meitheal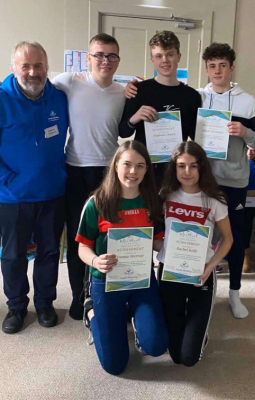 On Monday 6th of January, two Transition Year students and three 5th year students from St. Joseph's, Spanish Point travelled to Esker Monastery and Retreat House in Esker, Co. Galway, to take part in the Meitheal Leadership Training Programme. They left St. Flannan's College, Ennis around 3:30 that Monday afternoon on a bus along with 35 other students from schools around the Killaloe Diocese.
When they reached Esker just before 5pm, the students were welcomed warmly by Fr. Donagh O'Meara, Joanne O'Brien and the 14 college students who would be their leaders for the week. There were also two senior leaders, Aoife and Edel, who had worked in the similar Anois programme in the Limerick Diocese.
Each morning the students would be woken by the leaders, and would then go for a short walk around the grounds before breakfast. After breakfast, the students participated in a short morning prayer service. Throughout the day they took part in many workshops to help with their leadership skills, in categories such as trust, decision making and looking after their mental health. The 40 students were split into 5 'break away groups'. They sometimes went into these groups, each in a different room, to do different games and activities and reflect on their learnings from these and the day's workshops. They were provided with hot meals at lunch (1pm) and dinner (6pm) with short breaks for snacks and games throughout the day. They ended each day with a night prayer service. Each break away group took turns to write and read prayers at each service.
Over all, our students thoroughly enjoyed improving their existing leadership skills and learning new ones throughout the Meitheal programme. They also learned a lot about themselves as individuals over the course of the week, and have made new friends for life. The students would highly recommend Meitheal to their peers, and have clearly expressed that they would return again in a heartbeat if given the chance! A huge thank you to our school chaplain Fr. Donagh O'Meara and Joanne O'Brien for organising such a brilliant week for all the students.
Tráth na Gceist Bord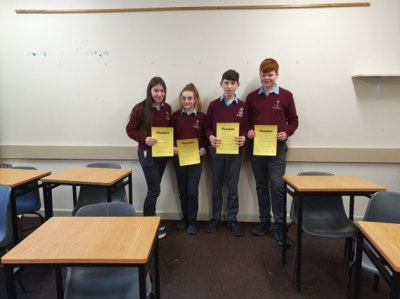 Ghlac dhá fhoireann ó Scoil Naomh Sheosaimh, Rinn na Spáinneach páirt sa réamhbhabhta  Comórtas tráth na gceist bord i Scoil Phóil, Cill Fhionain, Co Luimní ar an 16ú Eanáir. Feachtas Óg-Ghluaiseacht  a eagraíonn an comórtas gach bliain. Cé nár éirigh linn ar an oíche bhain gach duine taitneamh as an ócáid. Ár mbuíochas le Beán Uí Dhubháin.
Catholic Schools Week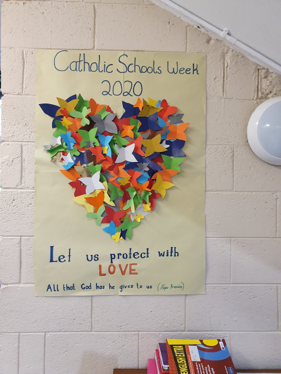 Looking forward to Catholic Schools Week 2020.