Opening School Mass
We begin this new school year, by welcoming all our new students to our school community and wish them much happiness in the forthcoming years ahead.
On Tuesday 17th of September, we celebrated our Opening School Masses. A huge thank you to Fr. Donagh who celebrated the masses including our themes of 'Tolerance', 'Inclusion' and 'Belonging' into the homily while encouraging us all to 'Shine a Light' this year. Our theme to shine a light was inspired by the thought provoking reflection read to us by Ms O'Loughlin – a huge thank you. We were also delighted that the Sisters of Mercy along with our own Sr. Martina could attend. Many thanks to Ms.Whelan for the fabulous music and of course to Sr. Martina for all her guidance and help in preparing the students for the mass.
Here at St.Josephs we are celebrating our 90th birthday as our school was founded on September 4th 1929 by the Sisters of Mercy. We are looking forward to celebrating our birthday with the official opening of our new ASD unit and PE Hall in the coming months.
World Climate Action Day
Friday 20th of September marked World Climate Action Day and the students at St Josephs were busy throughout the week taking part in a beach clean up, ensuring that we all do our part to help keep our environment and ocean pollution free. Well done to all!
Transition Year- Burren Trip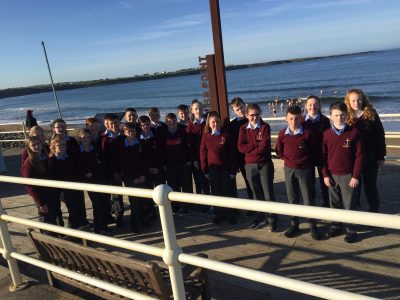 Finally, a huge thank you to Ms Comber who accompanied our TY students in August to the Burren on a team building trip. New friendships were made and all are looking forward to the year ahead.