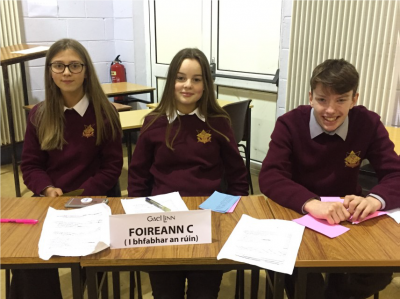 The TY teaching team met a whole new group of Transition Year students in late August and were quick to recognize that we have exceptionally talented, hard working future focused students. Goal setting and team building were the tasks on hand on the very first day of TY and our students embraced these challenges whole-heartedly.
Our science and business teachers are delighted with the enthusiasm many students have shown in generating good quality proposals for their Young Scientist projects and Young Entrepreneur projects. All TY students attended an Enterprise workshop in the West County recently organized by the Clare Local Enterprise Office. The Young Social Innovator programme is well underway with a Cairde initiative welcoming some of the more senior members of our community into our school to share their wisdom and life experience. Though always a risk to single out any group, I think it is appropriate to mention the significant financial support received from Beckman-Coulter in support of our science projects. Each year we try to keep our programme, fresh, updated and relevant. We have introduced modules on Philosophy, Self Defense and Horticulture. We also have had fantastic support from the GAA and the PDST in bringing in the GAA Future Leaders programme to this year's TY. Planning is already underway for next year's TY group and I would like to thank and acknowledge Emma Cooper and Arnas Magilevicius, two TYs from last year, for giving personal and very informative speeches to those considering TY for September 2019. They spoke of their experiences, memories and the confidence gained during their TY year. I hope that this time next year some of our current TY students will share similar positive experiences with incoming students and their parents.
I hope this newsletter will give you a little taster of our first term and will give you an impression of the creativity, commitment and hard work of our TY students. Even though we expanded this edition by two pages, we still could not cover everything that has been going on. I must thank our TY teachers for the incredible amount of voluntary work they put in to the programme. I would like to wish all of our TY students, parents and staff a very happy and peaceful Christmas and a New Year filled with great learning and further challenges.
Geraldine Sullivan, TY Co-ordinator
Click here to read full newsletter.