Green Schools Team
Last week the Green Schools team in St. Leo's College celebrated Climate Action week by holding a workshop which gave students tips on how to become a plastic free classroom. While the school is already committed to transitioning to a plastic free environment, students were encouraged to double down their efforts by: using a reusable water bottle, choosing pencils or pens made from recycled materials, swapping paper towels (they come wrapped in plastic) for cloths, avoiding plastic food bags by using a reusable lunch box and finally, by making wax paper food wraps to wrap their sandwiches. In addition to this informative workshop, each team member created their own display around different aspects of climate action such as swap shops. The team also received their Green Schools Team badges last week whilst committing to continue the ongoing work of the team towards the school's sixth green flag – "marine environment". Thanks also, to Ms. Sinead Scully who is the key driver of the Green Schools Team in St. Leo's College.
| | |
| --- | --- |
| | |
The Green Schools Team at St. Leo's College Carlow
Business Studies
On the 22nd of October a group of 4th and 5th year students attended a Business visit to Diageo with their Business Teachers. The visit provided the students with the opportunity to see first-hand how a Business operates. It was a fantastic way for students to make the links between classroom concepts and real life situations. The objectives of this visit was to enhance students understanding of business operations, allow the students to see the application of theory in practice, enhance classroom learning & discussion by providing a live case study and also to provide primary research opportunities for students through direct observation and discussion with managers. Ms. Sandra Salmon and Mr. Chris Byrne from Diageo presented and discussed a wide range of topics such as:
Idea generation, international branding, brand history, marketing, performance, innovation, reputation, service operations, targets, suppliers, manufacturing excellence, visual management, operations, brand change, occupational health, compliance & ethics, planning, environment, health & safety, logistics, engineering, human resources, quality, audits, social media, project management, GDPR, employee voice, communication, business functions, problem solving, policies and data analysis.
Sive
Carlow Little Theatre staged their version of Sive at the Visual Theatre Carlow from Thursday to Saturday, October 24th to 26th. This full-length production of John B. Keane's classic play, produced by Paddy Behan captivated the audience from the very beginning. This 2019 production marks 60 years since the play's first staging. It was no small amount of admiration that students from St. Leo's College watched on, as Ceola Webb from Transition Year delivered a powerful and accomplished performance as Sive, a young girl callously married off to an old local farmer by her own family. Ceola seemingly effortlessly captured the tragedy of a young girl sacrificed to satiate her family's grasping ambition.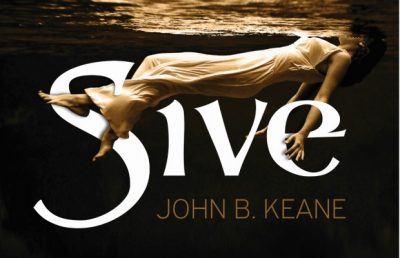 Enrichment Programme and Age Action
As part of the Digital Skills for Citizens Training Scheme, Age Action has once again partnered with the Enrichment Programme in St. Leo's College to deliver a digital education programme. The digital training module takes place in one of the college's computer rooms every Wednesday afternoon. To date more than 35,000 Irish citizens have benefitted from Age Action's, Getting Started Computer Training Programme. The participants in the module in St. Leo's College learned how to access the internet on their personal devices with greater ease. Learners on the programme gained greater confidence around connecting online with various key service providers as more and more institutions are encouraging citizens to do business online. They also learned how to access various apps as well as Google for online newspapers and Google earth! Participants on the programme also learned how to optimise the usefulness and convenience of their personal devices by learning to connect with family and friends on-line by skype and e-mail.
Athletics Team Participate in the Three Counties Schools Cross Country League
Over 50 athletes from St. Leo's College travelled to Kildare last month to compete in the Three Counties Schools' Cross-Country League. The team enjoyed success in the intermediate category with Elsa Doyle winning the individual silver. The group also garnered team prizes in the Minor & Junior categories. Well done to all athletes who competed on the day. Each athlete exhibited great determination and team spirit.
Maths Week
The Transition Year students enjoyed a mesmerising one-hour show at Carlow IT as part of Maths Week. Andrew Jeffrey – the Mathemagician – delivered a highly interactive and engaging show, which emphasises the importance of motivating students and building their confidence in maths.
Andrew is a teacher, former vice-principal, magician, and keynote speaker. Described as a mathematical evangelist, he is the author of several books including 'Be A Wizard With Numbers', 'Magic for Kids', '100 Top Tips for Top Maths Teachers' and 'Cool, Calm and Calculators.' Andrew Jeffrey travels throughout Europe inspiring and entertaining teachers and students alike with Magic Maths.
Lunchtime show!
There was a huge attendance at the lunchtime concert in the Assembly Hall on Thursday 17th of October. The assembled audience was treated to a range of wonderful performances from students in every year group in the school. The performances included solos in Piano and Cello, the school's traditional group provided a lively suite of favourites and finally the 6th year band made a memorable performance. There is a wealth of musical talent in the school community and this talent is carefully nurtured by music teacher, Ms. Carrie McCarthy.
Crossing the Line Young Social Innovators
The Y.S.I. 2018 2019 team have been awarded the Carlow Kilkenny Garda Youth Community Safety Group Award for making a positive contribution to their community and making it a better place to live in.
The Young Social Innovators team focused their project on tackling issues around sexual assault and consent.
With the generous support and mentoring of the staff of Carlow and South Leinster Rape Crisis Centre, Garda Elaine Rowe, Minister for Justice Charlie Flanagan, the staff, parents and students of St. Leo's College, the Y.S.I. girls mobilised and encouraged people to speak up and speak out about the issue of sexual violence and educated their peers about the meaning of sexual consent.
They had a very successful meeting with Minister Flanagan which was arranged with the help of Councillor Aisling Moran. They made a short film, ran a Purple Awareness Day, created a display, spoke on KCLR as well as participating in the Y.S.I. Speak Out event in Lyrath Conference Centre and the Y.S.I. Awards Showcase in Croke Park. They were nominated for the Kilkenny Carlow Garda Youth Awards based on their determined commitment and huge work to make a difference in their school and in their local community. Now they will attend a gala ceremony in Hotel Kilkenny on 7th November and be presented with The Kilkenny Carlow Garda Youth Group Award. These young ladies are surely young social innovators.
"Joutes Oratoires"
A huge congratulations to our Senior debating team; Khansa Yousif, Justyna Czubak, Lolia Akinyemi, Ève McGlinchey and Kayleigh Morris who won their French debate during the "Joutes Oratoires" debating competition against Muckross Park College on Monday 21st October. The competition is organised by the Alliance Française Dublin. Khansa Yousif was deemed "best overall speaker". The debating team was accompanied by their teacher and debating coach Ms. Una Ní Mhaoldhomhnaigh who has worked very closely with the team since their return to school last August.
Financial Literacy talk
Ms. Ciara Coone, Youth Advisor, Bank of Ireland delivered a presentation to Junior Cycle Business Studies students on the concept of financial literacy. The students enjoyed an hour-long presentation on topics such as savings & borrowing, budgets, interest rates, financial numeracy & literacy and financial planning. Early financial literacy education teaches students the basics of money management. This knowledge lays a foundation for students to build strong money habits early on and avoid many of the mistakes that lead to lifelong money struggles. Sincere thanks to Ms. Emer Ryan who organised the talk.
Senior C volleyball team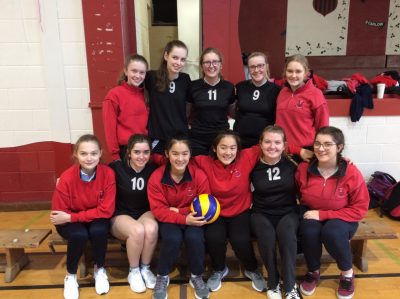 Well done to the Senior C volleyball team who competed in the first round of league matches on Monday 21st of October in Carlow. They comprehensively beat a team from Baldoyle and later lost what was a very close match with Dungarvan town. The second round takes place in November.
Gymnasts travel to Israel
Best of luck to Seoighe English, Ella Sullivan and Eilis O Neill who will represent Ireland at the European Acrobatic Gymnastics Championships in Holon Israel at the end of October. This is an amazing achievement for the girls who have worked extremely hard to be selected. In order to qualify to represent Ireland, the group had to go through a rigorous series of four trials which commenced last May. The last of these trials was at the National Series at The National Sports Centre in July. The girls had to achieve a qualifying score set by Gymnastics Ireland and had to be ranked in first place. This challenging process has yielded a place for the team at the European Championships in Israel this month. The team trains for at least fifteen hours a week in Carlow Gymnastics Club. They are coached by past – pupil Sara Rennick who is currently a teacher of P.E. and Biology in the Presentation College Kilkenny.  We wish the team and their coach Sara Rennick every success in this prestigious competition.
Junior Camoige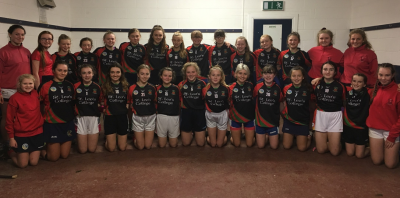 Our Junior Camogie team enjoyed two great wins over Athy (9:2 – 0:0) and Presentation, Carlow (3:3 – 1:5) on Friday. All 31 girls got a chance to play in the games. Congratulations also to their coaches, Róisin Breen & Niamh Lennon.
Equestrian Trip to Jim Bolger's Racing Yard
St. Leo's College Equestrian Club enjoyed an inspiring visit to Jim Bolger's Racing Yard last week. This international Racing Yard is situated in a very picturesque stud farm at Glebe House in Coolcullen, Co Kilkenny.  Members of the equestrian club were shown some of the yard's top horses including Geometrical and Solage.  Following their visit to the yard Jim Bolger accompanied the girls on a tour of the gallops by jeep. Afterwards, the girls enjoyed afternoon tea while conducting a Question & Answer session with their illustrious host. Jim Bolger offered sage advice to the students about how to become a success in life. He told them that each student is responsible for their own professional reputation. He explained that the success of his yard is down to everyone working there, taking personal responsibility for their individual role. This very unique excursion was organised by teachers Nuala Kennedy and Kelley Comerford.