Incoming First Year Information Morning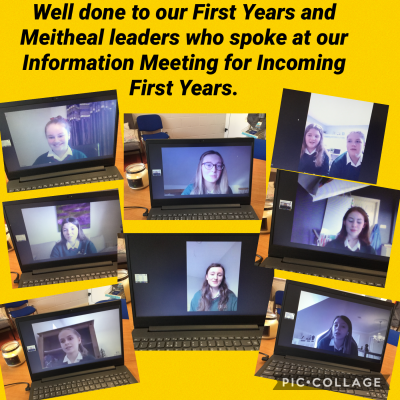 We held a welcome meeting with our incoming First Year students and their parents on Saturday morning. Well done to First Year students Eva & Sophia O'Byrne, Clare Healy, Jessica Murray, Liadh Nolan, Brooke Rea Naughton, Lily McCormack and Meitheal Leaders Emma Hughes and Abbie Graham who all spoke so articulately and positively about their experiences as students in St. Leo's College. They gave messages of reassurance and hope to the First year class of 2021. The students joined Principal Niamh Broderick, Deputy Principals Ian Curran, Emma Dwyer and Imelda Whelan,  Year Head Caroline English and HSCL Coordinator Valerie Delaney in presenting at what was a most informative session.
Christmas Calendar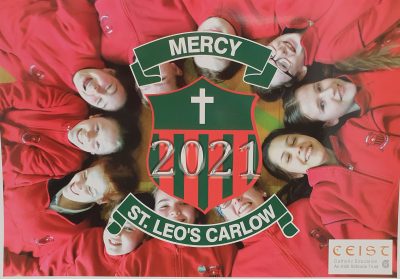 This must-have gift for Christmas 2021 is available for purchase in school! Our stunning calendar features numerous photos, prizewinning student Art work, Poetry and lots more. €10 for 1 calendar and €15 for 2. Many thanks to the Parent Association, our sponsors & all involved in the production of this beautiful publication.
Sports News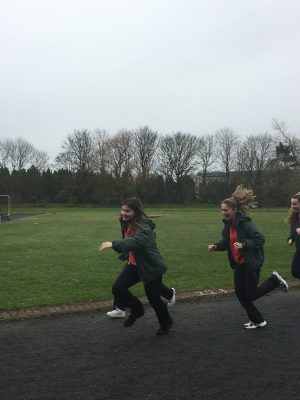 Jingle Bell Joggers! 5K Jingle Bell Joggers from classes 4B and 4D in aid of Carlow Regional Youth Service.
Anam Cara Training Day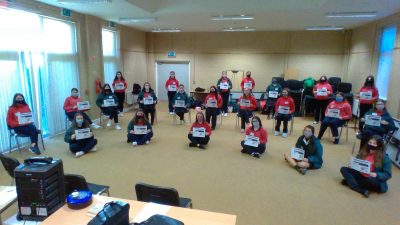 Anam Cara leaders who recently completed a training day in the Cathedral Parish Centre. Facilitated by Cathriona Kelly; the training day gave the students the opportunity to bond while developing their leadership skills. Congratulations to all involved.
St. Vincent de Paul Christmas Jumper Day

The SVDP Team would like to express their sincere thanks to all who supported our St. Vincent de Paul Christmas Jumper Day. There were some stunning jumpers on display and some very interesting designs! Many thanks to the huge number of staff who donned their festive garb to support this very worthy cause. It is such an important fundraiser each year. Our school community donated so generously. Donations are still being accepted by St. Vincent de Paul in school. Ms. Cathy Cradock and the St. Vincent de Paul team did incredible work.
Christmas Atmosphere in St. Leo's College
The Open Door Art Competition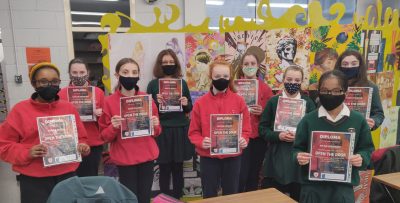 Well to everyone who entered the Open The Door Art Competition. The entries were very beautiful indeed.
Young Social Innovators
St. Leo's College was absolutely thrilled to welcome Honoria Gilchrist, manager of Carlow Women's Aid back to the school on December 3rd. Honoria and the staff of Carlow Women's Aid were of constant support to the 2020 Y.S. I. team in their efforts to highlight the sensitive issue of domestic violence during last year's Young Social Innovators Programme. Having been awarded the Bronze Young Social Innovators Award which included a prize of €750, the team's dream came true-to donate the money to Carlow Women's Aid. Together with Principal Niamh Broderick, Y.S.I. guide Sheila Coady, Edel Colgan and Lucy Mc Loughlin, on behalf of the team, presented a cheque for €750 to Honoria and Carlow Women's Aid.
Honoria thanked the team and the school community for our efforts in campaigning to secure the two emergency family units, recently acquired. Y.S.I. team members, Edel Colgan and Lucy Mc Loughlin on behalf of the team expressed their gratitude to Honoria & said " She is the Hero we wish to Celebrate." Boxes of Heroes and Celebrations were then shared among the participants. All agreed that the strong links forged between Carlow Women's Aid and St. Leo's College will continue long into the future.
Cycle Against Suicide Positivity Well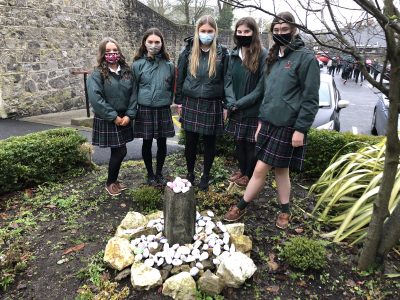 The Cycle Against Suicide Anxiety team created a positivity well within the school. On Thursday,10th December, the team visited First Year SPHE classes. Every student was given a white painted stone which they decorated with markers. They could write positive quotes and draw colourful designs on them. The idea was to change a worry stone into something positive and we hope that others will benefit from the completed positivity well. The team was very excited to do this activity with the First Years!
A Christmas Concert With a Difference!
Congratulations to all the performers involved in the filming for this year's Christmas Concert with a Difference! Because of Covid – 19 restrictions, Staff and Students have explored new and creative ways to put on our Annual Christmas Concert! A very special thank you to Mr. Sean O'Flaherty's Film Studies class who so ably filmed the students' performances throughout the school campus last week. We look forward to watching the show online with the whole school community very soon!
YSI 2020-2021 Voices Left on the Street
This year's YSI team are doing trojan work to collect donations to make up Care Packages for the homeless this Christmas. The Y.S. I. team have put out an appeal to the whole school community for warm clothes, shampoo, toothpaste, sanitary products and water bottles. The team have been delighted with the enthusiastic and generous response from our school community.