Legally Blonde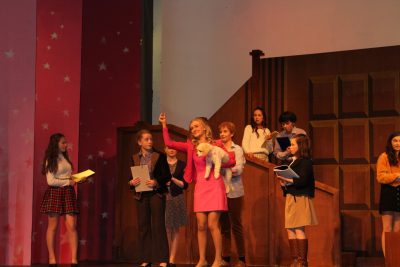 At the end of October,the very talented cast and crew of 'Legally Blonde' entertained audiences in Arklow with with our smash hit musical – 'Legally Blonde' is a romantic comedy and music and dance extravaganza based on the novel and the hit-movie of the same name- it chronicles the journey of Elle Woods, a fashion-savvy, sorority girl who enrols in Harvard Law School in an effort to win back her ex boyfriend by proving she can be serious. Ultimately, she defies expectations and manages to stay true to her delightfully pink personality and prove that being true to yourself never goes out of style.
With three matinees and four evening shows it was an action packed pink fest at St. Mary's College. Directed by Elizabeth O'Dea with Musical Direction by Freda Mooney and choreography by Frances Ryan the show included many high energy song and dance numbers. Alice Keenan was spectacular in her role as Elle Woods and supported by a cast of fifty many playing male roles in a most convincing way. One of the scene stealers was Missy Davis, our only four legged cast member who plays the role of Bruiser, Elle Woods canine companion. The show highlighted the importance of both our tradition as a musical school and our current Creative School Initiative. The show offered our students the chance to showcase their myriad of talents both on stage and behind the scenes in stage management, set design and hair and make-up. Thanks to all our supporters and everyone who assisted in bringing this wonderful production to the stage. Congratulations to all involved!
St. Mary's goes Pink!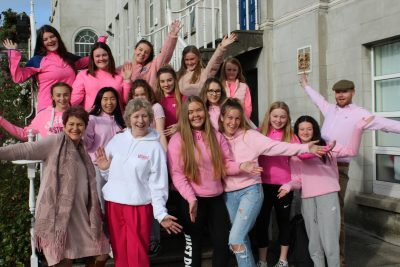 October was Breast Cancer Awareness Month – On Friday October 18th staff and students marked this campaign with a Non-Uniform Day.Organised by the Student Council students and staff were asked to wear something pink as part of their non-uniform attire and to contribute €2 to Breast Cancer Research. The pink theme was very appropriate in St Mary's that week as cast and crew were preparing for the opening night of Legally Blonde, where Ms. Elle Woods is a passionate advocate of all things pink!
Creative Schools Celebration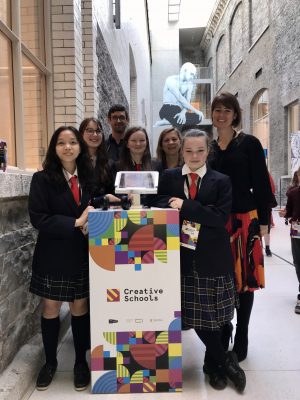 The first week of November marked a celebration around the country of the work undertaken by the Creative Schools programme. Four of our Form 2 students travelled to the National Gallery in Dublin to showcase the creative talents of the students from St. Mary's College. Jorja Murphy, Martyna Gabriel, KC Pongos and Keelin Cahill presented a video documentary detailing different initiatives and activities undertaken in our school over the last year. It was a great honour to present work to a gathered audience in The National Gallery, home to some of our most famous works of Art. The Creative Schools programme, developed by the Arts Council and the Department of Education and led by our own Art Department, Ms Charlotte Murray and Mr Ian Carter, encouraged the young people in our school to lead, take over and showcase their creative learning and engagement in the artistic, cultural and creative life of St. Mary's College and wider community. The girls were fantastic advocates for the Arts and represented the work undertaken in St. Mary's College very well. We are very proud of their achievements!
Bri-Elle's Toy Show Appearance
Congratulations to Form 2 student Bri-Elle Finn who recently fulfilled a childhood dream when she appeared on the Late Late Toy Show. Bri-Elle a talented singer, is also a member of our School orchestra. She plays piano, guitar, ukulele and is now learning the violin. She also recently appeared as part of the Greek Chorus in Legally Blonde. Bri- Elle was delighted to be selected to perform twice on the Toy Show- she featured in the Queen medley and also in the finale.
Our-Story Project
A group of T.Y students have had the amazing opportunity to take part in 'Ourstory'-a Creative Writing Workshop' in association with the  Tinahealy Courthouse Arts Centre. The workshop takes place very Friday for 6 weeks.,In these classes the students learn about how to tell and create stories and present them to their peers or others outside their school environment and in their community. They learn skills such as creative thinking, creative expression and the basic structure of a good fun and captivating story. During these classes the students have fun while learning and creating stories to entertain their audience. The girls are looking forward to more worshops after Christmas.
Díospóireacht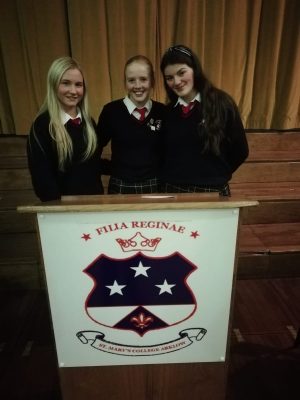 Comhgairdeas do Molly Healy, Ella Devereux agus Eve Ní Ruairí, an fhoireann díospóireachta shinsir atá ag dul ar aghaidh go dtí an chéad babhta eile sna díospóireachtaí Gael Linn. Bhí siad i gcoinne an rúin, tá muintir na hÉireann dáiríre faoi dul i ngleic leis an athrú aeráide
Congratulations to Molly, Ella and Eve, the senior Irish debating team who progress to the next round of the Gael Linn debates. They were speaking against the motion 'Irish people are serious about tackling climate change'. The girls put in an excellent effort against Presentation Wexford, CBS Carlow and Loreto Abbey Dalkey. Well done to all involved!