2018 was a very busy year for us all here in St. Mary's Macroom. Below is a quick summary of events which took place throughout the year.
JANUARY
We had great success at this year's BT Young Scientist competition. Three of our projects received highly commended recognition from the judges. Well done to all this year's participants who worked extremely hard to represent St. Mary's and their dedicated teachers.
FEBRUARY
Congratulations to our 4th year students Erin Leahy, Kate Murray, Nicole O'Connor, Saran Wynroe, Hanna O'Donovan and MaryAnn O'Shea who stole the show at the UCC Psychology Department's PsychSlam competition with their project entitled 'Are schools killing creativity'. The won the Audience Choice Award for their project.
MARCH
Congratulations to Ms O Donoghue and her Space Savers Bank team who WON the AIBs 'Build A Bank' competition held in the RDS, Dublin. Fantastic achievement. This is the third time that St Mary's have won this National Competition – the only school in Ireland to have achieved this. Well done to all involved.
APRIL
Ms. McGrath and Ms. Watkins and some 4th and 2nd year students went to Germany on their exchange to Munich and all arrived safe and well in Bordeaux for their French Exchange with Ms Deasy and Mr Cooke.
A massive congratulations to Mrs. Kerrigan and leaving cert chemistry students Leah Kelleher, Kate Bradley, Lydia Costello and Laura O'Reilly who emerged victorious against 22 other schools in the Pfizer Chemistry Quiz! The girls had an amazing score of 46 questions out of 48, showing that they are well set for their leaving cert chemistry exam in a few weeks!
MAY
Heartiest congratulations to our Senior Footballers on becoming Munster Champions in Charleville. Well done girls & we would like to extend a huge thanks to your mentors Mr Joe Carroll, Ms Lily De La Cour & Mr Sean Quill for your hard work & commitment to the girls.
JUNE
All 3rd year and 6th year students completed their exams and they all did extremely well. We are so very proud of all of our girls.
JULY
Safe travels to all our students, staff, helpers and Fr. John as they head off on a pilgrimage to Medjugorje.
AUGUST
Huge congratulations to our Leaving Certificate class of 2018 who received fantastic results. All of the hard work, commitment and motivation paid off. We are extremely proud of you all. The student's commitment to their work, the dedication of their teachers and the support of their parents is reflected in their results. We would like to take this opportunity to wish you all the very best for the future.
St Mary's welcomed sixty new 1st Year students to the school at the end of August. Their Buddies were busy helping them to settle in and get to know their new school. Hopefully they will be very happy with us in St Mary's.
SEPTEMBER
Fantastic results in St Mary's again today. Well done to all of our Junior Cert Students. We are so proud of you all.
Congratulations and well done to Ciara Donovan and Jennifer Mc Carthy who came second today in the Macroom Food Festival schools cook off.
OCTOBER
Congratulations to our U14 Football team and to their trainers Joe Carroll, Ms de la Cour and Mr Quill on winning their game against Bantry today Our U14 team, consisting of mostly first years and some second years, played Bantry today in Tom Creedon Park. Our girls dominated the game in the first half scoring goal after goal, but they were forced to be resilient in the second half to maintain the lead against a fighting Bantry.
Twelve first year students took part in a poetry speaking competition; 'Poetry Aloud', hosted by Poetry Ireland in partnership with UCC. Massive congratulations to Aoibhe Kelleher and to her teacher Mrs Murnane. Aoibhe is through to the All-Ireland semifinal of The Poetry Aloud Competition.
NOVEMBER
So proud of past pupils Laura O'Reilly and Eadaoin Van Der Krogt who both received Entrance Scholarships this month in UCD. The girls are both studying veterinary medicine are nearly finished their first semester already.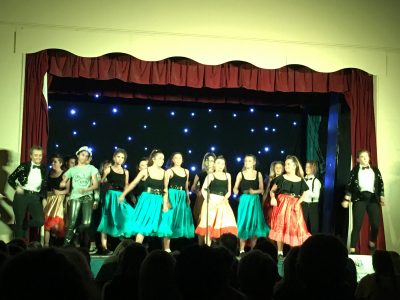 Our TY Show took place – it was a fantastic show, thanks to Ms Donovan and Catherine Long for all of their hard work.
Congratulations to Orla Lynch (2nd year) who finished 4th in the Southern Masters Championship. She received her trophy at Motorcycling Ireland Annual Prizegiving in Mullingar on Sat. 24th November. Well done Orla, we are very proud of you.
DECEMBER
St. Marys junior debating team got through to the next round of the Gael Linn debating competition after an excellent performance by Alannah Ní Chuinneagáin, Marian Ní Chríodáin agus Saorlaith Ní Laoire. Well done to the girls and to their teacher Ms Queally.
We are the top non fee paying feeder school in Cork !!!! Well done everyone
St Mary's on the News!!!! 4th year students, along with their History Teacher Mr Quill, attended an event in UCC today to celebrate the Centenary of Women's vote in Ireland. Liadh Hurley was interviewed by News Reporter Paschal Sheehy, she spoke really well about her opinion on Women in Politics.
What a way to end the year!! Well done to our school choir and musicians (past and present students) & guests who were involved in the St Marys Christmas Concert. A special word of thanks to the choir mistress, Ms Donovan, Ms Queally Music teacher, and Mr Collins .To the organising team led by Ms O Donoghue and assisted by Elaine Lynch, Ms Watkins, Ms Butler. To Mr Vaughan who recorded the event and Mrs Anne Twomey who was MC for the night. Thanks to the Parents Association for their hard work and Fr Roberts &Fr John for supporting the event. Finally Thanks to our local community and all those who took the time to attend. It really was a night to remember.
Fifth year students delivered the food collected at St Mary's to St Vincent De Paul . A very special thank you to everyone who contributed and to the fifth years who organised the collection.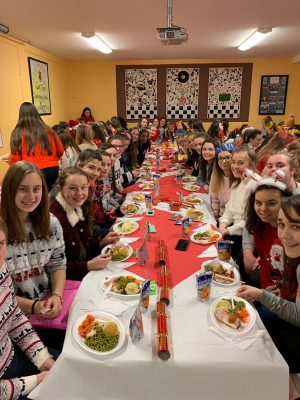 On Thursday the 13th of December we had Our Annual Christmas Dinner in St Mary's . Thanks so much to Trish for cooking dinner for the entire school, you are amazing.
Best of luck to Dominika Starzycka & Ciara MacGuire who are on their way to visit the Dáil and the The "Politics needs Women" Conference in the Convention Centre, Dublin. The girls, with the help of their History Teacher Mr Quill, entered a 90 second video on the importance of women in politics. They were then shortlisted to attend the conference today where their video will be shown and they are in with a chance of winning a trip to New York! The competition is run by the Department of Defence. It is a National Competition and it is a huge achievement to be shortlisted. Well done girls .
HAPPY CHRISTMAS FROM ALL IN ST MARY'S.