Open Nights
The Staff and Students of St Mary's  Newport are looking forward to welcoming parents and 5th and 6th class students on Wednesday and Thursday, 4th and 5th of October at 6pm for our open nights. All involved are looking forward to showcasing our school. If you would like further information about the school please visit the website www.stmarysnewport.com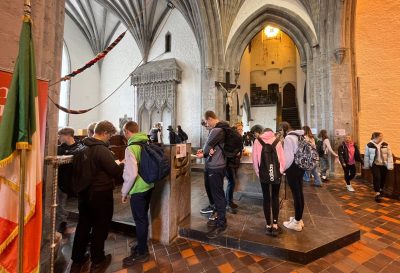 TY trip to Holy Cross Abbey
On Monday 25th of September the school celebrated Mercy Day.
As part of this celebration the TY students went on pilgrimage to Holy Cross Abbey.
The students were provided with a tour and an overview of the history of the Abbey.
Mercy Day and its history
St Mary's Secondary School Newport celebrated Mercy Day by an opening prayer from our principal and members of our student body. We are one of 8 CEIST schools in Tipperary and we take pride in celebrating Catherine McAuley and our CEIST values.
Catherine McAuley was born in Dublin, Ireland, in 1778. In 1824 she used her inheritance from an Irish couple she had served for twenty years to build a large House of Mercy where she and other lay women would shelter homeless women, reach out to the sick and dying and educate poor girls. The House on Baggot Street opened in 1827. To give these efforts greater stability, Catherine and her co-workers founded a new religious congregation. On 12 December 1831, she and two others professed their vows as the first Sisters of Mercy. Before her death on 11 November 1841, Catherine founded convents and works of mercy throughout Ireland and England.
European Day of Languages
The school also celebrated European Day of Languages. This is a marked event that happens every year on 26th September across Europe to embrace the linguistic and cultural diversity among our nations.
St Marys have many students who speak more than one language and today they recognize and appreciate those.
Events throughout our school today included face-painting of flags, a language treasure hunt and a language table quiz for 1st years (organised and run by TY German students).
Thanks to everyone involved in making this day a fantastic celebration! Well done to Team 23 on winning the 1st year EDL table quiz, Sean Omusi, Alan Perka, Jake O'Sullivan, Grace Sadleir and Aine O'Callaghan.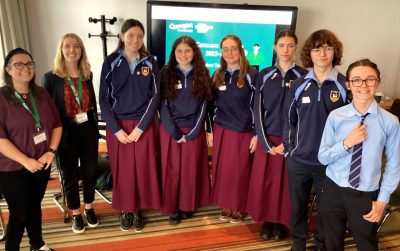 TY debating and GCE students
On Thursday the 21st of September 6 TY debating and GCE students were selected to attend the Concern Worldwide Debates training day at the Maldron hotel in Limerick.
The students met other students from seven schools in Limerick city and county and engaged in a fantastic selection of interactive workshops delivered by the Concern Worldwide team.
These ranged from discussions of Sustainable Development Goals, to mini debates to acting out different debating strategies. The day proved really insightful and rewarding for all involved.