Medjugorje
We would like to sincerely thank Fr John for organising another very successful School pilgrimage to Medjugorje. 31 students from 2nd, 3rd 4th and 5th year travelled to Medjugorje in early July. The students had a wonderful spiritual and social experience. Fr John was a superb spiritual director, facilitating very lively masses and liturgies as well as very reflective meditation. His fundraising efforts provided students with many very enjoyable social occasions. The group had a really enjoyable time and especially for the 21 third years who travelled it was a perfect way to relax after their Junior Cert. Thank you so much Fr. John.
Book Launch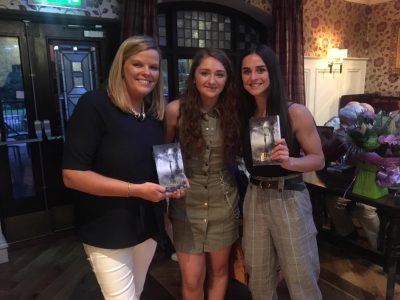 On the 19th of August we were delighted to hear that one of our students, Theresa Galvin, launched her very own book "Lightning Nerve". Theresa's book launch took place in The Auld Triangle. The evening was opened by some of Theresa's friends from her Comhaltas Music Group, who played a variety of tunes. Her teachers, Ms Murnane and Ms De la Cour, spoke very kindly about Theresa and her achievements. The night was filled with joy as Theresa's family, teachers and friends got together to celebrate her success. Theresa's book is on sale in Fitzgerald's Bookshop, Macroom, Waterstone's, Eason's and on Amazon.
What an amazing achievement for a young writer! We wish her every success.
All Ireland Champions
We would like to congratulate two of our 5th year students – Erika O' Shea and Aoife Twomey who were part of the All Ireland winning Cork Minor Football Team during the Summer. Cork won the All Ireland Minor 'A' Ladies football final after defeating Monaghan in the decider in Tullamore, Co. Offaly. The score line consisted of Cork winning 4-11 to 1-8. Erika writes "To win an All Ireland medal means the world to Aoife and myself. It made all the hard work worthwhile. We had a tough training season which consisted of training two or three nights a week, every week for the past 10 months. We were so lucky to work with Joe Carroll, who we are extremely fortunate to have as a school football trainer as well as a coach on the Cork Management Team. Joe's passion for football and all the time he has given up for us finally paid off. We really appreciate all of the work that he has put in to coaching our team over the last couple years.
Aoife and I are both looking forward to having another go with the Cork Minors next year and
hopefully we will add to our medal collection in the future!"
Congratulations to Joe and to the girls on an amazing achievement, well done, we are very proud of you all.
St. Mary's Welcomes Our New 1st Year Students
St Mary's Secondary School were delighted to welcome our new students to the school on Monday the 26th of August. On the day the 1st year girls were met by their new Principal, Vice Principal and Year Head. They spent the morning getting to know each other and their new school with the help of their Buddies. The Buddy System is very effective in St Marys. This Buddy System sees fourth year students act as Role Models and Mentors for the incoming First Year students. The Buddies are of huge help and benefit to the 1st years, they help them with their lockers, books and timetables, they take them from class to class for the first few weeks, they make sure that they are ok during break and lunch time, they walk them to the Bus Stop after school. They help them to settle into their new school, they help them to get to know other students in their class etc. They are a massive support to the first years and they really help them to transition from Primary School happily. The Buddies are doing a fantastic job this year as the first years seem to be very happy and settled in their new school already.
The Buddies this year are Saoirse Moloney, Estelle Hickey, Marian Creedon, Ciara Bradley, Ciara Quinn, Sarah Kelleher, Caoimhe Horgan and Saorlaith O' Leary, their Mentor is Ms O' Donoghue.
Sports Day
On Wednesday the 11th of September the 6th year LCVP class put their teamwork, leadership and organisational skills to good use as they organised a Sports Day for all of our Junior students.  They organised this event as part of their LCVP enterprise activity.  With the help and guidance of PE teacher Mrs Kelleher and LCVP teacher Ms Tobin they organised a really enjoyable event.  Great fun was had by all.  Well done to all of the students who organised the event and to all of the students who participated.
Congratulations to Miss Dillon
Congratulations to Ms Laura Dillon who played on the Tipperary Ladies Football Team in the All Ireland Intermediate Championship Final in Croke Park last Sunday.  Well done on an amazing achievement from all of the staff and students in St Mary's. We were all shouting for Tipp on the Day!
TY Information Night
All Transition Year parents were invited into the School on the 3rd of September to hear what Transition Year has in store for their daughters. Ms Collins and Ms Donovan organise a fantastic TY Programme for the girls and hopefully they will enjoy the year and develop their skills through academic classes and extra-curricular opportunities. Transition Year is a year where the girls can gain confidence, boost their moral, develop better communication skills, social skills and group work skills.
1st Year Parents Information Night
1st Year parents information evening was held in school on Thursday the 5th of September.  This was a great opportunity for parents to find out general information about our school and also ask any questions that they had.  They were all very happy to hear how well their daughters have settled in.
Practice for TV Show 
Practice for our annual TY show has begun!  Our very talented Music teacher, Ms Donovan, is working very hard with the girls to get them ready for Show Night, auditions are complete and practice has begun.  This year the girls also have the fantastic Aideen Johnson helping them with the choreography so no doubt it will be a show not to be missed.
Tom Markham Cup visits St. Mary's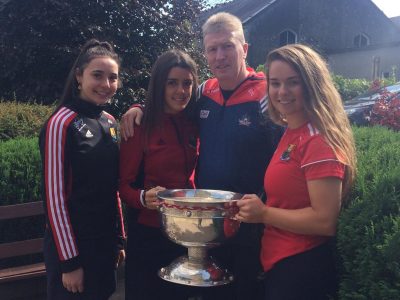 All Ireland winning Minor Football Manager Bobby O Dwyer called in to see us on the fifth of September with the fantastic Tom Markham Cup. He gave the girls some lovely words of wisdom- it's important to work hard at your sport, whatever that might be – Football, Camogie, Debating or Dancing!  But remember that winning doesn't define you, do your best, be kind, be a good person and be respectful, that's all that is important at the end of the day!   Massive congratulations to Bobby and all of the Cork Minors on a fantastic win  – Rebels Abú
Open Night
Open Night will take place in School on Thursday the 26th of September at 6.00pm, all welcome.  To secure a place you can register your daughter on the night or before the 25th of October
Diocesan Youth Services
Kevin Rafferty works in Macroom for Cloyne Diocesan Youth Services. He came to talk to the transition year students in St. Marys on the 13th of September about young people's relationships surrounding alcohol. He explained to us that we do not need to be drinking alcohol to have a relationship with it. Having a relationship with alcohol can be anything from drinking it yourself to living in a house where your parents or siblings drink. He told us that no matter how little alcohol we consume there is never a safe amount at our age. Drinking when young has many effects. From the ages of 14-20 your body and brain is still developing there for when you consume any amount of alcohol it kills off brain cells which do not repair. Alcohol is a toxic and addictive substance which should only be consumed safely and responsibly by over 18 year olds. Alcohol does not only affect you it affects the people around you and can lead to you or others being in an unsafe situation. Alcohol is considered to be a depressant which means it gives you a high for a while but then leads you to feel bad about yourself. Everyone in transition year learnt a lot from Kevin and we thank him for giving us advice about how to deal with situations responsibly surrounding alcohol. Written by Tia Campion and Sarah Kelleher
Advice from last years Leaving Certs
Massive thanks to last year's Leaving Cert Students – Eva Long, Aoife Foley, Joanne Kelly and Kate Murphy who came back to visit us at the start of term.  The girls came back to talk to current 5th and 6th year students and to give them advice, study hints and tips to help them as they prepare for their exams.  Thanks girls, we will miss you all and we wish you the very best as you start 3rd level.