Green Flag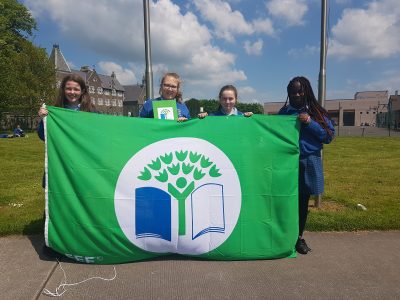 St. Mary's, Mallow was recently awarded a green flag for the theme of energy. This is the
school's second green flag. The first green flag was for litter and waste. This green flag is
evidence of how our school is committed to reducing energy use. It also reflects the hard
work put in by our Green School Committee members throughout the year. The Committee
members are Emilia Seputyte, Katelyn Cremin, Zoe Moloney and Precious Ayodele. The
Committee was supported by teachers, Miss Rachel Cotter, Miss Denise Galvin, Miss Niamh
O'Connell and Miss Aisling O'Connor. The Committee attended the Green Schools awards
ceremony in the Radisson Blu Hotel, Cork, Wednesday 2nd May.
St. Mary's Secondary School, Mallow Award Ceremony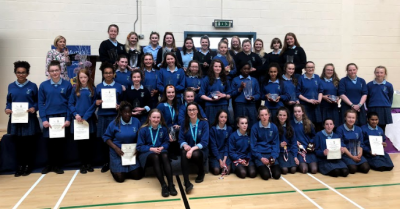 The St. Mary's, Mallow annual school awards ceremony took place on Monday 21st May. The main awards were the Student of the Year Awards, the Spirit of CEIST Award, and the Catherine McAuley Award. Awards were also given for student achievement, sport and contribution to school life. Well done to the award recipients and to all members of the St. Mary's community for making this past year a successful one.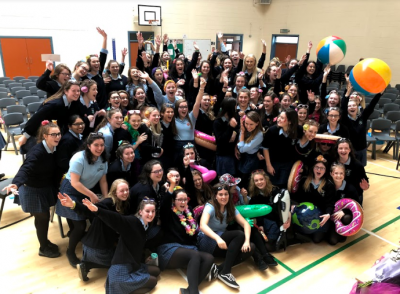 Junior Student Achievement: Grainne Egan, 3rd Year Music; Éabha Sampson and Clíona O'Connor, Young Scientist
Senior Student Achievement: Shauna Murphy and Caoimhe Cronin, Young Scientist; Katie Dinan, Réilín
Sports: Leah Maunsell, Senior Sports Person; Aoife O'Shea, Junior Sports Person
Contribution to School Life: Leah Cunningham, Sixth Year; Rose Joseph, Sixth Year; Laura Wilson, Sixth Year; Eva Lankford, Third Year, Emilia Seputyte, Second Year, Nicole Pinto, First Year
Student of the Year: Leah Corkery, LCA1; Rosie O'Donoghue, LCA2; Chloe Keniry, Réiltín; Marion Nana, First Year; Leah Barrett, Second Year; Sarah Scanlon, Third Year; Kate Hickey, Fifth Year; Sarah Tarrant, Sixth Year
Spirit of CEIST Award: Ella White, Sixth Year
Catherine McAuley Award: Edel Doolin, Sixth Year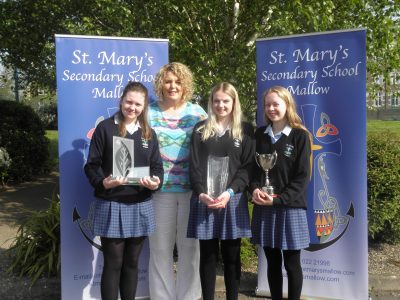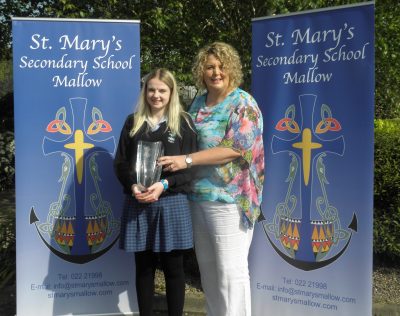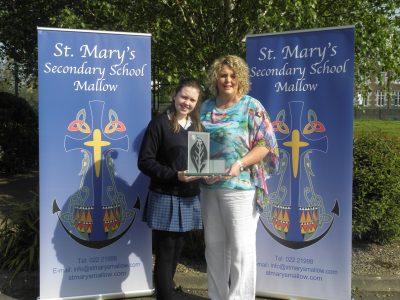 These are the main recipients of awards at our Award Ceremony which took place in St. Mary's Secondary School, Mallow on Monday 21st May.  Included in the photographs with the award winners is Yvonne Bane, Principal.
June Newsletter
Click the link below to read the full June Newsletter