Congratulations to Alanna Gilbert, Sarah Ni Cheallaigh and Ms. Murphy on their success at the Junk Kouture final.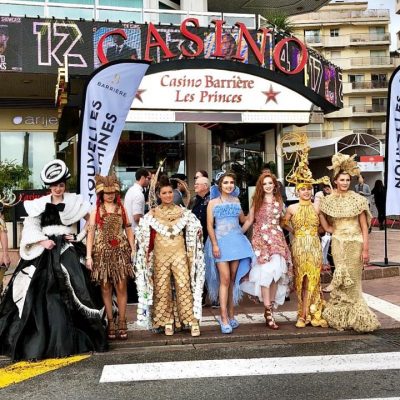 Well done to our four teams and their teachers Ms.Murphy & Ms.Fennel on their fantastic performance in the 3Arena recently at All Ireland Junk Kouture Final. We received great news as 'Expressivo' was selected as winner of the Southern Region winner. The costume is designed by Sarah Ni Cheallaigh and Alanna Gilbert and modelled by Alanna Gilbert. Keyara Connolly was in charge of make-up and design as well.
It's concept is about expressing yourself. Inspired by suicide awareness, the inside parts of a piano were used to relay the message that it is what is inside that counts ,not the outside. The girls used the musical term 'Expressivo' for the name of their costume.
The outfit modelled by Alanna  appeared on the Ray DArcy Show on RTE in April and the girls & Ms.Murphy(Art Teacher) have also won a trip to Cannes France. They travelled to Cannes during the month of May. They had a fabulous time with winners from other regions.
A big thank you to all the teachers, students and parents who travelled to Dublin last Thursday to support our teams.