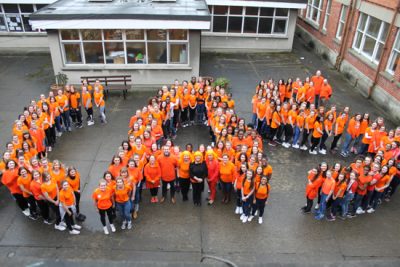 The following news snippet was kindly shared from Orla Walsh, Deputy Principal, St Vincent's Secondary School, Dundalk.
We are in pursuit of our Amber Flag. 'It's ok not to be ok and it's definitely ok to ask for help'.
We will be hosting the actual Irish 'Cycle against Suicide' on 23rd of April and sharing a leg of the journey with the group who are cycling around Ireland.
You can read all about it on http://www.cycleagainstsuicide.com/cycle-suicide-2017/ .
Today we are going Orange in the #SchoolsGoorange, check out our latest tweet
The students love it and this is a wonderful way of helping them ease anxiety and to heighten awareness that it is ok to seek help.
Further Information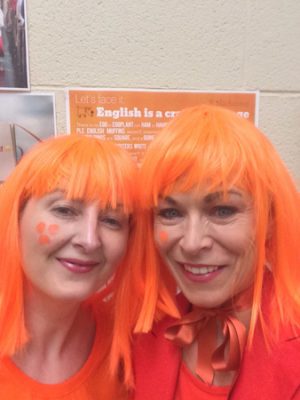 St Vincent's staff and students went orange today in support of Cycle Against Suicide's national #SchoolsGoOrange campaign.
The main objective of Cycle Against Suicide is to raise awareness of the considerable help and supports that are available to people who are battling depression or at risk of suicide or those who have been bereaved by suicide.
St Vincent's is very proud to be an anchor school for this year's Cycle.
The staff and students are working very hard to promote the cycle's message that 'it's ok not to feel ok and it's absolutely ok to ask for help'.
We were delighted that Stuart Agnew, was with us today to support this campaign to break the cycle of suicide.
Up to 1000 cyclists are expected to set off on their journey from Dublin on Sunday 23 April.
Their ETA at St Vincent's is 17.30 and they will be departing from St Vincent's the next morning at 10.30. Teacher Bernadette White says 'We hope to give them a great reception and an even better send off.
We are hoping to line the streets with our staff, students, their families and friends and the entire community of Dundalk (all wearing orange!). Students are busy selling orange t-shirts, making orange flags and posters, painting bikes orange and bringing in guest speakers from organisations that help people who are suffering from depression'.
She went on to explain,'Some of our teachers and senior students are busy training and will join the cycle from Dundalk to Newry.
There was a great atmosphere in the school for the #SchoolsGoOrange campaign, with both students and saff getting on board and the sea of orange was a sight to behold around the school.
If members of the public would like to contribute in any way please contact the school'.
Together, shoulder to shoulder, we can break the cycle of suicide on the island of Ireland.