IMTA Junior Maths Quiz

Well done to Lynne Fahy, Rebecca Doyle, Nike Rujevan and Sarah McGrath who competed in the IMTA Junior Maths Quiz.
Irish Wheelchair Association
Mr. Terry O Brien from the Irish Wheelchair Association visited the St. Brigid's 5th year LCVP class and gave a presentation on the services offered by this organisation. The LCVP class held a quiz and raised over €410. Shauna O Donoghue presented the cheque to Mr. Terry O Brien. Well done girls.
Students meet Fr. Jim Lenihan
St Brigid's Students pictured with Father Jim Lenihan and the leaders of the Legion of Mary outside the Presbytery. This gathering was a follow up to several weeks of volunteering the girls completed visiting the sick and the elderly around Killarney.
Students raise money for St. Vincent de Paul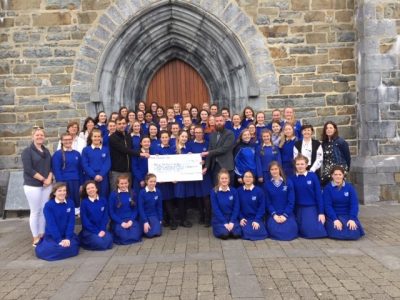 Transition Year students from Presentation Secondary School Killarney presented a cheque for €1400 to John Warren from St. Vincent de Paul and to Ronan Doherty from Novas. The students participated in a sleep in in the school and raised awareness and money to help these organizations to combat the issue of homelessness. 
St. Brigid's Goes Orange
St Brigid's Killarney held a  School Goes Orange Day on Tuesday the 30th of April. All students were encouraged to wear orange to promote the important cause.Our aim in St. Brigid's is to spread the vital message that it's ok not to feel ok and it's absolutely ok to ask for help!
St. Brigid's Awards Ceremony
One of the most prestigious events of the St. Brigid's Presentation Secondary School year is the annual awards ceremony. The event recognizes and acknowledges the contribution the students have made to the school and the wider community. This years ceremony was held on the 24th of May with very special guest speaker Bridget Quilligan, Project Manager of the Kerry Travellers Health and Community Development.
Each year the school presents a special award to a Leaving Certificate student who has shown exceptional dedication to the school spirit- the Orla Benson  award. This years recipient was Miriam Fleming daughter of Annelia and Garry Fleming from Muckross.  Also a perpetual trophy is awarded after a process of teacher nominations to a 6th year student who best reflects the core values of CEIST. This year's recipient was Kelly O'Halloran daughter if Mary and Joseph O'Halloran from Ballyhar.
Below are some photos taken from the day.
Former SBK Student receives award form Spanish Embassy for Spanish Results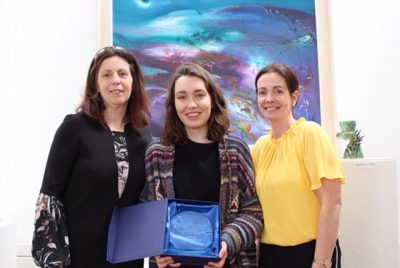 Eadaoin O Donoghue, former student of St. Brigid's Secondary School, Killarney was one of the top two Spanish Students in Ireland in the Leaving Certificate 2018. Eadaoin attended a celebratory evening at the Spanish Embassy  where she received her award from the Spanish Ambassador IIdefonso Castro.
Eadaoin is pictured with her Spanish Teacher Maria Neary and the Deputy Principal Mairead McElligott.
Transition Year class of 2018

St. Brigid's Presentation Secondary School held their annual TY awards ceremony on the 27th of May. This awards ceremony recognizes all the activities the students engaged in including the Gaisce, fundraising events, their work experiences just to name s few. Each student completed a two minute presentation to the parents, teachers and students about their highlights and experiences in TY. The students also displayed their musical skills and performed for the occasion.
Math's Teachers Head for Kenya
Sheree Murphy, Adrienne Brosnan and Emma Cronin three Math's teachers teaching in St.Brigid's Presentation Killarney are heading to Kenya this summer. The teachers will be jetting off on the 12th of June volunteering with the Kenya Education Project. Founded in 2003, the Kenya Education Project is based in the slum village of Embulbul, 25km south of Nairobi, where there are many homes without running water or electricity and very poor sanitation.
On Wednesday 22nd of May in the Deenagh River the teachers held a duck race where students and staff of St. Brigid's sponsored a rubber duck. They raised over €1,000. It proved to be a very enjoyable day as well as raising vital funds for the project. The money the girls raised will help sponsor students to attend school as well as feed many children.In terms of fundraising donations, €200 will provide sponsorship for a student to attend secondary school in Embulbul for a year.€100 will sponsor a child to attend primary school and provide them with a hot meal each day and €50 will feed a child in the orphan feeding programme for one month.