Accelerated Reader Programme for St Joseph's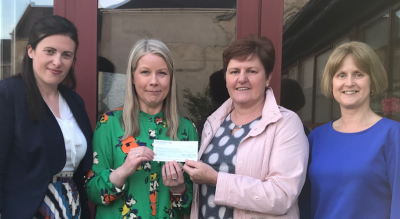 In 2019-20, Second and Transition Year students of St Joseph's Mercy Navan will participate in a new school initiative, the Accelerated Reader Programme. This is a specifically designed computer programme which will monitor, support and guide students in their reading. The school's Parents Council have worked on raising the funds for this initiative through the Silver Circle annual fundraiser. Pictured are Maria Cullen, Treasurer of the Parents Council, presenting the cheque to Ms. Daly, Ms. Meagher and Ms. D'Arcy.
Amber Flag for St Joseph's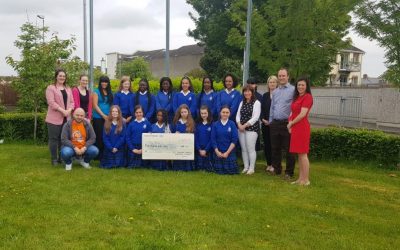 On Wednesday 22nd May, the St Joseph's Mercy Navan Amber Flag group were presented with their first Amber Flag by Pieta House in recognition of their efforts to create a healthy, inclusive school that supports mental wellbeing. The group presented Pieta House with a cheque for €500 from their cake sale and raffle.
St Joseph's Schola Perform at Navan Confirmation Ceremonies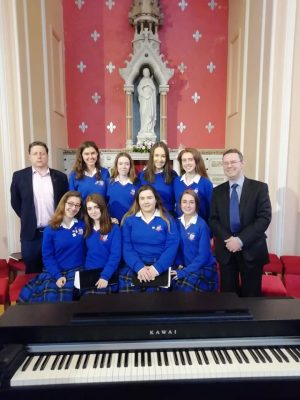 A number of Mercy students took individual leadership roles within the recent Confirmation ceremonies in Navan. Caoimhe Power conducted two pieces: Lead Me, Lord; and Lord, My Faith Renewed. Tara Gallagher and Holly Ronayne sang Send Forth Your Spirit, the responsorial psalm. Sarah Crilly sang the verse of Confirma Hoc. Irina Ternov accompanied the Litany to the Holy Spirit.
The choir, led by Mercy music teacher Mr David Burke and Mr Ephrem Feeley, were joined by past pupils and former Schola members Aodhamair Reilly and Ciara Mullen at the 3pm ceremony.
The confirmation ceremonies are the last events for what is a busy year for the Schola choir, and it also meant that the 6th year members performed in the choir for the final time: Amy Barter, Mia Brady, Shauna Gordon, Chelsea Hannon, Anastasia Koukouzeli, Aisling MacDonough, Holly Ronayne, Danielle Wilders and Amy Wright.
Mercy Navan 2nd Year Students Fundraise for Navan Meals on Wheels
On Wednesday May 22nd, Mercy Navan 2nd years students, Head Girls and Year Head Ms Nolan presented a cheque to Ms Rose Mulligan of Navan Meals on Wheels for €420, the proceeds of recent fundraising by 2nd years.
Mercy Farmers at Dunderry and Nobber Fairs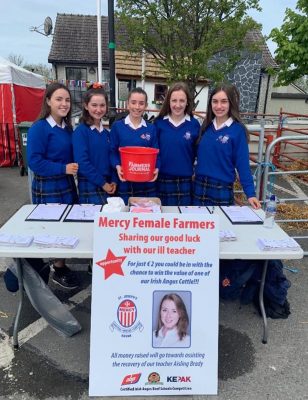 St Joseph's Mercy Navan's Female Farmers did their school proud over the past two weeks at the at the Dunderry and Nobber Fairs. The girls spent the day selling tickets for their raffle in aid of the Aisling Brady Fund, raising a total of €800. They also won 2nd place for the best livestock stand at the Dunderry Fair.
Gúna na Bóinne Reaches Junk Kouture Grand Final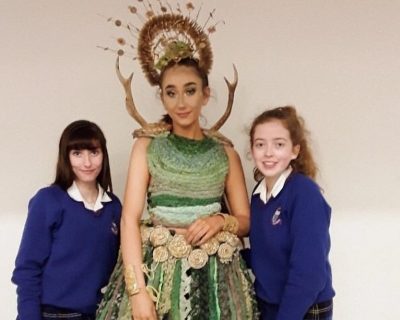 Well done to Mercy Navan students Anna, Hannah and Nicola, the creators of Gúna na Bóinne, and their Art teacher Ms Connolly on reaching the Grand Final of Junk Kouture. The time, planning, effort and creativity that goes into the design of a Junk Kouture dress is significant and the school community is very proud of all they have achieved.
€1,160 Raised by Mercy Students for Enable Ireland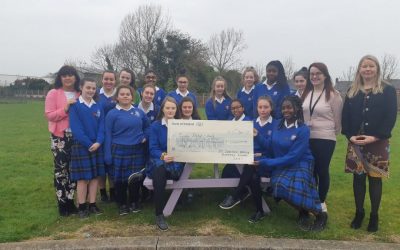 Tracey White from Enable Ireland visited St Joseph's Mercy Secondary School recently to collect a cheque from our Student Council for €1,160 – money raised in the school throughout the course of the year. Enable helps children and adults with a range of physical, sensory and intellectual disabilities.
Mercy Navan Spring Writing Competition
The English Department in St Joseph's Mercy Secondary School recently held a Spring Writing Competition.  In 1st year, Lily Kilmartin-Gath won best composition for her poem "Golden"; from 3rd year, Ioanna Koukouzeli's poem "Questions and Answers" was highly commended. In the senior competition, Annie O'Neill from 6th year won best competition for her short story "Nimhneach Strand" and Emma Coffey's short story, "The Great Biscuit Debate" was highly commended.
From 3rd year, Heather-Mai Kane and Emily Navagh-Burke were jointly awarded best composition for their short stories, "Silence" and "Wings" and from 5th year, Niamh Meagher's short story, "The Mystery of the Maid in the Night-time" was highly commended.