Transition Years Visit Millbury Nursing Home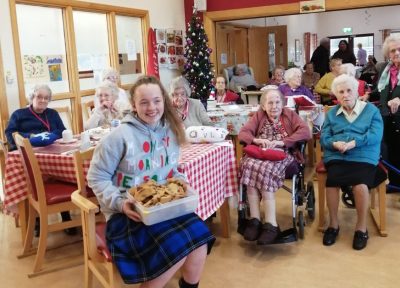 TYs visited Millbury Nursing Home this week for a Christmas concert spreading lots of festive cheer.
Thanks to Mr Burke for musical accompaniment. The Junior Crafts Club joined the concert to surprise the residents with cute handmade Christmas cushions.
Thanks to Ms Coyle and Ms Owens for organising such thoughtful gifts!
Mercy Angus Girls Raise €4769 for Aisling Brady Fund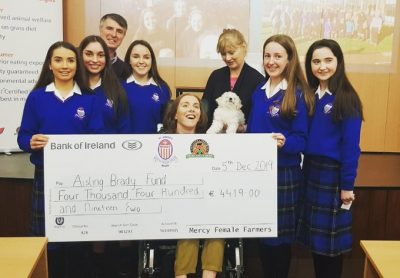 Our Mercy Angus girls Ciara Smith, Amy Everard, Katie Tully, Francesca McKenna and Saidhbh Gaffney-Bent hosted a cheque presentation and raffle in the school on the evening of Thursday 5th December.
The girls have been rearing their Angus beef calves for the past year, and have been busy promoting their project nationally at agricultural fairs, Bloom 2019, the National Ploughing Championships and The Late Late Show.
As part of their project, they organised a raffle in association with Tesco Ireland to raise funds for our ill teacher, Aisling Brady. Our winner was announced last night, when Aisling and her parents Antoinette and Terry were presented with a cheque for €4769 by the girls.
Their project, entitled 'Women in Agriculture' is part of the Certified Irish Angus Beef Schools' Competition. Created by the Irish Angus Producer Group, ABP and Kepak, the competition challenges students to rear five Irish Angus calves for beef production.
Well done done our Mercy Angus girls on their hard work, dedication and compassion.
Relove Regional Fashion Finalists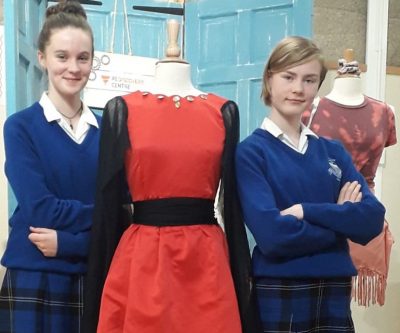 Congratulations to Home Economics students Niamh and Anna who reached the regional finals of the Relove Fashion competition. They used their creative textile skills and knowledge of sustainability to create this beautiful upcycled dress.
Christmas Carols at St Mary's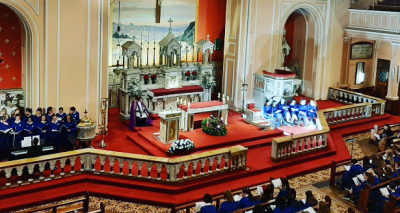 Many thanks to all who attended our beautiful Carol Service in St Mary's on Thursday 12th December.
A special thank you to Fr Louis, our singers, narrators and our Music & RE departments for their preparations for what is always a memorable night in our school calendar.
UCD Entrance Scholars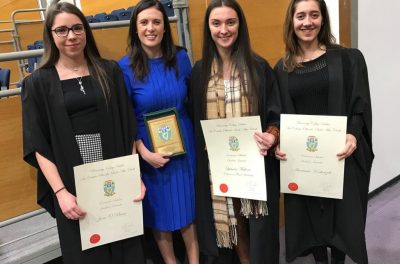 Congratulations to Anastasia Koukouzeli (Veterinary Medicine), Lauren Malone (Science), Jane O'Brien (Computer Science) & Sarah Elhagar (Physiotherapy) on receiving Entrance Scholar Awards from UCD. Entrance Scholar Awards are presented to first year students who achieve 560 points or more in their Leaving Certificate exams.
TYs for Team Hope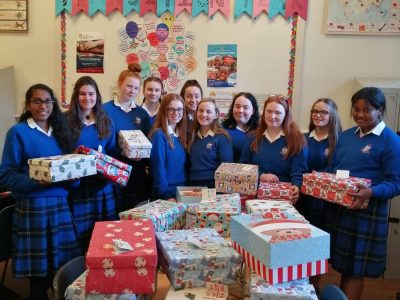 Well done to our TYs who have donated an impressive 28 shoeboxes to Team Hope for their shoebox appeal. Thanks to everyone involved!
Careers Evening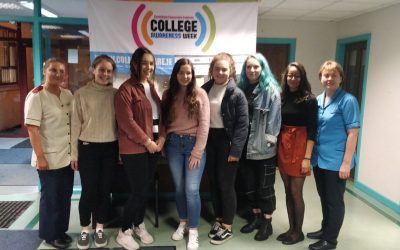 On October 22nd we hosted our annual Careers Evening in the school. Many thanks to all the representatives from the colleges and professions who visited our school to take part. A special thank you to our alumane who returned to discuss their careers and courses.
Attendance Raffle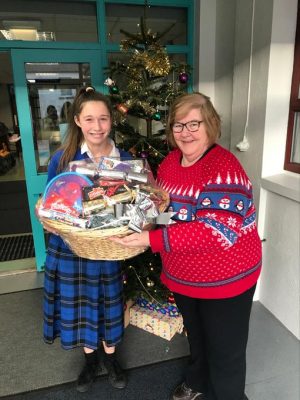 Congratulations to Katie in 6th year who won our Attendance Christmas Hamper! Thanks to Ms. Pentony & School Completion for the donation of the hamper
Clodagh Visits Action Aid Greece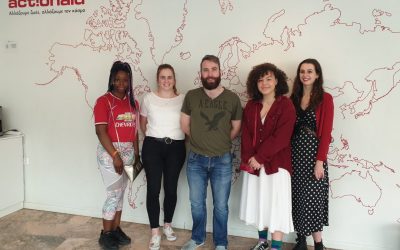 6th year student Clodagh visited Greece over mid-term break as part of her prize for winning the Action Aid Ireland Speech Writing Competition. The purpose of the visit was to learn about Action Aid's work to help adults and children including refugees who experience social and economic exclusion in Greece.
Also pictured is Kirsten, a student at Gaelcholáiste Cheatharlach in Carlow; her speech also took the top prize at the Action Aid Ireland Speech Writing Competition.
Many thanks to Clodagh and Ms O'Connor for representing our school in Greece!
Six Projects through to BTYSTE 2020
We are delighted to announce the details of our 6 projects through to the
BT Young Scientist 2020! Wishing our Transition Year students and their teachers the very best of luck in their preparations.